This week we were lucky enough to host 30 of NYC's finest digital publishing stars at our office for breakfast and small-group discussions. The breakfast was part of Keywee's Distributed Content event series, which we started about two years ago in an effort to bring together the NYC digital media and marketing community for educational, informative, and entertaining discussions.
We enjoyed the chance to chat about a huge variety of topics including branded content, newsletters, video, affiliate content, paid subscriptions, and of course platforms with Keywee customers and friends from USA Today, Complex, Consumer Reports, Equinox, Business Insider, The Atlantic, Forbes, and more.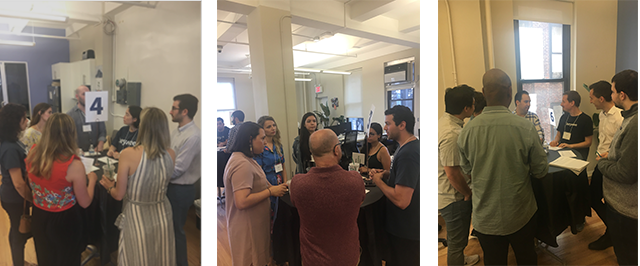 While the topics of conversation were broad, here were a few things that came up over and over again.
1. Diversification is the name of the game.
While publishers are still seeing results from their paid efforts on Facebook and Google, they want to hedge their bets by expanding to additional platforms. We heard about publishers making big bets on Apple News (including through direct conversations with human editors on Slack), Flipboard, Snapchat, and Instagram (which is of course, Facebook-owned).
2. Stories. Stories everywhere.
We could not stop hearing about stories – both on Snapchat and Instagram. Publishers flocked to the format to engage a younger audience, but have been seeing great success driving traffic to editorial content, branded content, and even straight to affiliate product pages through their stories. To get started, some publishers have created an easy templated design that can be reused.
3. Use your content wisely.
We heard publishers talking about the different types of content that performs better with different types of users. For instance, we heard some hard news publishers talking about trying to attract more young readers with lifestyle and food content first, then targeting them with news stories.
This is somewhat similar in the world of paid subscriptions. The content that drives the most traffic is typically not what will work best to convert paying subscribers. There is usually some effort around "gateway" content to grab a reader's attention, which receives a much lower bid than bottom-of-the-funnel content.
If you're interested in attending one of our next events, fill in the form below and we'll keep you posted.
About Keywee
At Keywee, we make stories relevant and powerful for the world's best storytellers — like The New York Times, The BBC, National Geographic, Forbes, and Red Bull.
Today, people aren't coming to websites to search for content — stories find their audiences in feeds and apps. The upshot? Distribution is now the key for effective storytelling. Keywee's platform unlocks audience insights using AI and data science, and infuses them into every step of the storytelling process: from topic selection, to story creation, to distribution and optimization. Keywee is backed by leading investors such as Google's Eric Schmidt and The New York Times, and has been a fast-growing, profitable startup since its inception. To learn more, request a demo here.