Since launching our solution earlier this year in March, we have worked with a lot of the leading publishers and we have the good fortune to call many of them our customers. We recently signed New York Media as our 100th customer in the publishing segment, and to mark the event, we just put out this press release…
Keywee Signs 100th Publishing Customer
Content Marketing Innovator Drives Tremendous Success in First Year
New York, NY – December 15, 2015 – Keywee announced today that it signed New York Media, the publisher of New York Magazine and digital properties including Vulture, The Cut and Grub Street, as its 100th customer in the publishing segment. New York Media is using Keywee's content marketing platform to drive social engagement and reach new audiences with its content via paid distribution on platforms like Facebook.
Keywee has signed an impressive list of publishing customers since launching its platform in March. Other Keywee customers in the segment include: The British Broadcasting Corporation (BBC), Conde Nast, National Geographic, The New York Times and Slate. In fact, seven out of the top 10 newspapers in the United States now use Keywee. In addition, leading retailers and brands also tap Keywee for their content marketing initiatives.
"At New York Media, we leverage platforms like Facebook for content distribution and strive to reach new audiences and maximize our social engagement," said Ken Sheldon, executive director of audience development at New York Media. "Keywee has allowed us to better achieve our goals in these areas more cost-effectively and efficiently than we could ourselves."
Content distributed by Keywee accounts for more than 600 million impressions a month and delivers around an eight percent click-through rate (CTR) — approximately four times higher than the organic CTR of the same content. Using text-mining technology and a vast database of historical content performance to target — and distribute content to — audiences on platforms like Facebook, Keywee is changing how publishers leverage content to achieve business goals. Keywee's content marketing platform helps publishers grow their audience, increase social engagement and sign up more subscribers.
"There are significant shifts occurring in content marketing. In particular, the majority of content is being consumed in the mobile apps of platforms like Facebook, Twitter, Apple and Google. They are the new browsers. Publishers realize this, and they are making big investments to get their content in front of audiences across these platforms to drive business results," said Yaniv Makover, CEO and co-founder of Keywee. "Keywee leverages data to find the best audiences across these platforms for content based on a publisher's specific business objectives."
If you remember my first blog post of this series, I spoke in-depth about the very visible
spike in paid subscriptions
that happened in mid-March when shelter-in-place orders began. Today I want to revisit paid subscriptions to get a sense of where we stand.
Volatility and Diminishing Returns
Let's do a quick recap: The Great Upheaval caused a drastic drop in CPCs, a huge spike in traffic, and as a result of all of this, a surge of new paid subscribers at historically low CPAs.
Since then, CPCs have started an upward trend, and traffic volume overall has been on a downward trend.
As for paid subscriptions, it's been a
mixed bag
. Traffic is still higher than before, but conversion rates have been unstable. 
CPAs are continuing to trend low
, they've just been inconsistent and hard to predict.
It's been challenging to suss out the reasons for this volatility, so I took a different approach instead: What are publishers with steady, consistent performance doing that the others aren't?
Let's dive in.
How One Publisher Achieves Stability
I found a few big publishers that were faring very well in the current environment. All of them had the same campaign and content strategies, so I picked one for us to walk through.
Publisher X is a high-end national publication that relies on a metered
paywall
(i.e. read more than a certain number of articles and you'll be required to subscribe.)
Let's start by looking at this publisher's campaigns which use a two-step campaign strategy.
Step 1: Attract Users
Keywee distributes the publisher's content to relevant audiences at scale, with an efficient CPC, targeting users that are likely to engage. 
This overall content sequencing approach leaves room for a "prospecting" phase, which brings in a low-cost, high-quality audience for the top of the funnel.
Step 2: Convert Users
Publisher X's metered paywall is capped at 5 articles. For this second step, Keywee's
Facebook campaigns target
users that have read 2 or more articles on the publisher's site. The campaign only promotes content, and not a direct response landing page. All of the subscription calls-to-action happen on site.
This targeting strategy ensures that the campaign reaches a high-quality audience that has engaged with the publisher more than once. It builds on the relationship by continuing to show value, which creates trust.
Now, let's look at the publisher's content strategy.
I don't know if you've noticed, but there's a lot of COVID-19 content out there right now.
Publisher X hasn't shied away from this type of content, but it also hasn't relied on it exclusively. In fact, the publisher was beginning to see diminishing returns and has started cutting down on COVID content it's been promoting.
Take a look:
Let's look at the numbers in a different format:
So when Publisher X saw in April that there were diminishing returns from COVID content, it slowly dialed it back (and continues to).
The top performing article in May so far is one about politics, and is completely unrelated to the pandemic.
I think this change is a big part of what accounts for this (and other) publishers' success and stability. By diversifying content, users are exposed to a variety of topics, and can see the long-term value of subscribing.
Trends in Subscription Content
I try to cover trends as much as I can in these posts. In this case, I wanted to look at what was trending that wasn't epidemic-related. 
In terms of articles,two primary formats are dominating: How-tos and long-form content. I think that both of these are working because those are really effective formats to showcase a publisher's value to the reader, which then makes them more likely to subscribe. 
In terms of creatives, quoting people or the article content directly seems to be an effective way to attract high-quality clicks. Post texts that are on the longer side, i.e. more than 20 words are doing well. As far as images, black and white photos are standing out from the crowd.
The TL:DR
There are two main things that I want you to take away from all of this:
Pandemic or no pandemic, demonstrating long-term value to your reader through the right campaign strategy and content will lead to consistent and effective performance.
If you haven't yet started diversifying your content, now's the time to start.
Shameless plug time: I'm co-hosting a webinar with Chartbeat on Thursday, May 28th, so there won't be a deep dive update next week. It's all about building high-quality, loyal audiences from Facebook traffic.
Click here
to register.
How can publishers optimize their affiliate marketing efforts? What can be done to increase their profit from that revenue stream? How do their affiliate efforts synchronize with their user acquisition efforts? And can you even scale your affiliate revenue when you have to pay for traffic? 
Most of these questions have an answer in our affiliate revenue FAQs and our commerce content strategy eBook. But since people all over the world have been shopping online in record-breaking numbers throughout the Coronavirus crisis, we thought it would be an appropriate opportunity to dig deeper. 
So what is the most valuable advice that we've learned from our partners running commerce content and affiliate campaigns?  
Trust is the main currency
Have you heard of the paradox of choice? In essence, choosing from options that are more extensive and varied doesn't necessarily make us happier or more satisfied. Psychologically, a lot of affiliate marketing is based on narrowing down the options for your readers. They want you to curate the best products for them. They need less noise. 
But would we listen to just anyone that walks up to us and says, "trust me on this one"? More often than not, we wouldn't, and probably for a good reason. It's the same in the world of eCommerce and affiliate marketing. We trust sites or people that we walk up to, but are more hesitant when they walk up to us. 
So how do you build trust with your readers? Especially if you "walk up to them" with paid content distribution? Start by being upfront. Most readers don't mind you making a commission off of their purchases, but you have to disclose it. Similarly, we've seen that first-time buyers have higher conversion rates if, for example, a listicle focuses on more affordable products. 
As you build a rapport with your readers, you could retarget the audience that clicked out of these articles. Show them similar articles with higher-value products.
Diversification is the Foundation for Stability
We've seen how publishers around the world were affected by Amazon's recent rate cuts. Many of them are learning what Wirecutter told us two and a half years ago: You need to have a broad partner base. If you are big enough and strike deals directly with retailers, you can affect the revenue terms and partnership. That said, even smaller players gain from revenue diversification. By not relying on a single affiliate network or retailer, they are less susceptible to changes. 
Diversification also applies to your traffic sources. You should invest in your SEO and organic search traffic, as well as your organic traffic from social media. Boost both of these "free" sources with paid user acquisition from social media and Google Ads. Granted, our experience shows that organic traffic offers nice incremental revenue, but it typically doesn't move the needle much. If you have the user base for it, you can also monetize your newsletter email list by inserting links to organically-popular reviews in your emails.
Visuals Matter
We eat with our eyes, which is why plating is so essential for most chefs. The same goes for web browsing and shopping. 
By now, we've covered the visual aspects of content promotion in other posts, both general A/B testing, and specifically Wirecutter's approach, so let's focus on your site.
The first thing to do is to 'clean your plate,' so to speak. A lot of our partners started off their affiliate efforts by simply adding links to existing reviews and letting the SEO take it as far as it can. Sure, this approach is nice as a starting point, but it usually means that there are a lot of calls-to-action and ads surrounding your content.
And when many things are going on, your main revenue driver — the affiliate link — may get lost. So shine a spotlight on what's important. Below are three examples:
The first publisher left ads in the sidebar and has multiple links that compete for attention. 

The second publisher has one eye-catching link with a price, while there is still an ad in the sidebar it's smaller, and there are also links to other products. 

The third publisher has no distractions in the sidebar other than the

big, bold link

.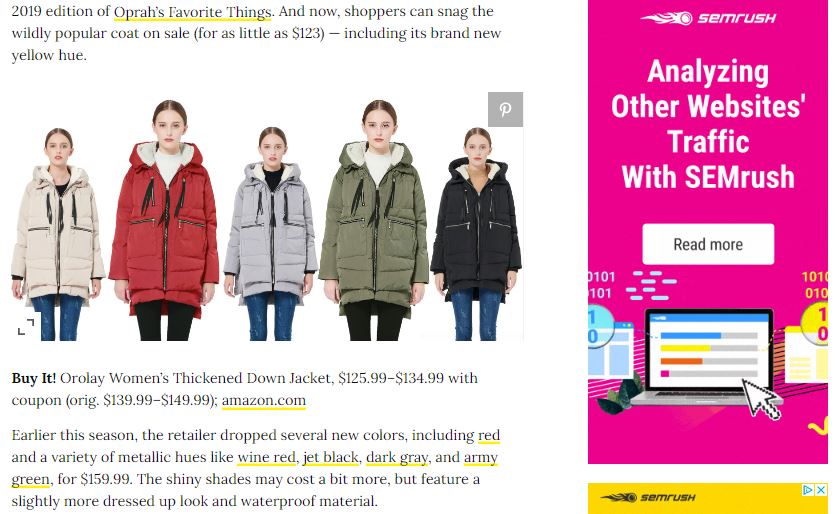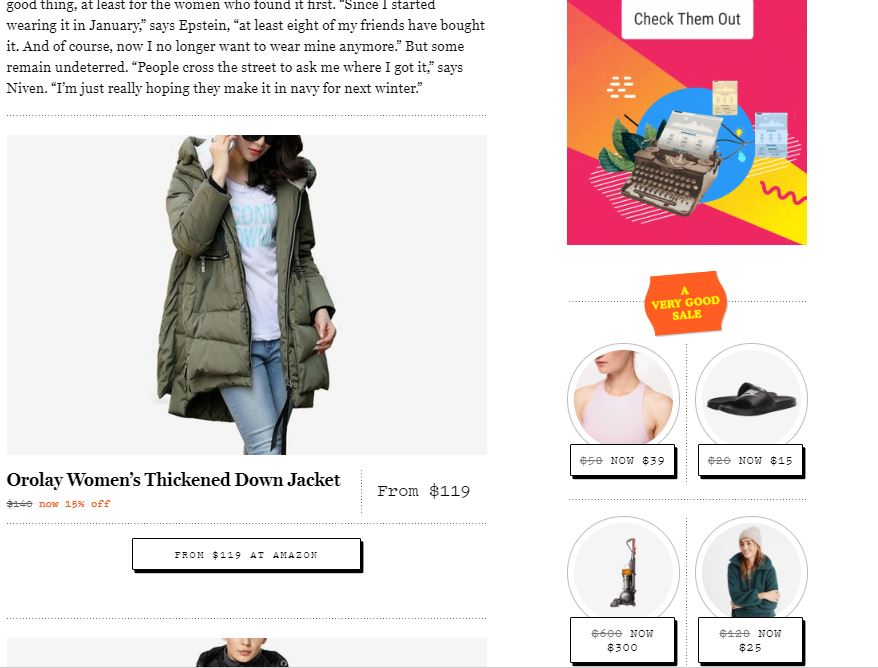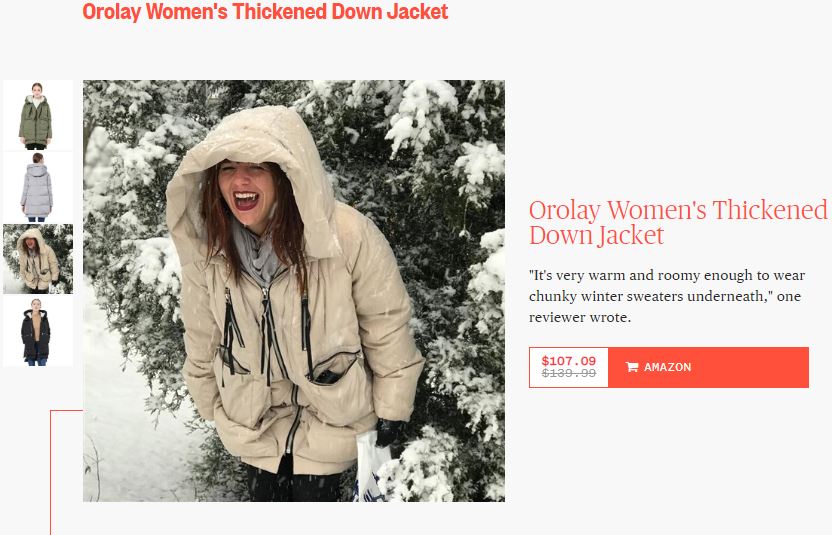 What else should you do when it comes to "plating" your content? Generally, we recommend using a lifestyle image that includes the promoted product (like the jacket in the example from the third publisher), though you always should test this for yourself with your unique audience. Some of our partners, as Wirecutter discloses, have seen performance up to 75% better with images of products without people.
If you're going to put spend behind a listicle or an article reviewing multiple items, make sure that the recommended products are within a similar price range. We recommend choosing a range that's either around $30 between the highest and lowest price points or a 10% difference between the two, whichever is greater. This could help frame the listicle, such as "Top 6 RC Toys under $X".
Set Your Sights, Set Your Goals
When we first ask our partners what their primary goal is, most say "to increase revenue." But that's akin to just looking at a map and sticking a pin in where you want to go. If you only think of the destination but don't plot a course, you're bound to get lost. 
So when you're looking for a goal, think of where you want to put most of your focus. Is it the middle or bottom of the funnel? For us at Keywee, the answer to this question can often change an entire campaign strategy.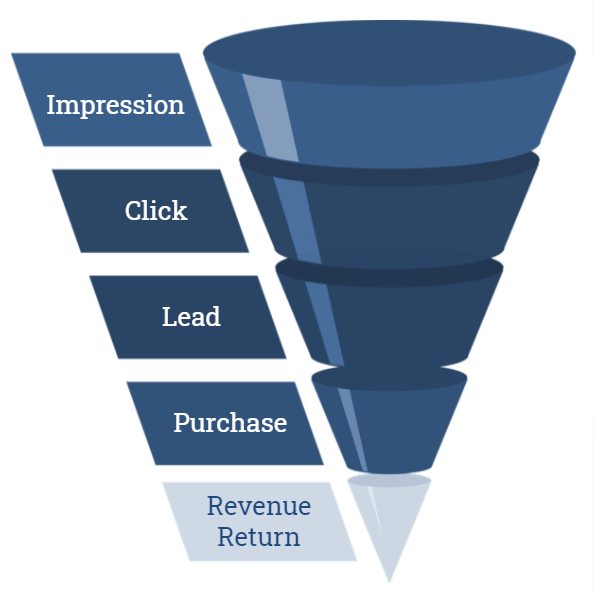 Depending on the campaign's goal, there are two main optimization methods. One that focuses on clicks-outs (leads) at the lowest cost, and another, which is ROAS (return on ad spend) based. Each of the optimization goals requires a different type of audience and optimization method, just like subscription campaigns that use a content funnel to meet their goal. 
If your goal is click-outs, you don't have to have an accurate revenue reporting from your partner and attribution is easy. On the other hand, not all leads convert. If you treat them the same way, you might overlook some opportunities while over-spending on others. 
When the goal is to make money, which is the case for affiliate marketing, we recommend optimizing for Return On Ad Spend (ROAS). The technical set-up might be a bit longer, and the attribution and measurement are slightly more complicated, but accuracy of the end results will be much better. Here's a quick example: recently, in one month of optimizing for ROAS with one of our partners, we reached exceptional results. How exceptional? April's scale was double that of November and December combined. Meanwhile, the ROAS is expected to be 150%.
When done right, affiliate marketing can be a significant revenue stream that brings a lot of value to your readers. If you're exploring paid promotion of your affiliate content, we'd love to have a chat and see if our technology and expert campaign managers could be a good fit for you. Just reach out and book a demo.
Are you suffering from a news overload? I definitely think I'm past the point of saturation and on to straight-up drowning in news consumption at this point.
The thing is, I have a relatively simple solution that's mitigating the issue:
Newsletters
.
About a year ago, I realized that I could no longer keep up with the news, both industry and general, by visiting a million websites each day. I decided to scrap the habit, and instead, I subscribed to a bunch of newsletters. These days, I have daily subscriptions to three current events digests and about eight industry newsletters (and I know that's still a lot 🙂 ).
Before all of this craziness, newsletters were already having a moment. Newsletter juggernauts like
Morning Brew
and The Hustle, two of today's most widely-recognized newsletter-first publishers, are building thriving businesses. And those are just two examples; there are plenty of smaller newsletter publishers who are also prospering.
After the Great Upheaval, newsletters still seem to be everywhere, but they're of a different sort (hint: mostly having to do with a certain virus). That's what I want to talk about this week.
COVID, COVID Everywhere
(Not so) shameless plug: Keywee has been helping publishers drive newsletter acquisition for years now with the help of a product we call
Content-to-Capture
. With it, publishers can run campaigns that are similar to Facebook's in-feed lead ads, with the addition of an article content preview before asking users to leave their email addresses and other details.
This ad format is handy to me when I dig into campaign data because I can have full visibility into publishers' content strategies for email acquisition.
And I think you can guess what the dominant strategy has been over the last couple of months. A big share of publishers running newsletter acquisition campaigns with Keywee have created a COVID-19 newsletter. Remember how last week I mentioned that
some things don't change
and that we haven't seen any COVID-only traffic campaigns? Well – this is where they've been hiding – in newsletter campaigns.
Of the hundreds of Content-to-Capture campaigns Keywee is managing at the moment, the top spenders are all COVID-related.
Even most of the non-COVID campaigns have content that is related to the virus, and it performs as well in terms of
user retention
.
But how sustainable is this?
The Downward Trend
Bottom line – it's not going to be, at least not for long. Let's break down the numbers.
Over the past few weeks, we've seen a steady decline in COVID-related pageviews. They currently stand at approximately 11.5% of overall traffic, as you can see below.
So there's certainly quite a bit of content fatigue. Honestly – how could there not be at this point, right?
But let's also be clear: CPCs and CPLs are still incredibly low. If a publisher is running an ROI-positive newsletter campaign around COVID, there's no reason to stop running it.
This downward trend, however, will most likely continue. Take a look at conversion rates on COVID newsletter campaigns:
Like page views, they're gradually starting to come down. Costs are still low, but they may not stay that way forever.
So – what now?
Time to Veer Away From the Virus
Real talk: across the board, regardless of the type of content, CPCs and CPAs are at historic lows. This opens the door to a wealth of opportunity. If you're currently running or planning on running newsletter sign-up campaigns, it's time to start thinking about the long term.
I don't think COVID newsletters are going to disappear. If I were to place a bet – I'd say they'll be around for as long as this virus is, and people will continue to be interested. But it's time for publishers to broaden their horizons again and look beyond the immediate. The time to grow your audience is now. We're already starting to see a shift amongst our publishers. Slowly but surely, we're seeing a return to broader topic coverage. So far, low CPCs and CPAs are holding steady in May.
Keep It Useful
So what are publishers talking about? Well – it depends on what their core audience is interested in. One local news publisher, for example, has returned to promoting its food-focused newsletter, now covering the best places for delivery and recipes rather than restaurant reviews. Another local publisher has started a newsletter to update on business openings and closures in the area.
Entertainment publishers are back to talking about the Kardashians. Financial publishers are talking about financial planning and outlooks for the coming year. As I said, we're seeing a variety of topics popping back up again.
I won't go into a whole treatise about getting newsletter subscriber campaigns up and running (I recently
wrote about it on PubExec
if you want to dig deeper), but I will say this:
If there's an iron-clad rule in newsletters, I think it's that you have to deliver value. People will give you permission to visit their inboxes if you provide them with something useful. That should be the first question you ask yourself: what can I give to my users that will enrich them? What will build trust?
I promise you that as long as you do that, you have the potential to succeed. That's the common denominator for every successful newsletter campaign I've seen. I hope that it will be your guiding light.
If you're not currently working with Keywee and would like to learn more, feel free to reach out and request a
demo
.