Pour lire cet article en français, cliquez ici
The branded content market is exploding. Some estimates peg the market size for branded content at $20 billion over the next five years.
When a brand partners with a publisher for a branded content campaign, the brand is buying a few things: the publisher's storytelling expertise, its influence and thought leadership, and access to an engaged, relevant audience.
Unfortunately, getting this audience to interact with branded content articles is becoming increasingly hard. Organic traffic isn't what it used to be, and branded content specifically doesn't get much SEO love.
To combat this trend, it's common for publishers to acquire audiences when there is a positive ROI. For editorial content, this means buying traffic for profitable audience development and subscriptions. For Branded Content, it means buying traffic as part of a bundled offering that may include acquisition as part of the cost, or may break it out as a separate line item.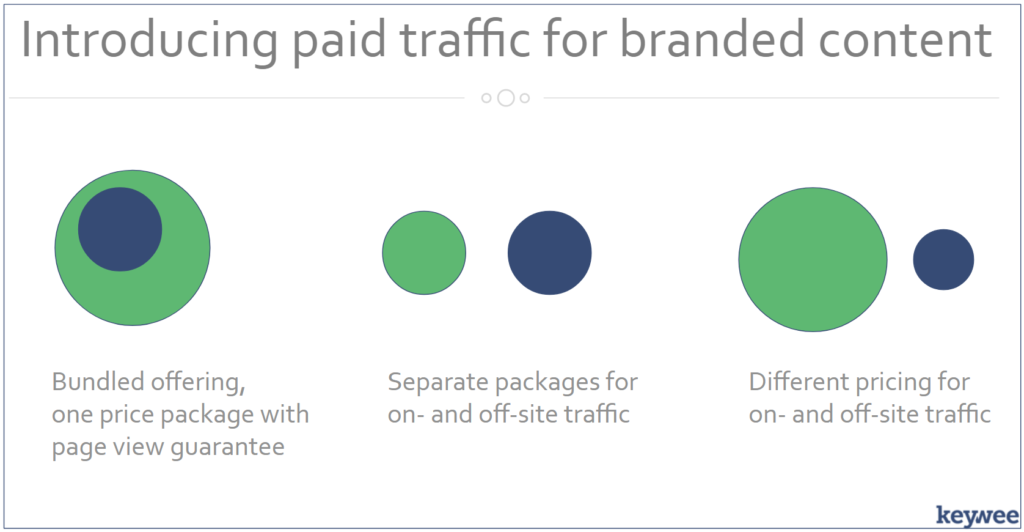 Paid branded content distribution has more than doubled year over year.
In the past year, we've seen growth in paid distribution overall, with publishers doubling their spend on Facebook in the past 18 months. Paid branded content distribution has been growing faster than paid editorial distribution – it has more than doubled year over year (113% growth), and its share of total publisher spend on Facebook grew from 0.8% in Q3'16 to 9.5% in Q3'17 – as presented in the chart below. These figures are based on Keywee's analysis of data from over 400 publishers and one million articles promoted on Facebook.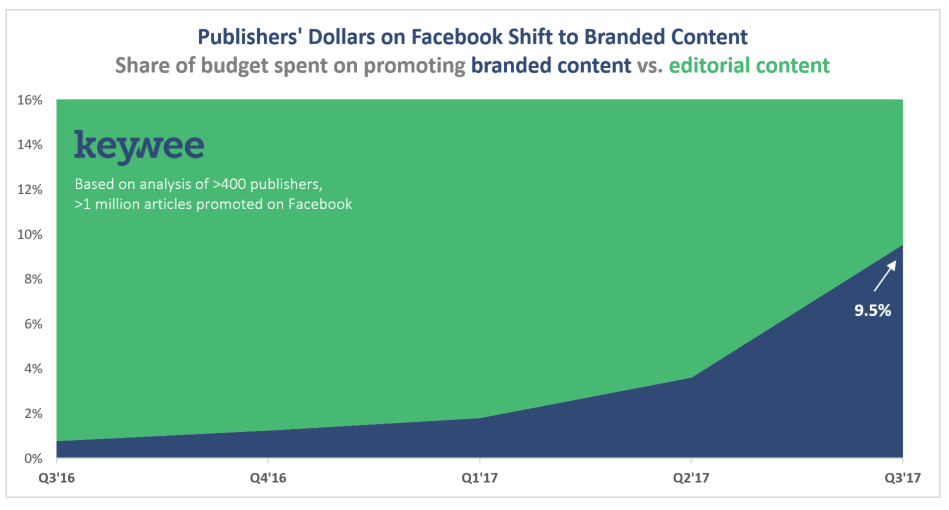 Stay tuned for our next post in this series – a playbook for publishers for reaching the best audience for branded content articles using paid distribution.
PS (shameless plug) – Keywee helps over 400+ content creators distribute their content efficiently on Facebook – both editorial and branded content. If you'd like to see whether Keywee can help your team, feel free to request a demo.
About Keywee
At Keywee, we make stories relevant and powerful for the world's best storytellers — like The New York Times, The BBC, National Geographic, Forbes, and Red Bull.
Today, people aren't coming to websites to search for content — stories find their audiences in feeds and apps. The upshot? Distribution is now the key for effective storytelling. Keywee's platform unlocks audience insights using AI and data science, and infuses them into every step of the storytelling process: from topic selection, to story creation, to distribution and optimization. Keywee is backed by leading investors such as Google's Eric Schmidt and The New York Times, and has been a fast-growing, profitable startup since its inception. To learn more, request a demo here.