We Now Offer Our Audience-Targeting Capabilities for Instagram Ads
We're pleased to announce that our customers can now take advantage of Keywee's innovative audience-targeting capabilities to share their stories as paid posts on Instagram and drive high-performing traffic to their website. With a community of more than 400 million users, Instagram is one of the world's largest mobile ad platforms. Last year's addition of direct-response buttons, such as "Learn More," to its ad format made the platform even more compelling to publishers and content marketers. These buttons can link to a particular webpage, like an article, and drive action to meet specific business goals such as subscriptions, newsletter signups or audience development. Our customers, including some of the top publishers in the world, wanted Instagram support. Now they have it!
So, How Does it Work?
Keywee now does the same thing for Instagram that it has done successfully for other platforms such as Facebook and Yahoo. Specifically, Keywee:
Uses natural-language processing to scan content and understand what it is about.
Employs its vast database of historical performance to target audiences that have been shown to act on different types of content.
Automatically generates numerous variations of paid posts, with optimized bids for each selected audience.
Provides insight into how the paid posts are performing with their targeted audiences, across platforms.
We're excited to continue to grow in line with our customers' needs!
We launched The Keywee Facebook CPC Tracker to help content creators understand how changes to the Facebook platform affect their daily work, based on our analysis of data from hundreds of publishers.
Each month we release new data along with relevant insights on content distribution. You can read past months' updates here.
To sign up for future CPC updates, fill out the form below:
October Recap
The digital media industry is constantly evolving, and in October we witnessed some interesting developments as publishers continue to find new ways to diversify their revenue streams and drive meaningful content to loyal subscribers.
Back in April, Financial Times hit its goal of reaching a million paying readers. In October, the company took new steps to increase their readership two-fold by applying a new subscriber-only business model to its previously-free podcasts. With this change, the London-based outlet hopes to cultivate a loyal listenership while also generating additional revenue through this subscriber incentive.
Recent developments in the current US political climate have served as an opportunity for publishers to further engage their audiences. NBC News, Vox Media, and WNYC Studios are among the many publishers that are launching political reporting and discussion podcasts in order to drive audiences to listen and, ultimately, convert to paying subscribers. In other streaming news, Marvel announced a multi-year agreement with Sirius XM and Pandora to create exclusive original storytelling podcasts featuring well-known Marvel characters. Thanks to Marvel's global popularity, this partnership will likely drive a sizable amount of listeners to Pandora and Sirius XM as they compete for subscribers with other popular streaming services in the rapidly growing podcast industry.
Although the subscription-based model has always been prevalent, lately content creators are pushing even harder to increase their numbers of paying subscribers. Namely, The Economist is working to convert its million YouTube subscribers into paying members by actively posting a variety of new, high-quality videos on its channel. This strategy is meant to increase genuine interaction as well as drive people back to the company's site, where they hope to convert these viewers in a bid to drum up reader revenue. Meanwhile, Medium, the online publishing platform, has integrated a new model that rewards quality writing by basing compensation for content creators on the amount of time users spend reading their work. By calculating session duration rather than clicks, Medium can determine which articles interest their subscribed readers most and create more content to suit their taste — and attract new, paying subscribers.
Since engaging content is key for driving reader loyalty, platforms are working to aggregate news from a myriad of publishers to encourage audiences to use their platforms as their main news source. By being a content distributor for different publishers, platforms can present a range of different opinions and tones to a vast user base. The Japan-based app, SmartNews, announced its plans to pay publishers to feature their headlines and platforms. Facebook announced its new News tab, in which it plans to display original reporting from local publications in addition to top, nationally-known publishers. Meanwhile, CNN revealed that a news aggregator app, NewsCo, is in the works.
A recent partnership between Starbucks and The Wall Street Journal represents an effort to democratize news for non-subscribers. The Seattle-based coffeehouse chain pulled all printed newspapers from their stacks and has announced that Starbucks customers can now access free digital news, like USA Today or New York Daily News, by logging onto their (also free) WiFi. The move from print is part of an effort to entice new readers in a digital age and present them with a modern way to access the outlets' reporting. For The Wall Street Journal, hope is that this partnership will encourage Starbucks customers to become habitual readers and integrate these publications into their daily routines.
October Data

In October we saw a 5% decrease in CPC prices. The beginning of October also signaled the start of Q4, and CPC prices are usually the lowest during the first month of each quarter. That said, we can expect that CPCs will quickly begin to rise as the holiday season gets into full swing. Generally speaking, since CPCs relatively low at the beginning of the month, we recommend taking risks and testing new content during this time.
About Keywee
At Keywee, we make stories relevant and powerful for the world's best storytellers — like The New York Times, The BBC, National Geographic, Forbes, and Red Bull.
Today, people aren't coming to websites to search for content — stories find their audiences in feeds and apps. The upshot? Distribution is now the key for effective storytelling. Keywee's platform unlocks audience insights using AI and data science, and infuses them into every step of the storytelling process: from topic selection, to story creation, to distribution and optimization.
Keywee is backed by leading investors such as Google's Eric Schmidt and The New York Times, and has been a fast-growing, profitable startup since its inception. To learn more, request a demo here.
With the end of the year fast-approaching, now can be an uneasy time for publishers whose content distribution efforts are closely tied to their bottom lines. Having worked with hundreds of publishers during these critical months, we're here to reassure you that there's no need to worry. In fact, we argue that Q4 is a great time for content distribution, and includes some of the year's best opportunities to grow and scale your campaigns.
To help publishers navigate Q4, we recently hosted a webinar where we walked through an easy-to-follow content distribution checklist. In it, we covered the necessary steps to avoid the season's most common pitfalls, and shared our best advice for thriving during the industry's most competitive quarter.
Let's recap:
Plan an Air-tight Media Strategy:
Tis' the season to advertise during peak days like Black Friday and Cyber Monday, along with the the long-tail in December. Somewhat of a scary stat: 67% of attendees who tuned into our webinar revealed that they did not take advantage of these opportunities.
Front-load your campaign spending during the cheapest times of the month. Generally speaking, CPCs are more cost-effective at the beginning of the month, when competition is relatively lower.
Babysit your campaigns as they scale. Make sure to check up on results daily, and pay close attention to opportunities for improvement.
Prep your creative brief. When taking content risks, having a creative brief can ensure that content is appropriately aligned with your brand voice.
Don't forget about 2020. Our data shows that the CPCs are significantly lower at the beginning of the New Year when compared to December.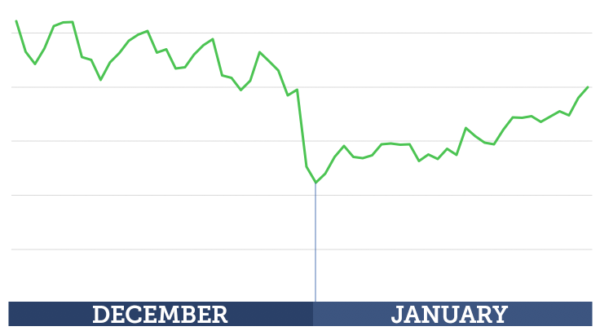 Bonus: Because the beginning of January is so inexpensive, we advise testing fresh content once Q4 wraps. This is an ideal time to take risks and glean insights that you can carry with you through the rest of the year.
Preparing for Performance Plights:
Some days, your content will be the underdog and that's okay. Don't be deterred by negative ROI, but start to question the cause if the trend continues. Why is specific content underperforming? Are your tracking parameters set up correctly? It always pays to be proactive. Try checking back on past quarterly performance to see what historical data is available to use for benchmarking.
Since holidays in Q4 can greatly impact CPCs, we advise planning for inevitable fluctuations:
Creating a spend strategy is the best solution for handling these fluctuations. Learn to predict them to organize spending accordingly.
Create 'Thrilling' Content that Drives Revenue:
Test new content while scaling existing campaigns that you know performs well.
Try creating year-end recaps like Best TV Shows of 2019, 2019's Biggest Tech Stories, or whatever else fits within your brand and editorial voice.
Use seasonal content and campaigns to drive your acquisition strategy. For example, you can encourage users to have their New Year's Resolutions be to read the news each morning, which can be the perfect opportunity to nudge them toward a paid subscription.
Remember, evergreen content is timeless. Literally. It always works, even during peak acquisition times. Historically good performance makes for great staying power.
Launching affiliate campaigns in Q4, despite the competitive landscape, can be ideal. The higher traffic will help you test what content works best, and since people are in a buying state of mind, it's likely to give a boost to your attribution rates.
Growth Potential:
The most exciting part of Q4 is the great potential for publishers to optimize and distribute compelling content before the year comes to a close. At Keywee, we've witnessed countless publishers thrive in Q4. If you'd like some help with your growth strategy, don't hesitate to reach out.
Your Q4 Content Distribution Checklist
We've been fortunate to work with many of the most forward-thinking content creators during during the critical months of Q4. To help make your holiday season a little brighter, we've compiled the most important lessons that we've learned over the years in the checklist infographic below.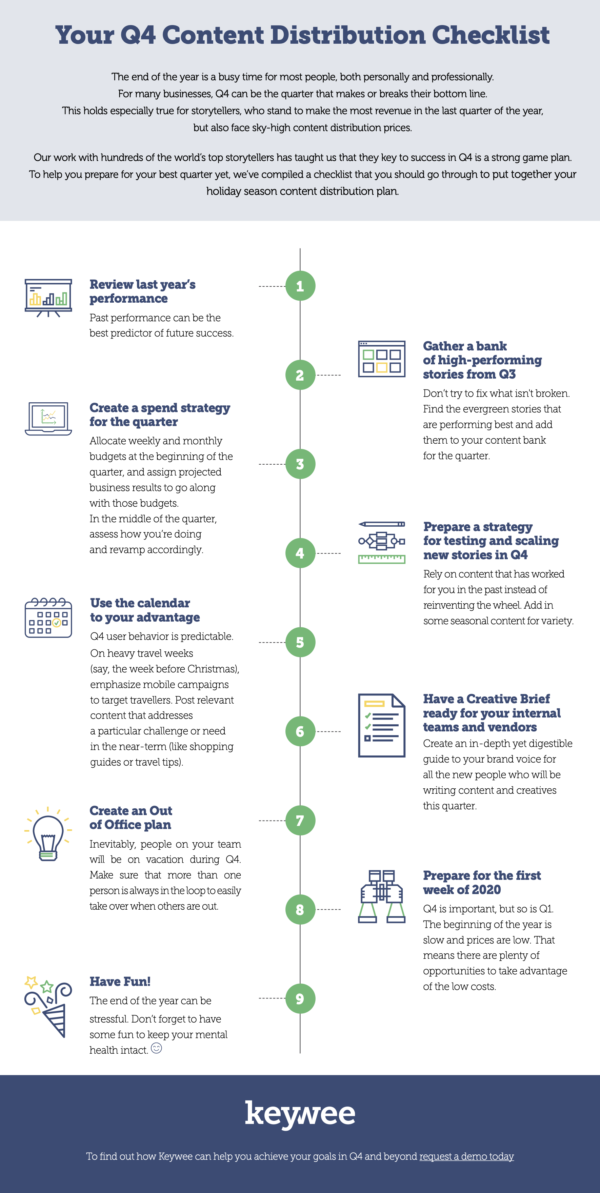 Interested in learning more? In our recent webinar, Don't Be Spooked in Q4: Your Content Distribution Checklist, we took a closer look at Q4 and discussed a variety of optimization opportunities and strategies that you can use to your advantage during this time.
Fill out the form below to begin watching the webinar:
We launched The Keywee Facebook CPC Tracker to help content creators understand how changes to the Facebook platform affect their daily work. The findings are based on our analysis of data from hundreds of publishers across a variety of verticals. We release new data on a monthly basis along with relevant insights on content distribution. You can sign up for monthly updates straight to your inbox here and read past months' updates here.
September Recap
In the publishing world, September was all about teaming up.
There's been talk for a long time about the duopoly. Digital ad giants Google and Facebook (and to a lesser extent, Amazon) have a lock on the market, leaving publishers increasingly dependent on those sources of traffic and revenue. Publishers often try to diversify by selling their own ad inventories and looking at alternate traffic channels, but even for the bigger players, they rarely scale.
Video advertising, for example, is mostly dominated by YouTube and its endless supply of preroll inventory. To combat this, Buzzfeed, Group Nine Media, and Insider have banded together to sell video ads across all of their digital properties. Apart from scale, this will give advertisers access to a large brand-safe environment — something that can be difficult to guarantee when advertising on YouTube.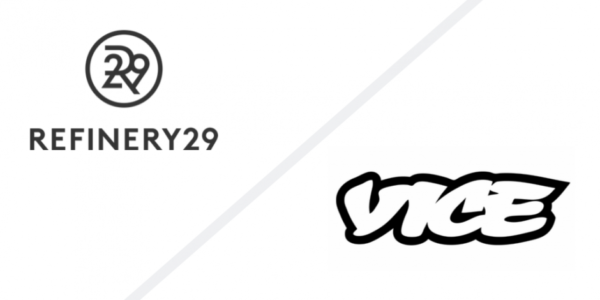 Vice Media also made a play to achieve more scale and diversity by purchasing Refinery29. This new partnership will bring Vice's total unique visitors to over 350 million combined. As an added bonus, the acquisition means that Vice's employees are now predominantly women. Refinery29 will stay a distinct and independent site editorially, but the acquisition will create a far more diverse and expansive ad inventory for the now larger Vice Media Group.
That wasn't the end of merger news for the month. Just last week, the ad-tech world had another big shake-up when Taboola and Outbrain, the two content recommendation giants, announced that they were merging.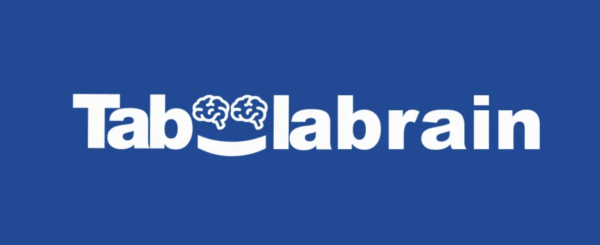 The companies, with an estimated reach of over 2.6 billion users combined, have banded together as part of an effort to take on the big players and create a sizable alternative for marketers and publishers.
Some publishers have signaled nerves around the merger, as the competition between the two companies may have driven higher revenue guarantees for publishers. Whether that fear is justified or not remains to be seen.
September Data

This September, we saw a significant rise in Facebook CPCs, with prices increasing 13% month-over-month. Although the last month of every quarter is expected to be the most expensive, this is a more substantial jump than we've seen in recent years during September. Across use cases, we saw the most significant increases in the cost to distribute content for publishers' audience development efforts.
Q4 is Upon Us
Pictures of foliage and pumpkin spice everything means that the advertising landscape is about to get competitive as everyone vies for consumer dollars and attention. CPCs are only expected to increase as we get deeper into the quarter. But as you spend your ad dollars, it may be worth taking a step back. Are you optimizing for quantity or quality?
Spending big to attract fly-by-night visitors may make sense in the short-run, but if you want your efforts to create long-term ROI, concentrating on retention and building loyalty are key.
To learn more about optimizing your user acquisition efforts for loyalty during the upcoming months, watch our on-demand webinar, Measuring Loyalty: The Cutting Edge of Audience Development.