We launched The Keywee Facebook CPC Tracker, a monthly update on Facebook CPCs based on analysis of data from over 500 publishers, to answer frequently-asked questions about Facebook CPCs and the state of paid content distribution.
We release new data every month, along with relevant insights on content distribution. You can sign up for monthly updates straight to your inbox here, and read past months' updates here.
April Data: Prices prime for spending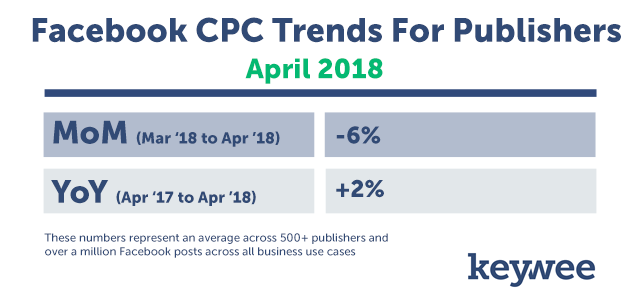 In April, we saw a month over month decrease in CPCs. A drop in price is standard at the beginning of a quarter, since prices are notoriously at their highest at the end of a quarter.
This year, however, the dip from Q1 to Q2 was a bit larger than usual. This explains the low increase in year over year pricing – just 2% in April, despite double-digit year over year growth every other month in 2018 so far.
April CPCs were actually almost comparable to those in January, when prices are at generally at their lowest for the year. This presented a great opportunity for publishers to scale their campaigns further with their April budgets.
Subscription Spend Heating Up
Meanwhile, spend is up year over year across all use cases, again showing that publishers are willing to continue spending on Facebook as long as it's profitable for them.
In that vein, we've seen the largest spending increases happening across publishers spending on Facebook to acquire new digital subscribers. This is happening for two reasons. First, the publishers who are spending on subscriber acquisition continue to increase their spend. Second, a new wave of publishers have started to spend on these types of campaigns, driven by a push for more sustainable revenue sources and a more concerted effort by Facebook to help them achieve results.
Takeaways:
April was a great time to spend.
But if you missed that boat, don't worry. The low prices mean that May will likely start with lower-than-usual CPCs as well. Utilize the first week to spend while prices are low.
May is the time to optimize.
Half-way through the quarter, we expect to see prices begin to increase in May and continue that trend through June. Continue to test new articles, but monitor your paid distribution spend, and allocate the bulk of your budgets toward only the top performing posts.
To sign up for future CPC updates, fill out the form below:

About Keywee
At Keywee, we make stories relevant and powerful for the world's best storytellers — like The New York Times, The BBC, National Geographic, Forbes, and Red Bull.
Today, people aren't coming to websites to search for content — stories find their audiences in feeds and apps. The upshot? Distribution is now the key for effective storytelling. Keywee's platform unlocks audience insights using AI and data science, and infuses them into every step of the storytelling process: from topic selection, to story creation, to distribution and optimization. Keywee is backed by leading investors such as Google's Eric Schmidt and The New York Times, and has been a fast-growing, profitable startup since its inception. To learn more, request a demo here.