— and other insights from our latest Keywees survey * plus what the heck is a croquembouche
From the outside, you often get the sense that companies place a lot of importance on their "values" and "culture." Often times though, despite sincere intentions, the values just end up tucked away on the company website, ignored for most of the year.
At Keywee, a couple of years ago we went through a process of defining our values – or more like putting definitions around existing values and cultural traits that were already part of who we were. After much debate (and skits and role plays and props) we came up with five values that we believed defined our essence pretty well.
Customers first. We succeed when our customers succeed. Ask yourself "Will this help our customers?"
True owners. We are not afraid to aspire to be world class. We are resourceful and don't quit.
Get things done, fast. Start today.
We are growing together. As Keywee grows, I grow — and vice versa.
Teamwork. Trust, respect, help.
Two years in, we thought it'd be interesting to write about what's up with our values. Are they boring posters on the walls, or are they more than that?
In a recent survey, we asked all Keywee team members about their experience at Keywee. The responses showed that our values are alive & kicking, and still accurately capture the spirit of Keywee.
Here are a few things that Keywees mentioned when asked what they liked most about their role and working at Keywee, showing our values in action (slightly edited for brevity and, you know, punctuation and stuff).
"The growth opportunities are endless, you can and are encouraged to continuously learn and develop. If something is particularly interesting to you, a role where you can develop further and contribute to the company can be made for you."
"What I like most is how much I learn every single day."
During these two years we invested quite a bit in bringing our values to life. From posters at the office (but cool ones!), to giving monthly prizes to MVPs (most value-able players, get it?), to incorporating values in our interviewing and feedback processes, our values became part of our day to day.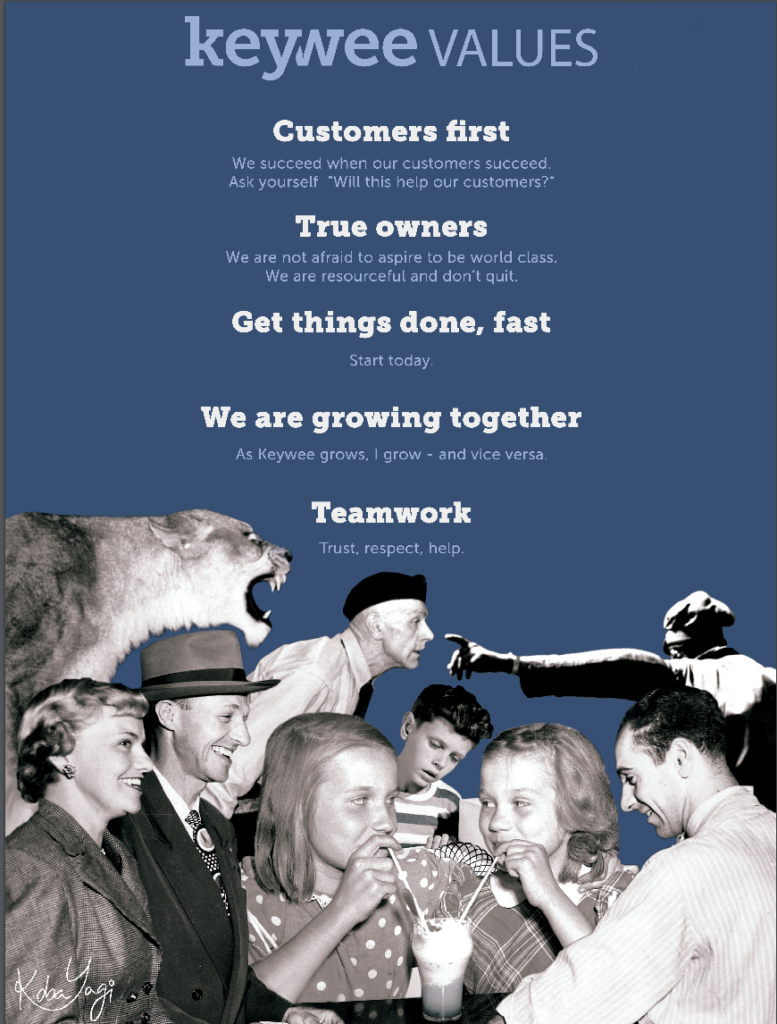 "We are not trained to just do a job, we are trained to understand our industry and be awesome in it."
"What I like most are the responsibility and independence."
"At Keywee, it feels like "team" really goes beyond just the people you work most closely with every day. There's a sense of camaraderie and willingness to always lend a hand regardless of departments, we're all in it together."
Oh, and the croquembouche? We also asked Keywees what dessert would Keywee be, and this was one of the answers.
"A croquembouche – we stick together and together we build something amazing."
Indeed! And… did we mention we were hiring? If the croquembouche whet your appetite, check out our open positions and get in touch here.