This is a guest post by Renee Chemel, VP Marketing at PowerInbox.
In the drive to generate more revenue, demonstrate ROI and prove measurable results, digital marketers are increasingly turning to email as a tried-and-true method for audience engagement. Email—once considered "dead" and old-school—has statistically shown to deliver conversions, drive sales and garner audience trust.
As a result, many brand marketers and publishers have launched highly successful email newsletter programs that deliver relevant, opt-in content directly to subscribers' inboxes on a daily or weekly basis. For most, the primary objective is driving traffic back to the site, where monetization takes the form of display ads.
But for a growing number, monetizing the email itself has become a higher—and more lucrative—priority. Here's why:
1) It offsets costs. While newsletters are relatively inexpensive to send, they're not without time, effort and platform costs. Direct monetization can generate at least enough revenue to cover those costs, so that your emails basically pay for themselves…and then some, with the right strategy.
2) It's simple. A number of vendors provide email advertising platforms that support this strategy. While some have stringent parameters, only deal in high-volume sends, and can be difficult to manage for a small team, others are much more flexible, accommodating and compatible with current templates, devices and ESPs. This makes it easy for even small teams with modest budgets to get started.
3) It's effective. Because subscribers inherently trust the content they've opted-in for, they're more likely to open and click on both in-email ads and sponsored sends. This gives advertisers an audience reach advantage and publishers a revenue generation boost.
If you're looking to add email monetization to your revenue strategy, or you're looking for ways to optimize your current monetization program, here are a few options that can maximize the potential.
1. Choose native over display.
Some marketers may worry that advertising may be a turn-off for subscribers because they're sensitive to pop-ups and other intrusive ads on their social feeds and even on websites. But, evidence shows that native ads – those that appear to be part of the content itself—are much more effective (and better tolerated) by subscribers. In fact, many don't even realize that they're seeing an ad, primarily because the content presented is helpful and relevant to their interests.
As a result, consumers are much more likely to share and click on native sponsored content than banner ads, and the conversion rate is significantly higher—up to 60 percent when they include rich media.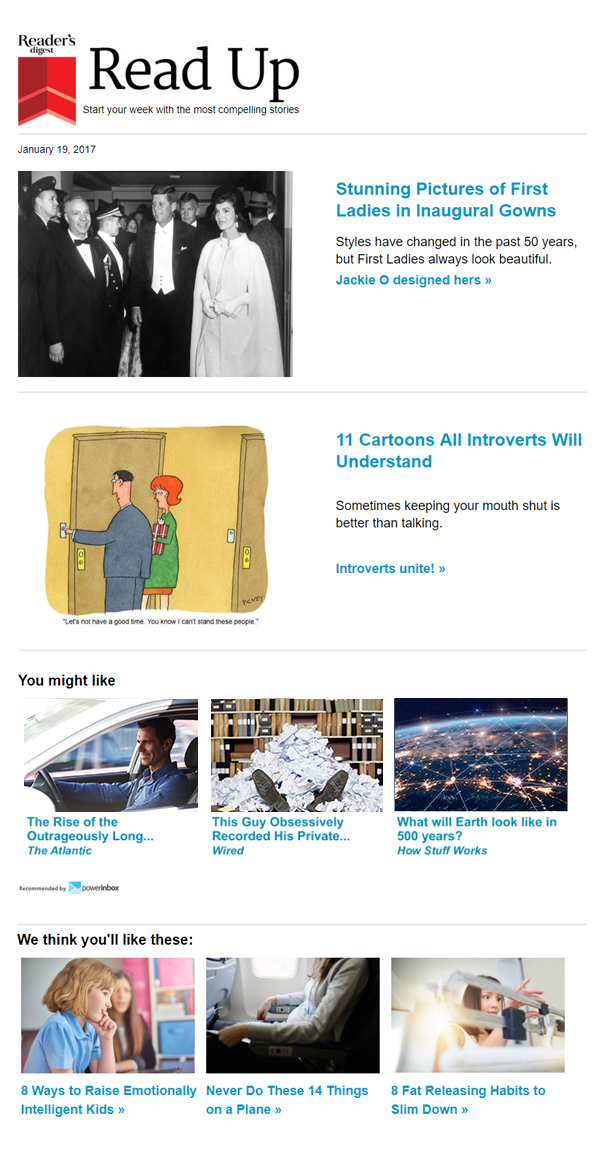 2. Use an ad server.
Managing an email ad program can be a big task, especially for a small team—and even tougher for teams that are already handling web monetization. Direct sales take a lot of time and effort, and some companies just don't have those resources.
Using an email ad server platform, like PowerInbox's AdServer for Email, can give you all the benefits of email monetization with far less work. Not only can the ad server automatically populate ad spots from its ad network inventory, but it can also integrate direct sold with the auto-fill. This ensures subscribers see fresh content, and no ad send goes unmonetized.

3. Get personal(ized).
You already know that delivering relevant content is critical to maintaining subscriber engagement in your emails. Audiences expect that the information you share is something that they personally want to see.
Ad content is no different. In-email ads are much more effective at driving audiences to take action when the content is personalized for their interests, previous click behavior and profile. Using an ad platform that can algorithmically analyze subscriber data to deliver ad content that suits fits with their interests is critical to success, as is personalization based on device, location and other parameters.
The Bottom Line
Monetizing email campaigns and regular newsletters should be a critical part of any brand or publisher revenue strategy. Not only does it enable your email sends to pay for themselves, but it also provides advertiser partners with a captive, trusting audience that has raised their hands to request your content.
Optimizing your program with these three strategies can ensure that you're making the most of the opportunity, while still living within the conventional parameters of what audiences will tolerate when it comes to marketing in their inbox.
About the Author
With more than 20 years experience, Renee Chemel has played a part in the fast-growing Israeli-based marketing tech scene. Her work has included building numerous brands that attracted acquisition, including Mercury Interactive (by HP) and Identify (by BMC), along with senior positions at ECI Telecom, Leadspace and ControlUp. Now as VP of Marketing at PowerInbox, she drives marketing strategy and execution for the $30 million email-based engagement and monetization solution that serves over 10 billion impressions to more than 120 million unique users per month. Renee has presented at several Marketing Sherpa and Eloqua (Oracle), Marketo (Adobe) and Hubspot events.