If you frequent the Keywee blog, you know that today, most publishers are running paid content distribution campaigns through Facebook. But in order to make that profitable, publishers need to earn revenue from that traffic. While publishers are increasingly diversifying their revenue sources, the most common one is still programmatic ads.
For that reason, we invited Brandon Gains, VP Marketing at MonetizeMore (which helps publishers with their programmatic yield management) to share some of his favorite guides about optimizing on-site monetization.
Getting Started
The Best Advertising Networks for Publishers in 2018: One of our top-performing guides every year. We put this together for new publishers looking to get into site monetization. This guide goes over the best advertising networks to work with in 2018 and the key factors you need to consider when choosing your demand partners.
The Ultimate List of Yield Optimization Techniques for Publisher: Once you've chosen your advertising partners, you can move onto this yield optimization guide, which is packed full of tips and tricks based on our Ad Ops team's experience working with premium publishers.
For the More Advanced
How to Set Up Lazy Loading and Infinite Scroll with PubGuru Header Bidding: Here's a guide we put together for publishers looking to take advantage of header bidding and optimize their lazy loading/infinite scroll page layouts to increase session RPMs by up to 30%.
Ad Exchange Price Floors Explained & Optimization Tips: Another important area for premium publishers to look into is price floors. Our AdOps engineering team has built machine learning recommendations to help publishers automatically set their price floors. In this guide we look into the benefits and challenges of price floors. This Ad Ops strategy can drive considerable revenue when done correctly.
These ad optimization tips vary in complexity, but they can make a world of a difference to your ad revenue. If you'd like to find out about other advanced techniques that the MonetizeMore team implements, be sure to visit our website.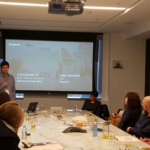 Brandon Gains sits at the intersection of advertising, technology and consumer behavior. As the VP of Marketing at MonetizeMore and throughout his career he's driven millions of dollars in pipeline, built innovative software products and established the brand identity for leading technology companies.