Casually browsing headlines over the last few weeks, it seemed to me that affiliate programs had gotten a lot of attention. So much so, that it had me under the impression that publishers who rely on these programs as the primary
revenue stream
, were in deep trouble. But when I peeled away the hype and looked at the data, what I saw in practice was very encouraging.
I want to break down what
affiliate
 campaigns have been looking like for Keywee's customers, which will hopefully help you cut through the noise.
The (Not So) Doom and Gloom
There have been reports in the last few weeks that Amazon and Walmart took the ax to their 
affiliate
 programs. But when you dive deeper into the coverage, it seems the 
actual cuts don't directly affect most publishers
.
Amazon has 
suspended its partnerships
 with third-party vendors (like Skimlinks and Sovrn). Walmart Canada has 
done something similar
 with Rakuten and MagicLinks. It looks like both companies made these moves were to optimize their rev-share models. With Amazon, for example, these vendors would get a cut of the entire shopping cart, even if they were only linked to a small item within that cart. By suspending these partnerships, Amazon and Walmart have made things easier on their bottom lines.
The big picture here isn't bad for publishers. When using these third parties, publishers may cut into their revenue. There's an opportunity here to work directly with Amazon and Walmart, thereby getting a more significant piece of the pie.
In terms of their direct partnerships, it seems Amazon and Walmart have temporarily halted programs for a handful of big publishers like Vox, Vice, and Buzzfeed. This move appears to have been done to 
optimize their supply chains
, as the current demand for goods puts a strain on their operations. As restrictions ease up, it's most likely that these companies will restore their deals with big publishers.
The Bigger Affiliate Picture
These changes shouldn't hurt most publishers, especially if they work to build direct relationships with retailer partners. As the demand for some goods and services increases, 
there are plenty of publishers that are currently seeing growth
. Smaller publishers can take a cue from publications like Wirecutter, The New York Times' 
affiliate
 juggernaut, which has 
created a whole section
 dedicated entirely to product recommendations during the coronavirus crisis.
While some online spending has slowed, there is plenty of good news to be had. 
Demand for online shopping content has increased by 247%,
according to Axios
. Some categories are feeling this increase more than others: Home improvement, consumer packaged goods, toys and games, and sporting goods have all seen particularly notable increases in reader attention.
Steadiness is the Name of the Game
I think that the health of any paid distribution vertical is best reflected in spend, and on that front, we're seeing very encouraging numbers. Spend dipped in mid-March just as people were getting used to sheltering in place. Since then, however, we're seeing a steady increase in spending, which means that publishers are gaining more confidence in this area despite premature heralds of its impending doom: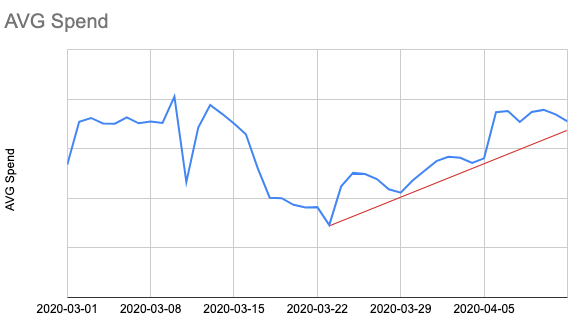 Moreover, CPC and CPA trends have been stabilizing over time. The nature of
affiliate
campaigns is that optimization happens daily and usually, depends on delayed revenue reporting. This often calls for quick pivots in paid strategy, so ups and downs are routine. There was, however, added volatility last month. The chart below shows that this fluctuation has stayed relatively constant through most of March, but April is bringing down the volatility, with numbers "settling" as time goes on.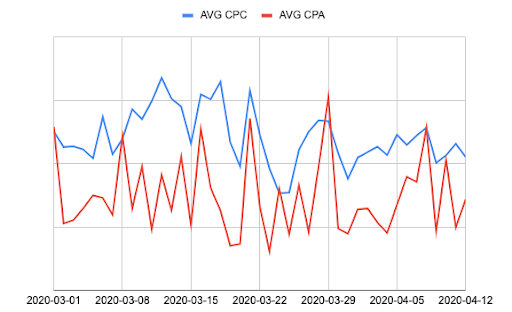 This is great news, showing that there is a reliable stream of revenue emerging for publishers. We expect the volatility to go down even further in the next few weeks as the dust settles.
Trends Our Affiliate Partners Are Seeing
As always, I like to end with an overview of the content and creative trends we're seeing.
For 
affiliate
 campaigns, we're seeing things tracking more or less with the categories I mentioned above. With fewer people leaving home, clothing items like t-shirts and yoga pants are taking center stage. Following that is family and home, with pet toys and children's' online safety in a close tie for second place.
All of these have been wrapped in a very positive tone and messaging on the campaign level, with emojis, for example, being far more prevalent compared to other types of paid distribution campaigns.
There's no doubt that comfort is king, which makes complete sense considering there's so much uncertainty out there. So that's what I'll leave you with today: If people are seeking out comfort, don't be afraid to give them a hearty, positive dose.