Content is a storyteller's most valuable asset. All publishers use their content in one way or another to keep their revenue generation engine running. But in order to grow substantially, publishers have to diversify their revenue streams and increase their stability. So what are some of the ways other publishers are using their content to bring a profit?
Since content costs money to create, it has to be able to drive a return on the investment. So to help you get back the most bang for your buck, we've reviewed the various ways you can generate profit with your content. After reading a bit more about the revenue streams other publishers are using, you could better decide what new revenue source you might want to add to your mixture. 
We've also rounded up some of our favorite content on the topic as extra reading — all of it has been informed by our work with hundreds of leading publishers over the years.

It All Starts With Audience Development
If you're a publisher, having an engaged, loyal audience is not a luxury, it's a must-have. You have to own your audience for any long term planning of your revenue streams. Fly-by readers might suffice for ad-revenue, but will someone buy a subscription if they don't know who you are and what you stand for? Will you get commerce revenue from rented users? Are they as likely to click an affiliate link if they don't trust you? 
When you run an audience development campaign, you don't chase clicks but aim to build a loyal audience. This is usually achieved by getting users to repeatedly visit your (you guessed it) content. Your content, and the unique point-of-view you express in it, is what's going to bring users back time after time. Even if you can't pin a specific ROI to these efforts (because the users don't immediately convert) you should have a goal assigned to the campaign to measure its success. Some of the common metrics we've seen used by publishers for their audience development campaigns are:
Max Cost Per Click (CPC) – This sets a maximum value a user is worth regardless of how engaged they might be in subsequent interactions. It's usually based on calculations related to conversion rates and average ad revenue. While a campaign using a max CPC goal doesn't aim to profit from ads, you should take the average revenue per user into account and try to offset the cost of the user acquisition campaign. Up until last year, this was one of the most prevalent campaign types we've helped our partners scale. Since we launched the Loyalty Score (LS) feature, these campaigns have been used less frequently as publishers learn to use LS in their habit-building efforts. 

Loyalty Score

– The development of Loyalty Score has given publishers visibility into recurring visits over time that are driven by a specific campaign. This fancy talk means that not only can they now see how many times readers returned to the site organically over  28 days, but also which article (and post) started their journey. Armed with this knowledge, the editorial team can focus more on topics that foster long-term engagement. The publisher can even design touchpoints further down the conversion funnel that are tailored to the reader's entry point and subsequent articles read. 

Newsletter Subscriptions

– In the publisher-reader relationship, nothing says "swipe right" as a user giving you their email. Publishers who use their content – instead of a direct response ad – to connect with their audience can later reach out with specific emails tailored to their interests. Using Keywee's

content-to-capture

, publishers decrease the friction in the sign-up process and increase the conversion rates by utilizing the knowledge gap between the creative and the article. The Content to Capture feature uses a Facebook form to place a gate on the post. Facebook fills in the email address and any other information automatically and the users only have to click submit to continue to the article and read it.




As an added bonus, some publishers like

Kiplinger

, and my favorite newsletter Morning Brew, use the newsletter as an independent revenue stream. There are publishers who sell sponsored content slots on it, and some even have dynamic banner ads, it all comes down to your newsletter's design and how well you segment and personalize your emails. 
So why should publishers use paid distribution to build a loyal audience? Today, for the most part, people aren't coming to websites to search for content — stories have to find their audiences in social media feeds and apps. The upshot? Paid distribution can be more easily controlled and predicted than purely organic traffic.
If you're looking to own your own proverbial golden goose, we recommend watching our on-demand webinar, Audience Development in 2020: What Publishers Need to Know. In it, you'll learn how new tech and industry changes may affect your user acquisition efforts this year. As an added bonus, the webinar also covers content trends for 2020 that drive both engagement and user loyalty.

Bringing In Branded Content
One of the reasons publishers diversify their revenue streams is the dependency on various other moving parts that affect their bottom line on which they have little control. From declining revenue from display-ads and mass adoption of ad blockers to the duopoly's algorithm changes, storytellers face a range of obstacles that can impact their bottom lines. Branded content partnerships, though, have emerged as a sustainable and dependable profit generator for many publishers. 
Given the prevalence of branded content in the media landscape and the likelihood that these campaigns will become even more widespread in the coming years, it's important for publishers to understand the potential monetary value that they have to offer and how to utilize it in the best way possible. How big of a profit opportunity does branded content represent? 
According to What's New In Publishing, Guardian Labs,  who's a Keywee partner, saw revenue grow 66% in the first half of 2018 compared to the same period the previous year.  More recently, a survey by Folio found that digital advertising, including branded content, is expected to be the leading growth engine for 58% of the respondents. Taking advantage of this potential for increased profits starts a lot earlier than signing a deal, or even pitching an idea to a partner. It begins with building a branded content team 
For publishers, some of the glaring advantages of this format are that it relies on the teams' forte of telling a story and on its unique familiarity with its readership. These advantages can't be easily replicated, and they balance out demands that brands now make. In recent times, the demand for more reporting on the results and guarantees for performance is increasing, yet branded content is still more about soft selling. So which metrics do we at Keywee usually encounter with other publishers' branded content campaigns' distribution? 
Article impressions (clicks) – This sounds simple enough – promise the brand that at least a specific amount of users will read the article. A lot of publishers will take advantage of content recommendation placements on their site to get users to read the story and promote it at no cost. On top of that, most publishers will bake a content distribution budget into the campaign's budget. If you plan on adding paid distribution, we strongly recommend beginning as early as possible in the campaign. It will give you enough time to gather data,

A/B test creatives

, and optimize delivery.

Ad impressions – Guaranteeing a number of ad impressions is less common for branded content campaigns as it doesn't utilize a content creator's expertise. Instead of relying on a publisher's expertise, impression-oriented campaigns build on the content creators' reputation and relationship with the audience. This goal has two subsets that are slightly different:

Video views – campaigns that optimize the delivery for video views are different from other impression campaigns because they require a longer interaction with the ad, and they rely on the content creator's specialty in telling a story through that medium.

Reach – Optimizing for reach (unique impressions) requires you to have more sophisticated targeting and audience exclusions. 
Sponsored content campaigns are not limited just to one platform such as TikTok, Facebook, Snapchat or Instagram, and most goals can be pursued in either the feed or stories section. Having said that, we must stress that it does not mean that all platforms and sections will bring the same results for the same goal or brand. For example, Stories are much better suited for impression-based campaigns than for campaigns optimizing for clicks. In a similar manner, you should choose Facebook over Instagram or other platforms if you aim to drive traffic back to your site. 
In our eBook, The Publisher's Guide to Branded Content Campaigns on Facebook, you'll learn how to use advanced distribution techniques to get the most value out of branded campaigns (i.e. how to sell bigger brand deals). If you're looking for some branded content campaign inspiration, we rounded up five of our favorite examples to come out of last year: 5 Branded Content Collabs from '19 and What They Teach Us.

Adding Ad Revenue
Advertising revenue has always been an integral part of a publisher's revenue mix, but as the market evolves, it too needs to change. Since the launch of the first banner ad 1994, with a Click-Through Rate (CTR) of 44%, its usage and the supporting technology have evolved significantly. Today, no one would imagine getting that CTR with any form of digital advertising, let alone banner ads. The average CTR these days is representative of people's attitude towards ads: for search ads it's 1.91%, and, according to Wordstream data, it's 0.35% for a display ad.
If you're looking into maintaining display ads as a revenue stream or considering adding it as a profit generation method, there are a few things to take into consideration.
If you plan on using paid content distribution, be mindful of the various platforms' policies.

Facebook's policy

, for example, makes it hard for traditional ad revenue players to reach a high scale, but it's not impossible. With knowledge of the policy's fine points and what your audience is looking for, you can generate profits even in Q1 when revenue per thousand users (RPM) tends to drop.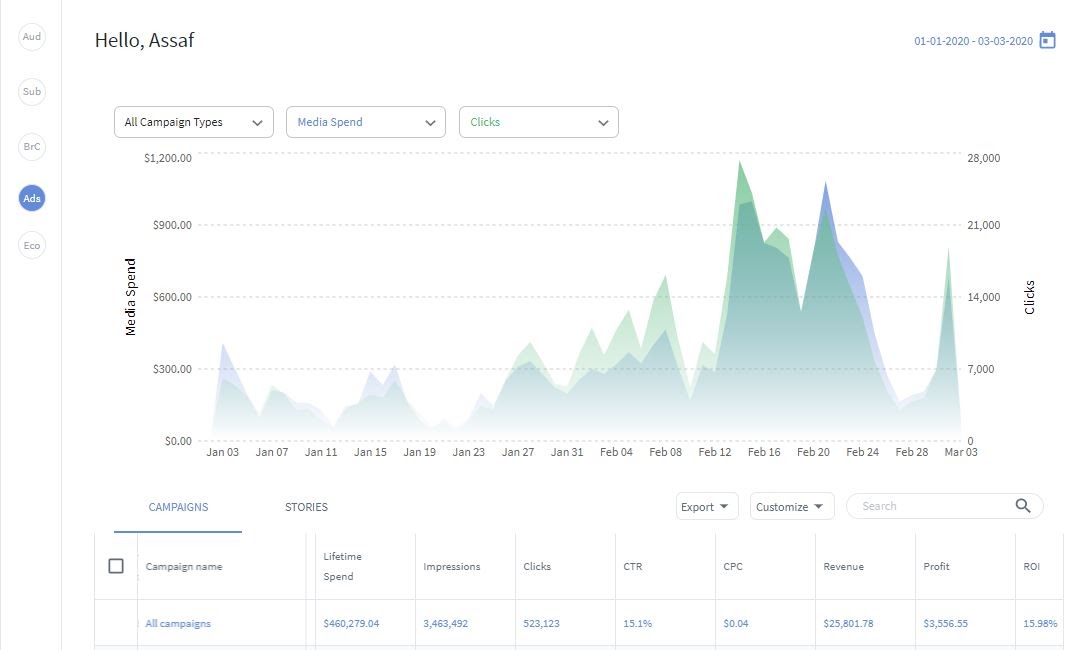 It's not just about your content or your creatives, but also about how your site is designed. A

slideshow

approach has become almost ubiquitous with ad monetization. Even though it also requires taking

Facebook's policy requirements

into account, it's easy to see why it's a popular approach. Most think it allows for more revenue than other formats such as infinite scroll because of the multiple page refreshes, but it has other advantages as well.
When promoting content through Facebook's ad manager, a slideshow (with a little help from Facebook's pixel) can improve your optimization. If you haven't been doing it already, set Facebook's optimization goal for a different number of page views per session (PVPS) and A/B test them to find out which results in better performance.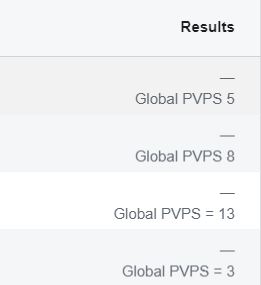 It takes money to make money. It also takes time to make money. Unless you can spare some of both, you will very quickly reach a dead end. It will take both time and money for you and your team to work out the kinks in revenue generation, in finding and to find the right tech-stack for you. After you start paying for content distribution it will take both money and time to find the content that works best, and what creatives generate the highest CTR. Some of Keywee's customers are making great returns on their investment on a daily basis, but to get to that point and crack the method to release the rivers of revenue, it always takes time and extensive testing
If ad revenue has that much profit potential, why would publishers look at other ways to generate revenue outside of display ads? Simply put: future-proofing. Roughly 25% of US users now block ads. Younger users are more likely to block ads than older users. This phenomenon won't go away and will have an increasing influence on coveted demographics. Mobile ad-blocking is expected to become more prevalent in the coming years. As mobile devices now have the lion's share of traffic, this is becoming increasingly problematic.

Counting on Commerce
If Direct-To-Consumer companies have taught us anything, it's that you don't have to have a brick-and-mortar store in order to succeed. The key to success is knowing what your audience wants and being able to communicate with them. And communication with readers is something content creators know all about. So it's no surprise that publishers are turning to commerce as a new revenue source and are even developing new products to help fuel growth.
There are two main ways to categorize the ways publishers are generating revenue from commerce channels:
Affiliate revenue: e

asy to set up and with very little at risk, affiliate revenue is a small but fast-growing revenue stream for publishers. Starting with Amazon's Associates program, adding affiliate links (and a disclaimer) to content you already have, and letting Amazon take care of reporting is as easy as pie. More sophisticated publishers might gravitate towards affiliate networks, with one of the most commonly used being SkimLinks (who

co-hosted a webinar

with us). One of the best examples for a publisher using affiliate as a revenue stream is Wirecutter who agreed to share

four ways to grow affiliate revenue

with us.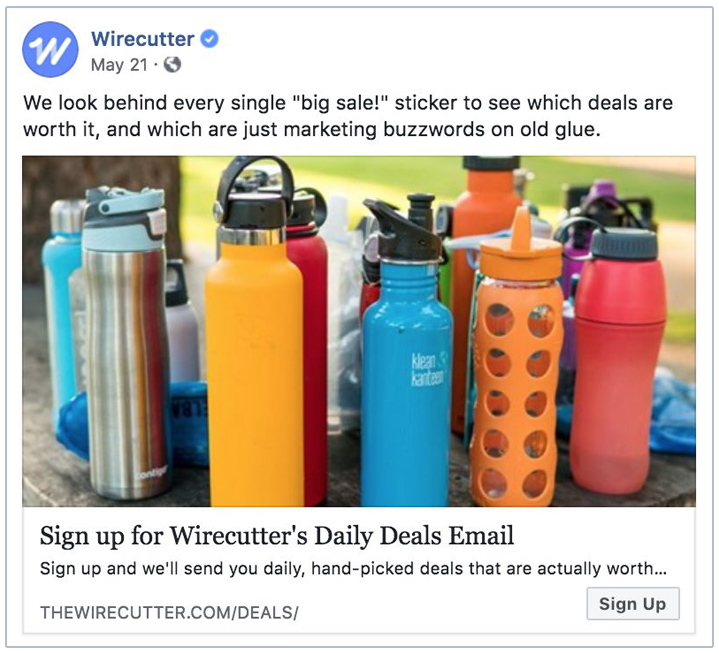 On-site E-Commerce

  – they say that bigger risks can have higher rewards, and adding a shop to your site instead of opting for affiliate links is a good example of that. There are retailers out there who create amazing content – like REI, One Kings Lane, and Net-A-Porter (which actually has a print magazine) – but there aren't many publishers who become full-blown retailers. Even fewer have gone as far as Food52 has gone and also launched a line of their own.




But if it's more labor-intensive, more costly, and riskier as a whole, why would publishers opt for this route? It's not just because they get to keep a larger share of the revenue. Publishers who choose to operate their own store collect a lot more information on their readers, what they buy, how often they purchase, and what interests them. This is increasingly valuable as Google prepares to crumble the third-party cookie in 2022. But regardless, publishers can use this data for a deeper conversation and engagement with the reader. 
We covered commerce content in-depth in our e-book: Building a Paid Marketing Strategy for Commerce Content. In it, you'll learn more about why commerce content is appealing as a revenue source for publishers, and how to incorporate paid content distribution in your strategy.

Pulling in Paid Subscribers
If you're planning on increasing the share of recurring reader revenue in your mix, or building subscription revenue from the ground-up, know that you're not alone. In fact, fifty percent of digital leaders surveyed by the Reuters Institute for the Study of Journalism mentioned that subscription revenue is going to be a top priority in 2020.
The good news is that streaming services such as Netflix have helped change the public perception of content consumption. It seems that people are now more willing to pay for content, as long as it is unique and with high value. The problem, which is echoed in the "streaming wars" accompanying the launch of Disney+, is the likelihood of subscription fatigue. In which case, if you're too late to the game you might never get to the subscription goal simply because the market is saturated. 
So how are publishers trying to win the race to gain subscribers? There are three main paywall structures that content creators use as part of their content sequence,  and their success varies from publisher to publisher, depending on the audience:
Metered Paywall: Having a paywall pop-up after a certain amount of articles read per month by a user. It's one of the most common methods because it helps publishers demonstrate their value to potential subscribers. If you read enough articles to hit the paywall and want to read more, doesn't it prove that your reading habit justifies payment? It's also versatile and lets publishers test out various triggers. Would users convert in higher percentages if they read four articles in a month, or six? And how many readers would even hit the paywall at six articles per month?




One of the recent challenges publishers are having with this model is that with Google's release of Chrome 76 late in July 2019 they are no longer able to know, and block, when a user starts reading in incognito mode. This makes enforcing the paywall very hard since users hitting their article limit can usually read more articles in incognito mode.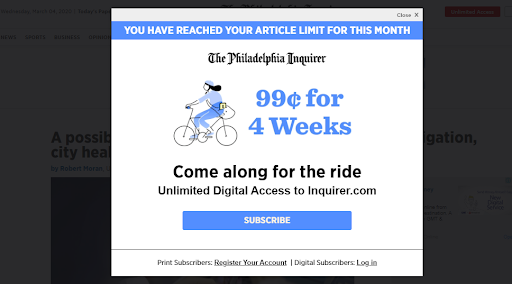 Premium Content: Letting users read some articles without limitation while completely blocking users from reading other articles unless they are subscribed and signed in. Many publishers use this method, and it usually relies on the audience's acquaintance with the publisher's reputation. This funnel structure assumes previous knowledge of the publisher and its value proposition. Usually, there would be a short attribution window as users would only be shown a few free articles before they'd be targeted with premium content.




Since all access to premium content is conditioned on signing in, this model wasn't affected by the release of Chrome 76, and we might see a slight increase in the number of publishers who opt for using it.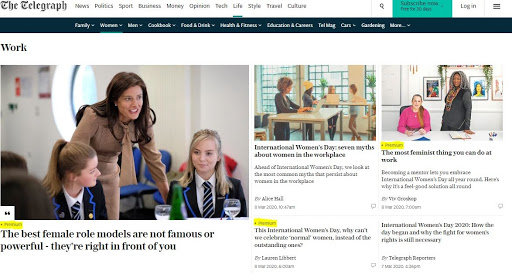 Donations

/Goodwill: Very few publishers have the brand recognition and the target audience who can make this business model work. There is no gate or paywall to stop users from reading the content they want. Instead, the publisher relies on the readers' understanding of the value it delivers, and the importance of supporting the content creation. If you have a strong mix for revenue streams

and

you are a household name, you might be able to succeed with this approach.

Our experience with hundreds of campaigns for publishers who use the different paywall structures proves direct response campaigns are not the only option. Content creators can successfully employ their content to drive paid subscription sign-ups. This is especially beneficial if you are able to bring in users with lower churn rates and higher advocacy rates. Paid channels on platforms like Facebook can get your content in front of the right audiences, encourage habitual reading by loyal followers, and eventually drive sign-ups. 
For some extra reading, we outlined a cost-effective approach to this process on our blog: Driving Subscription Sign-Ups with Paid Content Distribution Sequencing.

Looking Ahead…
The next few years are going to be incredibly interesting as publishers will explore more paths to growth. Some will undoubtedly turn to tried-and-true methods and some will try to find whole new revenue models. There will likely be new mediums to tell stories that publishers will embrace, and new platforms to distribute these stories on. Content creators will have the task to continuously evolve and learn in order to really thrive. 
To help our community, we share insights and thought pieces from industry leaders in our interview series, The Storytellers. If you're unfamiliar with it then our latest conversation with Dea Lawrence, CMO at Variety, is a great place to start. In addition to her thoughts on where the industry is heading, Dea shared how she helped launch the Variety Content Studio, how she and her team produce over 70 live events each year, and much more. You can read the interview with Dea on our blog.
And since we know that Google's plan to officially pull the plug on the third-party cookie in 2022 is interesting to our partners, we want to help them be ready. As it's never too early to start preparing, we hosted a webinar. Watch it on-demand – The Death of the Cookie: How Publishers Should Prepare, to help you do exactly that. We also discuss the important role that newsletters and paid subscriptions will play in the coming years.
Because we have the privilege of working together with some of the industry's brightest minds, we reached out to them to learn what they read. We compiled a list with links for you to easily keep on top of everything. Here's what the industry leaders are reading to stay updated.
Lastly, if you're about to add a new revenue stream into your mix, or would like to see how Keywee could help you with content distribution that supports your current revenue generation efforts, let us know and book a demo.