We launched The Keywee Facebook CPC Tracker to help content creators understand how changes to the Facebook platform affect their daily work, based on our analysis of data from hundreds of publishers.

Each month we release new data along with relevant insights on content distribution. You can sign up for monthly updates straight to your inbox here and read past months' updates here.

April Recap
In April, we saw publishers setting (and hitting) lofty goals for their paid subscription and membership programs. The Financial Times hit their goal of 1 million paying readers a year ahead of schedule with a data-first approach that balanced both acquisition and retention. And after hitting its own lofty goal, Guardian News and Media announced a new strategic goal: to double its paying members to 2 million within the next three years. Even smaller content creators have been able to thrive with the introduction of paid newsletters through Substack and Patreon.
For some publishers, one paid option just isn't enough. Conde Nast announced that all of its brands will be behind paywalls by the end of 2019, however, they're calibrating each site's paywall individually, rather than taking a one-size-fits-all approach. And HuffPost launched its membership program with three different levels users can commit to (including one free option).

And content creators will have to compete not just with each other, but with content aggregators as well. Apple News+ launched late last month, garnering more than 200K sign-ups in the first 48 hours, and Medium announced a series of media partnerships in pursuit of 1 million paying subscribers.

Luckily, paid programs are just one of many ways publishers are diversifying their revenue. Group Nine Media, for example, has purposely eschewed a paywall, instead focusing on a distributed media model that includes custom content and licensing deals. Meredith has also found a non-paywall strategy to work better. It's focused on diversifying advertising, licensing its brand, and driving affiliate marketing revenue.

Even business with subscription programs are looking further. The Economist group introduced a quarterly lifestyle title to address issues that interest its readers, but don't typically appear in The Economist (like style, food, travel and technology). The National Journal was recently able to pull away from advertising entirely; they're now focused on generating revenue through subscriptions, events, research tools, and a custom reputation management service.
April Data

This month, we saw a 3% decrease in CPCs. This type of small drop in CPCs is quite normal at the beginning of a quarter; last year in April there was a 6% drop. In general (although not always), we expect prices to steadily increase throughout a quarter, then drop slightly at the start of the next quarter. Because the CPC decrease is generally small, this means that CPCs increase throughout the year and hit their peak in Q4.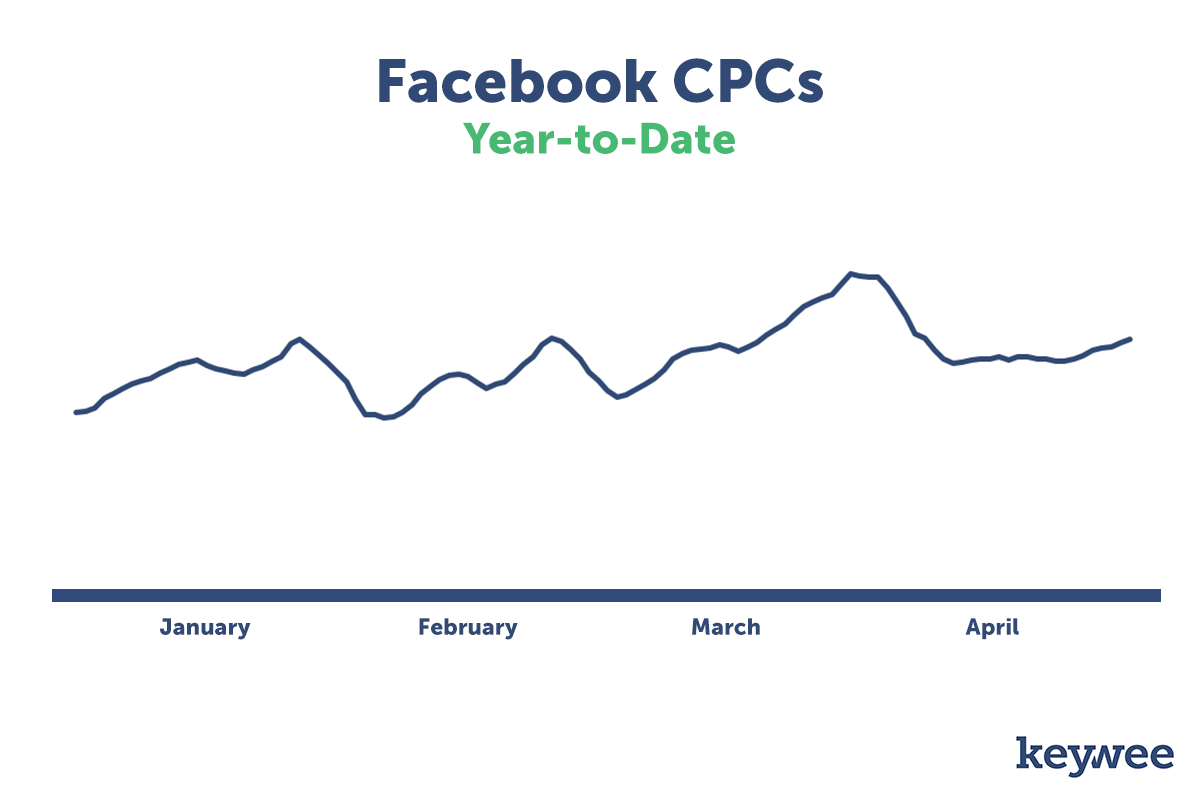 The Branded Content Market Heats Back Up
The beginning of the year is notoriously a quiet time for the branded content industry. Many brands have just finished large Q4 content deals and find themselves in budgeting and planning mode in Q1. However, after a predictably quiet start to the year, we saw publishers ramping up their spend on branded content campaigns in both March and April.
While branded content was once a very seasonal industry, increasingly, we've seen brands turn to publisher partnerships to achieve business goals almost year-round. In our conversations with publishers (including this great interview with the team at Thrive Global), we've heard that many brands are looking to go beyond just talking at customers during "shopping season," but rather speaking with their customers by creating interactive and culturally additive content.
Renewed Focus on Paid Subscriptions
In April, we also saw publishers increase their spend on paid subscription efforts. This figure continues to increase steadily, as publishers begin to spend not only on attracting and acquiring new customers, but on engaging and retaining existing subscribers as well.

To this point, a few advanced publishers recently gathered for an Accelerator Program with the Facebook Journalism Project. The same cohort that in 2018 focused on acquiring new digital subscribers regrouped, this time to focus on subscriber engagement and retention. Among them, Keywee customers the Tennessean and the Arizona Republic, who are "remarketing content to low and mid-usage users through owned and paid channels."
We expect this trend to continue, especially as more publishers are turning to paid subscriptions and memberships as a key source of growth. If you're interested in learning more about the targeting and content strategy behind these efforts, reach out. Our team of experts would be happy to share more about the process.
To sign up for future CPC updates, fill out the form below:
About Keywee
At Keywee, we make stories relevant and powerful for the world's best storytellers — like The New York Times, The BBC, National Geographic, Forbes, and Red Bull.
Today, people aren't coming to websites to search for content — stories find their audiences in feeds and apps. The upshot? Distribution is now the key for effective storytelling. Keywee's platform unlocks audience insights using AI and data science, and infuses them into every step of the storytelling process: from topic selection, to story creation, to distribution and optimization. Keywee is backed by leading investors such as Google's Eric Schmidt and The New York Times, and has been a fast-growing, profitable startup since its inception. To learn more, request a demo here.