Multiple changes to the Facebook platform this year have left many publishers asking how their businesses will be affected. To help these publishers understand the impact of the changes, we launched the Keywee Facebook CPC Tracker, a monthly update on Facebook CPCs based on data from 500+ publishers.
Every month, we release new Facebook CPC data, along with relevant insights on content distribution. You can sign up for monthly updates straight to your inbox here, and read past months' updates here.
August Data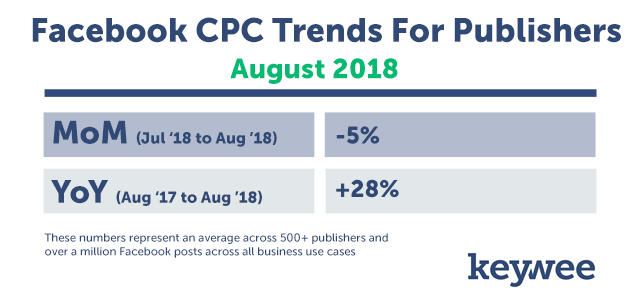 This month, we saw CPCs that were 5% lower than July's. While generally, we would be surprised to see prices decreasing within the same quarter, this price trend feels right given the extremely high prices we saw in July. On top of that, a yearly increase of 28% is in line with the YoY price changes we saw during earlier months this year.
Audience Development Thrives
The lower prices in August provided a much-needed reprieve for audience development teams. We saw lower prices on average this month for audience development campaigns, despite increased spend from the same population.
This is in part due to a somewhat unusual pricing trend: we saw CPCs dip for a few days at the end of the month, when they're usually at their highest. This dip in price was likely due to lower demand for ads (and therefore lower CPMs) on Facebook for those few days, as many advertisers were saving budgets to activate for Labor Day Weekend sales, the last big retail holiday before November.
Teams who monitor pricing closely and have budgets to redirect were able to take advantage of this rare opportunity for increased efficiency.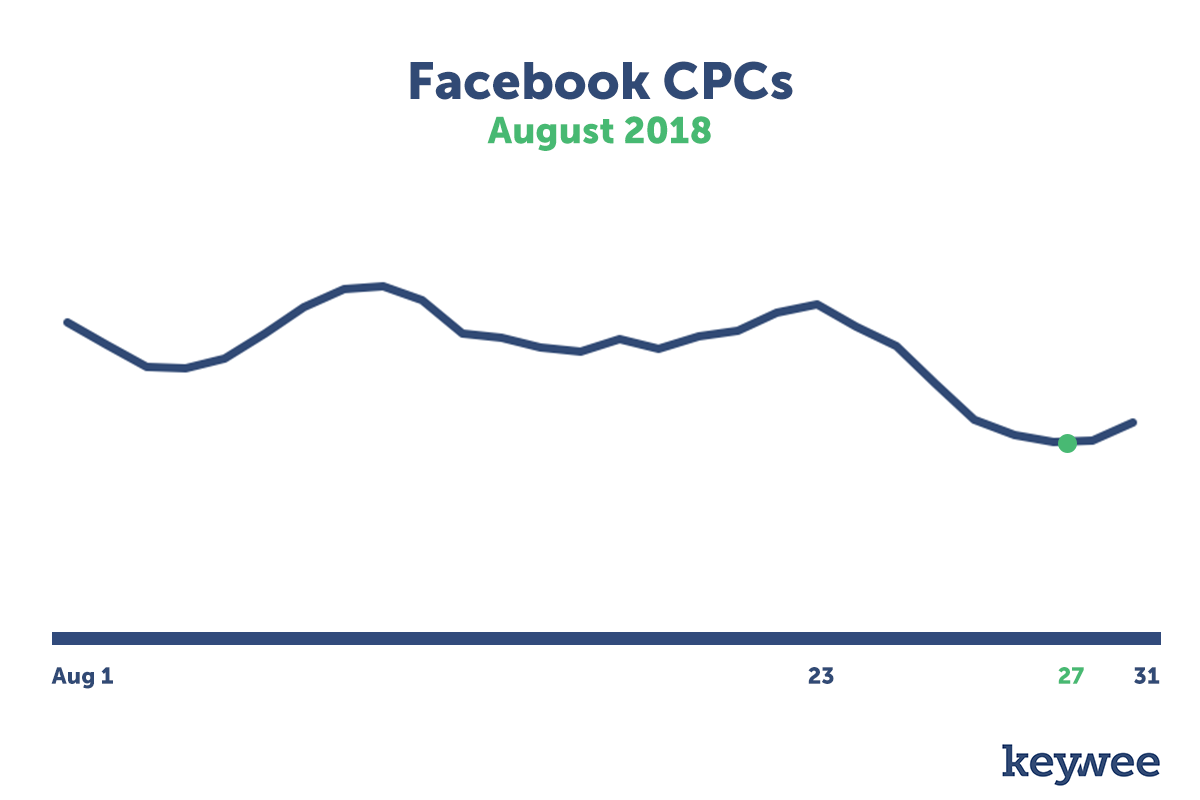 Publishers Invest in Email Subscriptions
Another interesting trend we saw in August was the continued investment in email subscriptions. On top of double-digit spend growth last month, we saw a 16% month over month spend increase in August by publishers who are using Facebook ads to acquire new email subscribers.
While newsletters have long been attractive as a cost-free mechanism of driving readers back to a publisher's site, many publishers are also redoubling their focus on monetizing the newsletters themselves. This increases each subscriber's lifetime value, generating revenue for the publisher and increasing the acquisition budget for a single user. We recently ran a webinar covering 5 key methods of monetizing your newsletter – you can read the recap and watch the recording here if you're interested in learning more.
Trend to Watch: Mobile Audiences
It's no secret that we've seen prices increasing overall this year. While there's not much that publishers can do to control that, one lever that publishers can pull to affect pricing is their targeting: desktop tends to be much more expensive than mobile.
Perhaps for this reason, we've seen an increasing number of publishers utilizing mobile audiences as a part of their overall targeting strategy. The percentage of campaigns that included mobile targeting has been steadily increasing since the beginning of the year.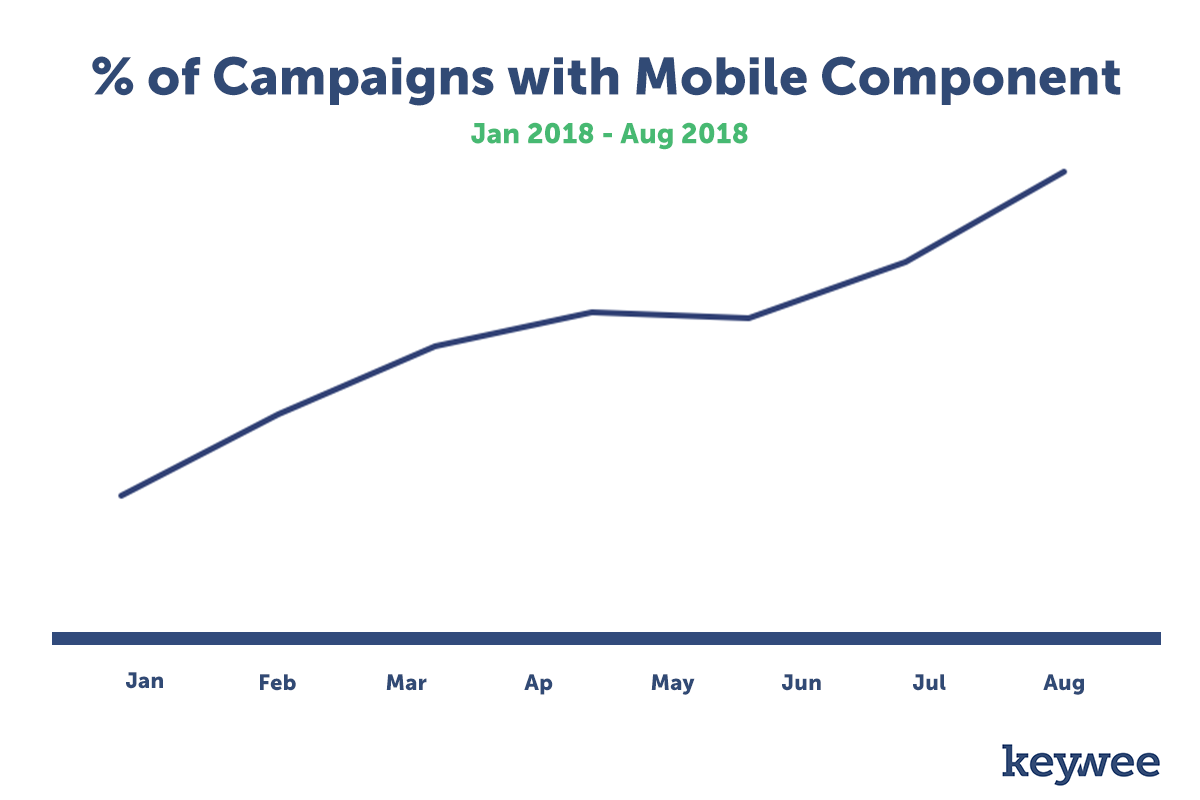 This trend makes sense both from a cost perspective, and strategically. Increasingly, content is consumed on mobile devices. While conversions do still typically happen on desktop, the interactions leading up to conversion might as well happen on mobile. This is why we've seen many publishers maintain a blend of both desktop and mobile targeting.
Some publishers, sensing this consumer shift toward mobile devices, have also put resources behind improving their mobile experience. For example, in our recent webinar with Star Tribune, we learned that the Star Tribune team streamlined its mobile checkout, including adding PayPal as a payment option. Their mobile conversion rates have improved enormously, allowing them to increase their spend on mobile (and thereby their efficiency).
To sign up for future CPC updates, fill out the form below:

About Keywee
At Keywee, we make stories relevant and powerful for the world's best storytellers — like The New York Times, The BBC, National Geographic, Forbes, and Red Bull.
Today, people aren't coming to websites to search for content — stories find their audiences in feeds and apps. The upshot? Distribution is now the key for effective storytelling. Keywee's platform unlocks audience insights using AI and data science, and infuses them into every step of the storytelling process: from topic selection, to story creation, to distribution and optimization. Keywee is backed by leading investors such as Google's Eric Schmidt and The New York Times, and has been a fast-growing, profitable startup since its inception. To learn more, request a demo here.