Just recently, Facebook announced it was changing its News Feed to "bring people together."
We won't bury the lede: Here at Keywee, despite our experience helping 500+ publishers distribute their content on Facebook, we don't know exactly how the announcement will impact organic or paid posts. That said, here are some things we've known for a while, and hold true more than ever following Facebook's announcement. In a nutshell? Publishers should not rush to spend on Facebook to "replace" their organic impressions with paid ones. Instead, they should (continue to) use Facebook as an efficient and scalable content distribution platform.
More publishers are spending more on Facebook already – with a purpose
Hopefully it's not news that many publishers have been investing in paid content distribution on Facebook for years. As Digiday eloquently put it back in June 2017, "There's nothing to be ashamed about." In July, Digiday reported based on Keywee's data that publishers' spend on Facebook has more than doubled in the previous 18 months. Our data showed that there was no correlation between organic reach and paid spend. As we said back then, publishers aren't promoting content to 'compensate' for possible loss of organic reach. Our most recent analysis shows these trends continue through the end of 2017 – more publishers are promoting their content on Facebook, and they spend more on average and in total.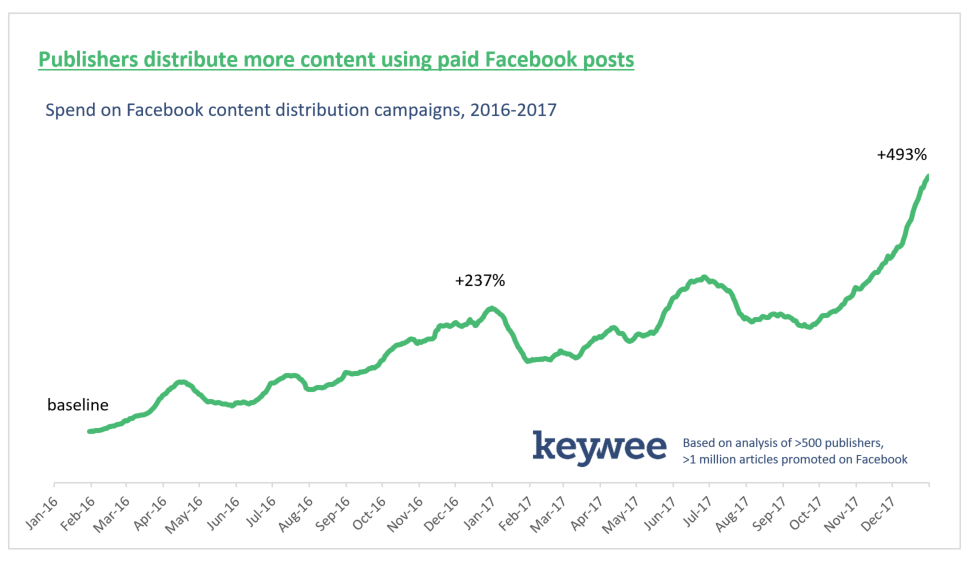 Don't spend, invest
If you are a publisher using Facebook, you should pay for distribution only in the following cases:
Audience development – Invest in audiences that will come back to your site or app on their own. Measure return visits within 30 days and calculate your ROAS (Return on Ad Spend) with a 30 day attribution window.
Same session profitability – Spend when your RPMs (Revenue per thousand impressions) add up to more than the cost of user acquisition.
Digital subscriber acquisition – If you have a paywall in place, or any other form of a subscription model, paid content distribution directed at qualified audiences has a high chance of bringing your CAC (Customer Acquisition Cost) down.
Branded Content promotion – A well-crafted message directed at a well-targeted audience (using Facebook's specific targeting data) can ensure outstanding performance for your brand customers.
Affiliate revenue generation. Drive qualified traffic (again, using Facebook's granular targeting options) to drive e-commerce purchases originating on your website, collecting affiliate commission.
Some examples: Publishers like The New York Times have been paying Facebook for years to acquire new digital subscribers in a cost-efficient manner. Others, like New York Magazine, are launching new sites monetized through affiliate revenue share and using Facebook as a prime traffic driver. And industry icons like National Geographic use paid content distribution on Facebook to bring in high-quality traffic to branded content articles.
Will Facebook CPCs go up?
We've received this question from quite a few of our clients. The short answer is, again, we don't know. However, based on Keywee's data, average CPCs for publishers on Facebook have been stable, despite numerous News Feed change announcements.
Stay informed: If you're interested in receiving updates about Facebook CPCs going forward, and the potential impact of News Feed changes on CPC, sign up to Keywee's new CPC tracker, launching soon.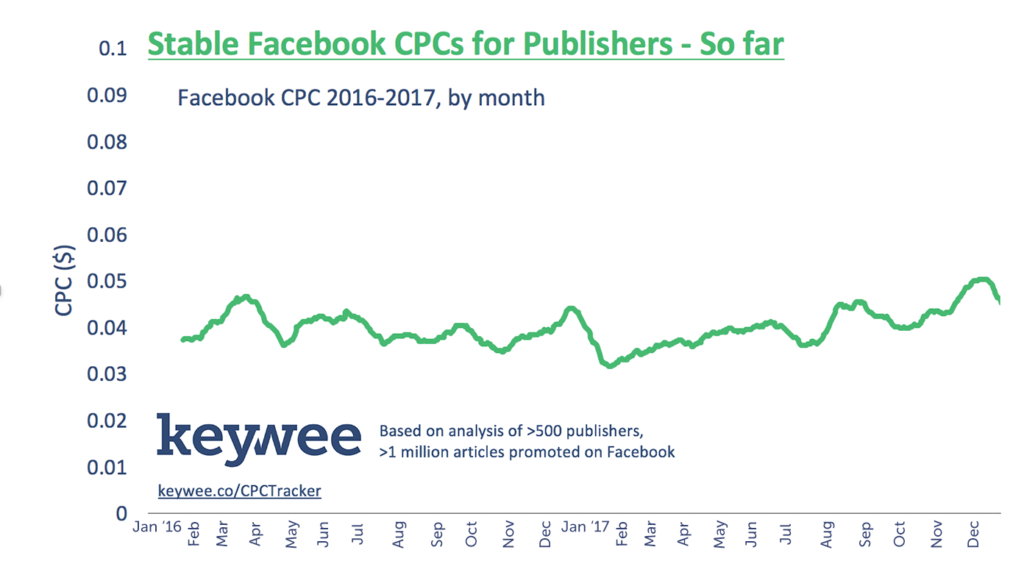 About Keywee
At Keywee, we make stories relevant and powerful for the world's best storytellers — like The New York Times, The BBC, National Geographic, Forbes, and Red Bull.
Today, people aren't coming to websites to search for content — stories find their audiences in feeds and apps. The upshot? Distribution is now the key for effective storytelling. Keywee's platform unlocks audience insights using AI and data science, and infuses them into every step of the storytelling process: from topic selection, to story creation, to distribution and optimization. Keywee is backed by leading investors such as Google's Eric Schmidt and The New York Times, and has been a fast-growing, profitable startup since its inception. To learn more, request a demo here.