In the wake of News Feed changes, we've been receiving a lot of questions about Facebook CPCs, and content distribution on Facebook in general. To help answer some of these questions, we launched The Keywee Facebook CPC Tracker: a monthly update on Facebook CPCs based on analysis of data from over 500 publishers.
We release new data every month, along with relevant insights on content distribution. You can sign up for monthly updates straight to your inbox here, and read past months' updates here.
Pour lire cet article en français, cliquez ici
February Data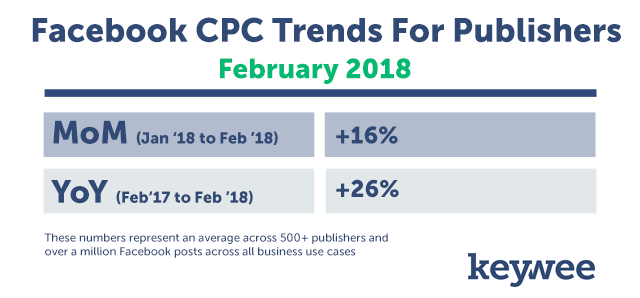 Overall, we saw CPCs increase by an average of 16% between January and February. This follows a trend we've talked about quite a bit; CPCs continue to increase throughout the quarter, peaking at the end of the quarter, and dropping at the beginning of the next. For that reason, we generally expect to see MoM increases, except at the beginning of a new quarter (as we saw in January).
More surprising was the 26% increase in CPC year over year. This number is of course an average, and should be taken with a grain of salt; we've seen vast differences in pricing for publishers who use Facebook for different business use cases, some even seeing CPC decreases year over year.
But while at first this average may seem like a large increase, it needs to be seen in context: demand on the Facebook platform (publisher spend) has almost doubled in the same period. So while CPCs have increased, publishers are continuing to spend on the platform because they continue to be able to do so profitably.
For instance, in February 2018, we saw a large increase in Branded Content campaign spend. These campaigns see higher CPCs in general, but are also very lucrative for the publishers who run them.
And while we've seen Facebook prices go up in general, Click Through Rates (CTRs) are still high. In fact, we saw our highest monthly average CTR in February. Clearly, people are continuing to engage with content on the Facebook platform.
Profitable Audience Development in February
Generally, CPCs follow a set pattern throughout the month – they're at their lowest on the first day, they increase until the 15th, then drop again, before increasing again to their highest at the end of the month (read more about this phenomenon).
For publishers practicing profitable audience development, this means that it's often easier to make a profit early in the month, when the price of driving traffic is cheaper. Of course, the pros in the field are able to look at profit on a per-article basis and divert spend accordingly, but knowing the general ebb and flow of pricing is helpful for monthly planning.
However, in February, we saw something interesting: a break in the usual pattern. There was a CPC peak on the 22nd of the month, followed by decreasing CPCs until the end of the month. This means that the time surrounding Presidents' Day saw higher-than-expected CPCs (perhaps due to Presidents' Day sales driving up demand for ads), followed by a return to mid-month pricing.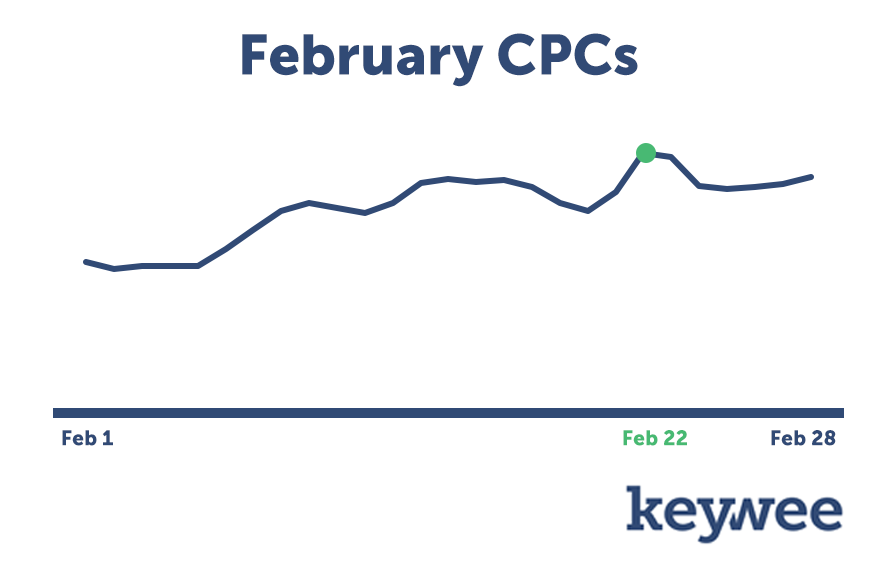 For publishers doing profitable audience development, this decrease in CPC at the end of the month presented a unique opportunity to scale spend at a time usually reserved for only the best-performing articles. Publishers who were able to scale their spend unexpectedly were rewarded with higher-than-usual margins. Especially as the industry prepares for an end-of-quarter price surge, publishers practicing profitable audience development should be taking advantage of these low-cost opportunities whenever possible.
Branded Content in February
Branded Content campaigns also saw a surge in February. Spend on Branded Content more than tripled since this period in 2017, and has just about doubled month over month.
While CPCs in February 2018 were higher than either Feb 2017 or Jan 2018, publishers continue to spend because they have built a solid business model. They're able to sell bigger deals by leveraging Facebook's audience targeting to expand their audience reach. As long as buying Facebook traffic remains ROI-positive, publishers can continue to increase their spend and create very appealing packages for brands.
Digiday published an article exploring this exact strategy. "[Publishers] now recognize that users coming from the paid channel are more engaged… Instead of selling a $50,000 deal against your organic distribution, you can sell a quarter-million-dollar deal against Facebook distribution."
Instead of selling a $50,000 deal against your organic distribution, you can sell a quarter-million-dollar deal against Facebook distribution."
Takeaways for Publishers
1. Front load spending in March.
March is the last month of the quarter, so we expect to see significant increases in CPCs toward the end of the month. Given the drop in CPCs at the end of February, and the generally low CPCs at the start of a month, we suggest front-loading budgets at the beginning of the month when prices are best.
2. At the end of March, shift budget to your best-performing campaigns.
To ensure coverage throughout the quarter, leave on your best performing campaigns whose CTR can help mitigate higher end-of-quarter pricing.
To sign up for future CPC updates, fill out the form below:

About Keywee
At Keywee, we make stories relevant and powerful for the world's best storytellers — like The New York Times, The BBC, National Geographic, Forbes, and Red Bull.
Today, people aren't coming to websites to search for content — stories find their audiences in feeds and apps. The upshot? Distribution is now the key for effective storytelling. Keywee's platform unlocks audience insights using AI and data science, and infuses them into every step of the storytelling process: from topic selection, to story creation, to distribution and optimization. Keywee is backed by leading investors such as Google's Eric Schmidt and The New York Times, and has been a fast-growing, profitable startup since its inception. To learn more, request a demo here.