A Cost-Effective Way for Publishers and Brands to Capture Email Addresses on Facebook
We're excited to share more about Content-to-Capture, a Keywee product that helps storytellers overcome the growing challenge of "owning" their audiences. Content-to-Capture campaigns amplify audience development efforts by capturing email addresses directly on Facebook while leveraging publishers' and brands' strongest asset: their content.
Utilizing Facebook Lead Ads, Content-to-Capture campaigns work by offering users a free article in exchange for their email addresses. Using Keywee's platform to uncover audiences most likely to engage with each story, these campaigns enable publishers to grow their email subscriber list with valuable users at scale. In fact, Content-to-Capture campaigns generate more qualified email sign-ups at a lower cost-per-acquisition (CPA) than direct response ads or on-site email capture.
It's also worth noting that because users are directed to the content upon signup, the benefits of Content-to-Capture campaigns are twofold – they both acquire new email subscribers and drive qualified traffic to a publisher's site.
Here's how Content-to-Capture works:
The posts within a Content-to-Capture campaign closely resemble standard Facebook sponsored stories. They contain a preview of the content and prompt users to subscribe in order to view the entire article. Since those who opt-in have shown interest in the content, Content-to-Capture campaigns acquire high-quality subscribers who are likely to be interested in similar content.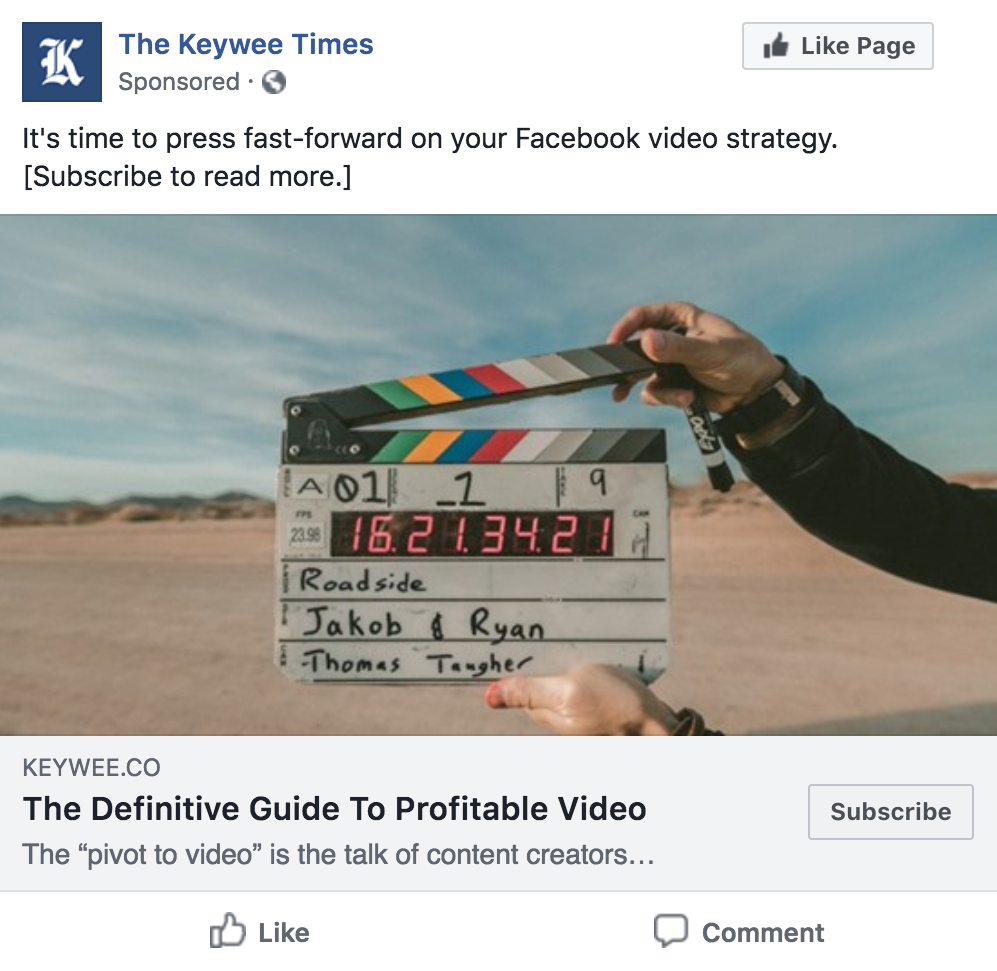 Once a Facebook user clicks the post's CTA (in this case, the "Subscribe" button), he or she is shown an extended preview of the content and a form to fill out. This form will pre-populate with any information the user has already provided to Facebook, minimizing friction during the signup process.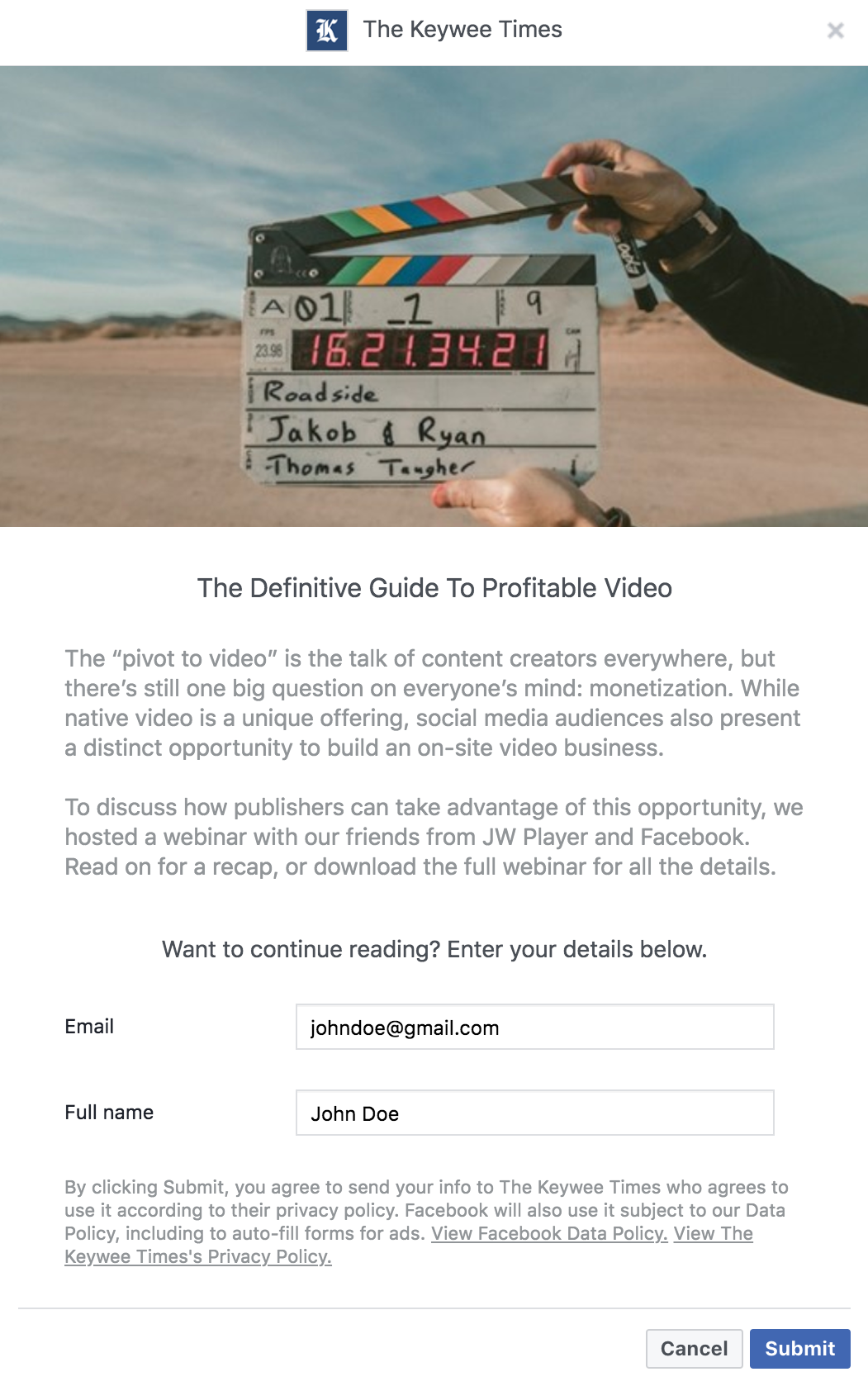 Upon submitting the form, a signup confirmation is shown along with a link to the full piece of content on the publisher's website. Email subscribers acquired through these campaigns can be downloaded from Facebook Business Manager or sent directly to a publisher's CRM via an integration.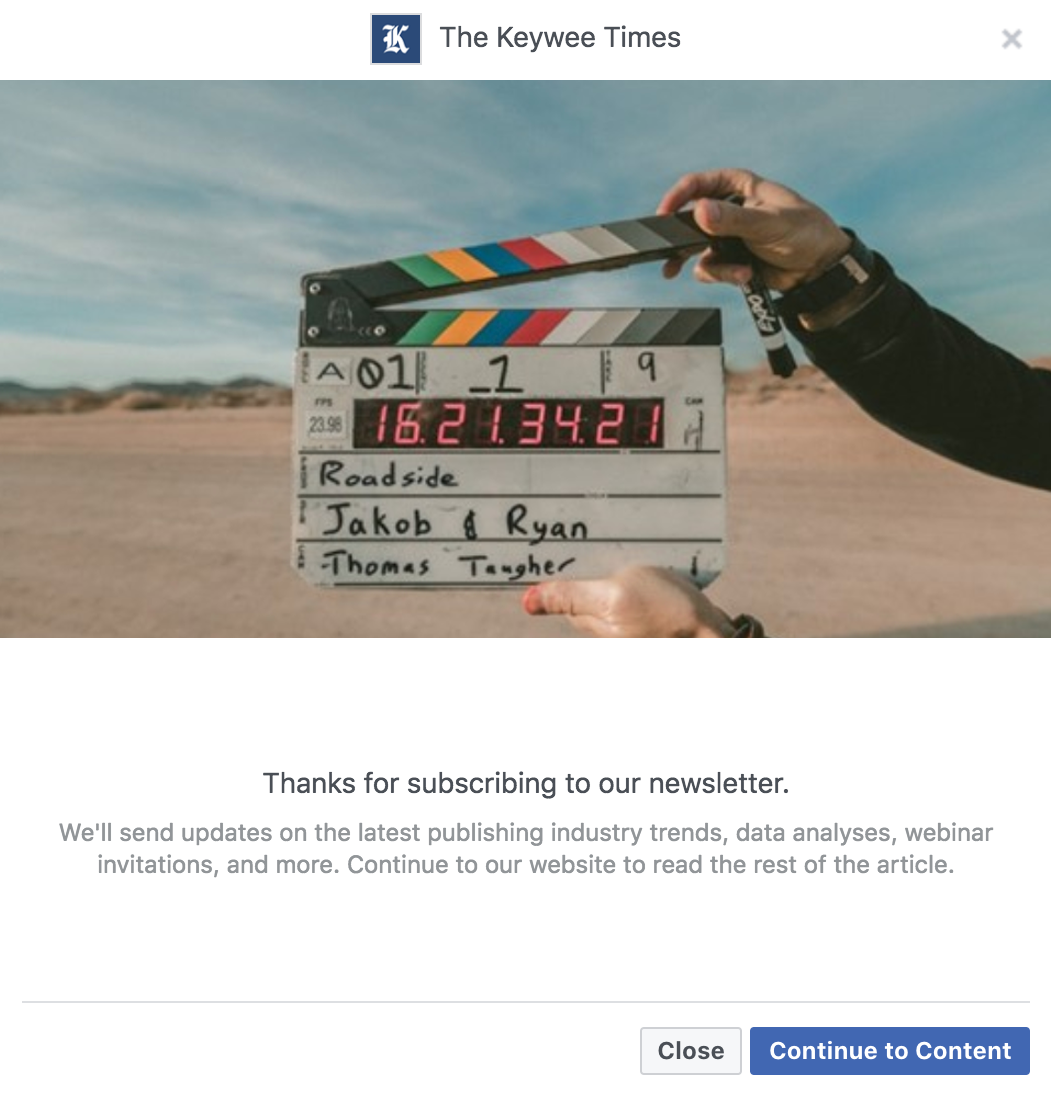 We believe that Content-to-Capture offers a real, scalable solution for publishers and brands wanting to grow their email lists with high value users. Kiplinger, a Content-to-Capture customer, is seeing 3X ROI on its email acquisition campaigns and plans to continue spending on Facebook profitably. If you're also looking to super-charge your email database with profitable subscribers, please reach out.
To see Keywee Content-to-Capture in action, get a demo here.
* Content-to-Capture campaigns, and all other Keywee-related products, are compliant with the European General Data Protection Regulation (GDPR) rules that went into effect on May 25, 2018.
About Keywee
At Keywee, we make stories relevant and powerful for the world's best storytellers — like The New York Times, The BBC, National Geographic, Forbes, and Red Bull.
Today, people aren't coming to websites to search for content — stories find their audiences in feeds and apps. The upshot? Distribution is now the key for effective storytelling. Keywee's platform unlocks audience insights using AI and data science, and infuses them into every step of the storytelling process: from topic selection, to story creation, to distribution and optimization. Keywee is backed by leading investors such as Google's Eric Schmidt and The New York Times, and has been a fast-growing, profitable startup since its inception. To learn more, request a demo here.