This year, we've seen many changes to the Facebook platform. To help publishers stay afloat of how these changes affect them, we launched The Keywee Facebook CPC Tracker, a monthly update on Facebook CPCs based on analysis of data from over 500 publishers.
We release new Facebook CPC data every month, along with relevant insights on content distribution. You can sign up for monthly updates straight to your inbox here, and read past months' updates here.
July Data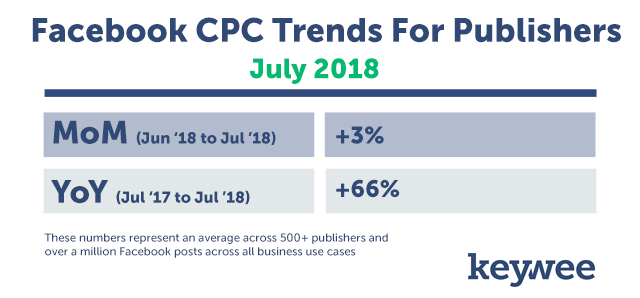 The average CPC in July was just above the price we saw in June. While a 3% month over month increase in pricing seems modest, this is a bit unusual at the beginning of the quarter when we would usually (although not always) expect to see a small decrease in price. This may be due to a variety of factors, such as the first week of the quarter including a holiday. In fact, although CPCs started off higher than expected, they managed to stay pretty consistent throughout the month, rather than oscillating as usual.
The bigger shock this month was the large increase in pricing year over year. This is in part due to a building trend: in June we saw a rather large year over year increase in CPC. On top of that, July CPCs were higher than June's this year, whereas last year they were lower. For these two reasons, we expected a substantial increase, even without knowing anything else about July's numbers.
We then have to take into account that prices on the platform are definitely increasing overall. And on top of all of those factors, the July CPC number is also inflated due to recent publisher strategy shifts; As we'll expand on next, publishers are shifting their focus away from same-session revenue optimization and toward more expensive, higher impact audiences.
So, what are publishers doing?
There's no easy way to say it: prices are just higher than they were this time last year. And yet, publishers are still seeing success from their social spend. So what exactly are they doing?
First things first, they're less focused on same-session revenue optimization. Publishers who had been using Facebook to drive audiences to their site at a low cost and bolster their ad revenues are slowing their spending. Between the higher costs of bringing in a user, Facebook's recent crackdown on landing page experience, and stagnant RPMs, for many publishers the math of driving profitable same-session traffic just doesn't add up. Since these publishers were laser-focused on the cheapest possible CPC, their absence drives up the average CPC across the publishing industry.
Recently, we've seen an increasing number of publishers (like Quartz and Reuters most recently) focus on building a loyal audience. This type of audience is going to naturally spend more time on site, come back organically, and maybe even register or subscribe. Since these features add clear additional lifetime value, a publisher can spend a bit more upfront to acquire that user.
Another initiative we've seen grow (almost double) in popularity is using Facebook to acquire new newsletter subscribers. Although these users typically don't pay to sign up, having them on your email list is a huge asset. First, you gain a free and direct line of communication with your readers. Email subscribers can drive a significant portion (we've heard 20%) of overall site traffic. Considering the number of free return visits to the site (and the display ad revenue associated with those visits), a newsletter subscriber is worth quite a lot. On top of that, publishers can monetize their emails directly through in-email ads or dedicated email blasts for brand partners. Because the cost of acquisition includes factors other than CPC, publishers with this goal have seen smaller price increases. In fact, we've seen some publisher acquire new email subscribers for as low as $0.20 with the right content.
In general, there's been a movement toward understanding exactly how much a new user is worth over time, rather than optimizing for just one session. The Facebook pixel and reporting platform have been a huge boon for this movement, as they allow marketers to track and report on users cross-device and in the attribution window that makes most sense for their business. While this strategy does drive up the cost per click that publishers see, it is benefiting their bottom line.
If you want to learn more about how to implement these types of campaigns, feel free to reach out.
To sign up for future CPC updates, fill out the form below:
About Keywee
At Keywee, we make stories relevant and powerful for the world's best storytellers — like The New York Times, The BBC, National Geographic, Forbes, and Red Bull.
Today, people aren't coming to websites to search for content — stories find their audiences in feeds and apps. The upshot? Distribution is now the key for effective storytelling. Keywee's platform unlocks audience insights using AI and data science, and infuses them into every step of the storytelling process: from topic selection, to story creation, to distribution and optimization. Keywee is backed by leading investors such as Google's Eric Schmidt and The New York Times, and has been a fast-growing, profitable startup since its inception. To learn more, request a demo here.