We Now Offer Our Audience-Targeting Capabilities for Instagram Ads
We're pleased to announce that our customers can now take advantage of Keywee's innovative audience-targeting capabilities to share their stories as paid posts on Instagram and drive high-performing traffic to their website. With a community of more than 400 million users, Instagram is one of the world's largest mobile ad platforms. Last year's addition of direct-response buttons, such as "Learn More," to its ad format made the platform even more compelling to publishers and content marketers. These buttons can link to a particular webpage, like an article, and drive action to meet specific business goals such as subscriptions, newsletter signups or audience development. Our customers, including some of the top publishers in the world, wanted Instagram support. Now they have it!
So, How Does it Work?
Keywee now does the same thing for Instagram that it has done successfully for other platforms such as Facebook and Yahoo. Specifically, Keywee:
Uses natural-language processing to scan content and understand what it is about.
Employs its vast database of historical performance to target audiences that have been shown to act on different types of content.
Automatically generates numerous variations of paid posts, with optimized bids for each selected audience.
Provides insight into how the paid posts are performing with their targeted audiences, across platforms.
We're excited to continue to grow in line with our customers' needs!
The reason social media is such a strong marketing tool, apart from the massive reach it offers, is the versatility of ads that marketers can create to engage with their audiences. And while there are thousands upon thousands of articles filled with tips and best practices, the simple truth is that there is no silver bullet and actual results will ultimately vary.
So, how do you decide what to post? How can you make sure that you're getting the best performance out of your ads? The most commonly used method is to run small-scale controlled tests — A/B tests — to gain those insights efficiently.
What is A/B Testing?
In the context of marketing campaigns on social media, A/B testing is the process of running versions of ads that are different from one another in only one aspect. While it may seem simple enough, the sheer amount of ad variations that are possible requires you to be very precise and to plan your tests in advance. Otherwise, you might end up with no significant insights and a budget that was wasted, not invested.
If you're wondering, "Do I need to test every ad variation against all of the others?" the answer is no. Think of A/B testing like the playoffs: One team wins despite only playing against some of the teams, not all of them. When running an A/B test, it's crucial to only test one variable at a time, then after you can pit the winners of different tests against each other to find the best ad.
What can you expect to get back from the test? In a word: insights. With A/B testing, you can learn what types of imagery, post texts, headlines,Calls To Action (CTA), and other aspects of your campaigns work better for your audience. For content marketers specifically, A/B testing has another critical dimension: It can help them decide which content drives the most loyal audiences and delivers the best results.
Keep in mind though, A/B testing is a never-ending process. What worked today may not work in a month, so you will have to continue your tests and revisit them on occasion.
Types of Social Media Testing: What Variables Should You Test?
Layout / Ad Format

: When creating the ads that you'll test, you should think of which format makes sense to run given your goal. Are you going to try a carousel ad, a link ad, or a video ad? While some seem counter-intuitive given the campaign that you're working on, they might still be worth a try. For example, we found that video ads generated CTRs that were 2X higher than link ads for some customers.

Visuals

: Does the dominant color make a difference in performance? Should the visual include people? The answers can change dramatically based on a campaign's goal. Below are the results of an experiment that we ran with Wirecutter, which tested images of products with vibrant background colors against images of people using the products. The unusual result caught us by surprise: Although photos that include people typically perform well, for Wirecutter, the products shots worked better.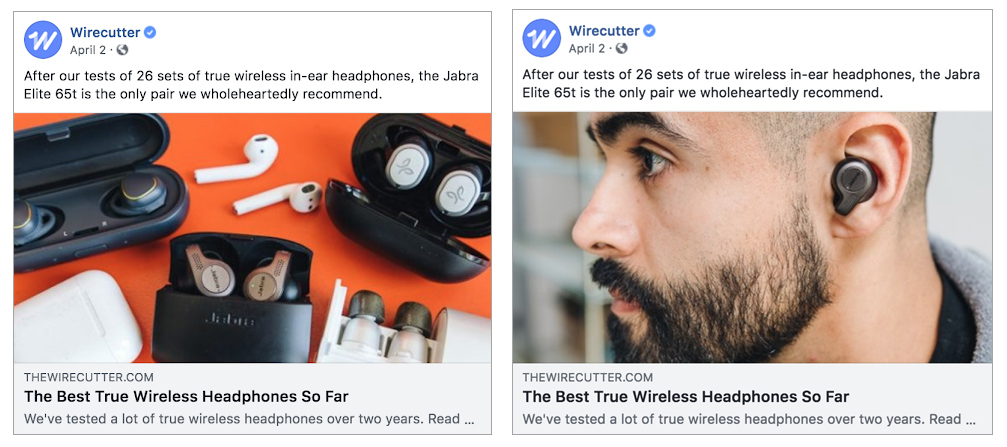 The creative on the left performed 75% better than the creative on the right.
Text

: You can try testing your headline, post text, and description to see which has the biggest effect. Here are a few examples of what you can test:

Play around with Emojis – Do they work for you? Which ones produce better results?
Text length – For some, short and simple is best. For others, very long post texts work better.
Hashtags – Do they affect your CTR in any way? Or would your audience find them off-putting?
Numbers – Is your audience more likely to click when the headline contains a number, e.g. "8 Great Recipes for Anyone on a Budget"?

Audience

: Test your assumptions about who your target audience is. Does the persona imagined at that marketing meeting match the results that you see? For example, when we first began working with a fashion startup using content to generate sales, the belief was that its core audience was younger women between the ages of 20 and 35. However, we found that while the startup had a high CTR and a low CPC, the best engagement and return on ad spend (ROAS) came from women over 35. This difference was so notable that it affected the company's content strategy as a whole, and the team quickly began writing articles to cater to these newfound shoppers.

Placement

: One of the major advantages of working with Facebook's ad platform — on top of the granular targeting capabilities — is the ad placements you can access which include Instagram, Messenger, andFacebook's Audience Network. You can let Facebook optimize the ad placement with the automatic placements feature, and compare the results against the hand-picked placements where you think your audiences would engage.

Content

: Content marketing has become the backbone of many marketing strategies. As such, a lot of companies dedicate resources to content creation, making the content itself worthy of testing. Is a specific section on your site driving more engaged users than others? Are people more predisposed to take action if they start their journey in one section than another? If you're creating content, testing it has to be part of your overall A/B testing strategy, as it will supply you with valuable insights.
Getting Down to Business: How to Test
Step One: Decide on your goals
Knowing what your objectives are is fundamental to setting up a campaign that will yield the best results. Identifying your objectives correctly will help you both in planning your budget and in deciding what to test. Is your goal to achieve a high CTR? Low CPAs? Overall impressions? The possibilities are endless, so it's important you define what success means to you.
Step Two: Decide what to test
Based on your goals, you'll be able to decide how many factors you can test initially, or how many iteration cycles you can run to find the best ad. For example, when optimizing for overall impressions, your aim would be to get the lowest Cost Per Thousand Impressions (CPM). The main elements that affect the CPM are the ad placement and targeted audience, so that is what you'd start testing. If you're optimizing for high CTR, on the other hand, the creative assets (the copy and visuals that comprise the ad) and CTAa also have a strong impact. Your goals will guide you in the process of choosing which factors of the ad make sense to test.
Step Three: Set your budget
Once you know the goal that you're optimizing around, it's time to plan your budget. How much money are you willing to put into a test? Some considerations: Where in the marketing funnel is the goal located? Are there specific hypotheses you need to examine? For example, if you have a target CPA of $8, you can use that as your benchmark. According to Facebook, you need a minimum of 50 conversions per week for its optimization algorithm to perform well. Doing the math ($8 CPA x 50 conversions) gives you a test budget of $400. You should add some wiggle room for ads that will underperform, so a final test budget of around $450 would likely be sufficient.
Step Four: Run your test
Below is an example of a test we ran here at Keywee. The objective was to optimize an audience development campaign for loyal visitors with clicks coming in under a specified price. With only a small budget for testing, we decided to experiment with which type of image (either focusing on the person or on the landscape) would drive higher engagement rates. We also tested two different audiences, as people react to ads differently. When the test concluded, the winning ad had a CPC that was lower than the next best ad by 50%.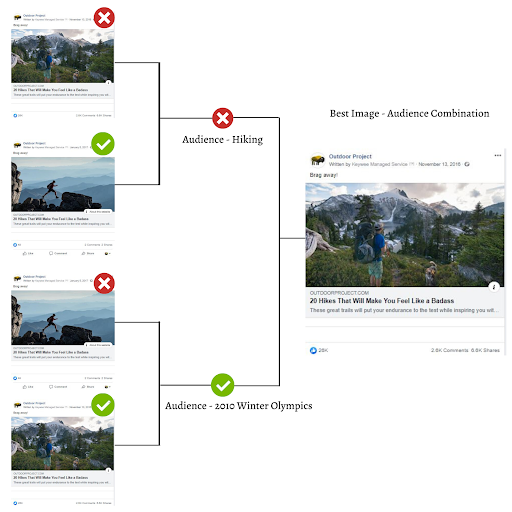 Step Five: Repeat
Once you finish your test, take the best performing ad and scale your spending on it to achieve your goal. Then, make a change to one aspect of it that you haven't tested yet, and run another experiment to examine its effect on performance.
You Finished Your A/B Test, Now What?
Well, the good news is that you now know what is likely to work and move the needle for your campaigns. You have the data to back up your claims and share it with colleagues. Whether your aim is to get paid subscriptions, beef up your email database, get eyeballs on branded content pieces, or anything else, you now know what is more likely to work for you.
The bad news is that, just like shampoo, for the best results you should rinse and repeat. Not only are there other variables to test, but as time passes and algorithms change, you will need to test your results again to make sure they still hold.
As you scale your campaigns to meet your KPIs, make sure to set aside some budget to continuously test more content and more ad components.
Final Takeaway
Continuous testing ought to be a key part of every social media advertising campaign. Whether you're a brand or a publisher, only with efficient testing will you improve your results.
Our rule of thumb is to dedicate up to 10% of a campaign's budget for testing. This split allows you to meet your KPIs with the remaining 90%.
At Keywee, we help storytellers supercharge their A/B testing. If you'd like to hear more about how we can work together to help you, let us know.
Although the publishing industry's digital transformation introduced a host of benefits to readers and media organizations alike, there's no denying that it arrived with its own unique set of challenges. From declining display revenue to the mass adoption of ad blockers, today's storytellers face a range of unfamiliar obstacles. The current climate has led publishers to explore a variety of alternative revenue streams, their sights set on replacing once-reliable sources of income. Leaning on two of their most valuable assets — storytelling expertise and hard-earned audience trust — many publishers have turned to branded content campaigns as a viable way to support their bottom lines.
Branded Content on the Rise
With some projecting native advertising will grow into a $400 billion global industry by 2025, publishers have been smart to jump on the branded content train while it's still relatively "early." And although branded content campaigns don't bring in recurring revenue in the same way that, say, paid subscriptions do, they certainly make up for some of the dollars that would have historically come from display advertising. One need look no further than Bustle Digital Group, which, as of October 2019, attributed 75% of its revenue to direct-sold advertising, with 90% of that income involving some form of branded content creation. In fact, as you can see in the graphs below, most publishers are generating at least some revenue through branded content, and nearly half of publishers polled saw branded content as a "large" or "very large" priority heading into 2020.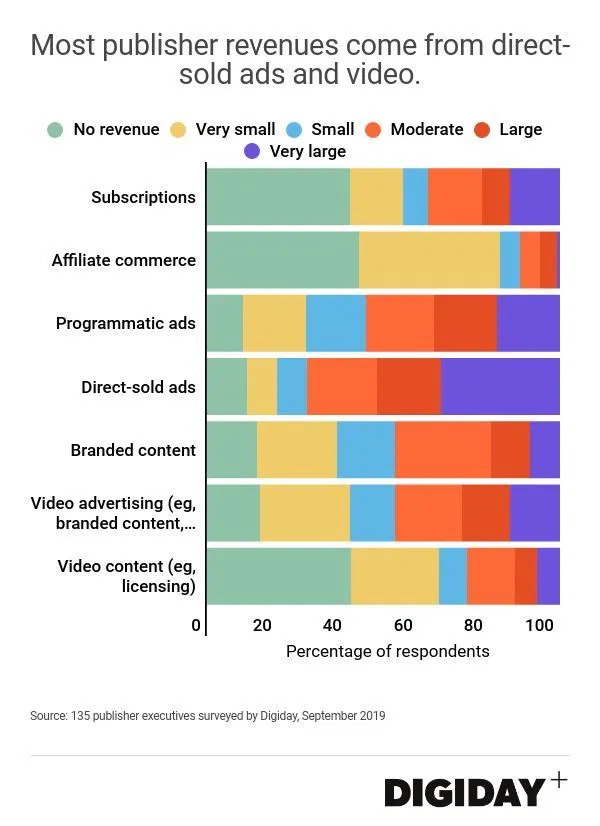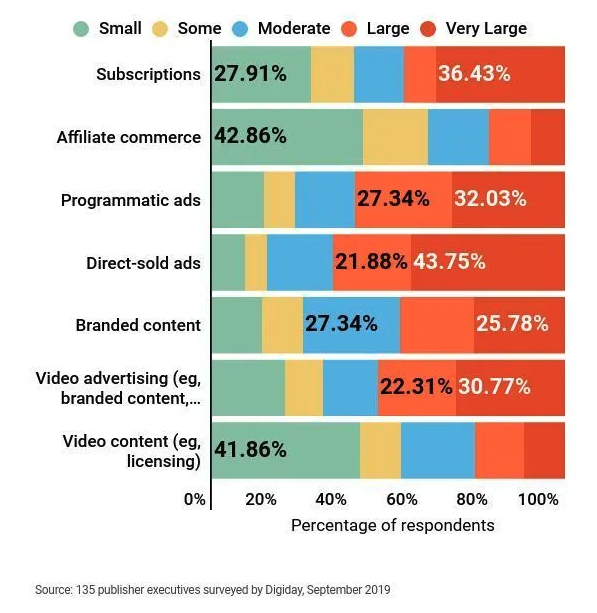 Given the current branded content landscape and the likelihood that these campaigns will become even more prevalent in the coming years, it's important for content creators and brands to understand the potential value that they have to offer — from a revenue perspective or otherwise.
Why Marketers Should Consider Branded Content Campaigns
By their definition, branded content campaigns involve a close partnership between a content creator and a brand advertiser. As with most business agreements, both parties involved in a branded content partnership enter into a deal expecting certain outcomes that will contribute in some way to them reaching their desired goals.
For publishers, the ultimate goal of participating in branded content campaigns usually boils down to revenue generation. As seasoned storytellers, publishers primarily benefit from these campaigns by charging brands for this expertise; by helping them weave a cohesive narrative that is both on-brand and on-message, typically steering clear of a "hard sell." While the exact publisher contribution varies from deal to deal, a standard branded content partnership will usually leverage the publisher's expertise across nearly all aspects of the partnership — everything from ideation, to asset creation, to distribution, and everything between.
There are other aspects of branded content campaigns that are advantageous to publishers, too:
They provide value to readers

— Yes, branded content usually incorporates some sort of product plug, but it will often offer something of value to the reader as well. For example, a cosmetics brand may partner with a fashion publisher to create a series of video makeup tutorials featuring the cosmetic brand's products.

They're unobtrusive

— Since branded content often mimics the look and feel of non-branded content that's also created by a publisher, it tends to come across as unobtrusive to an audience.

They're authentic

— Unlike other forms of advertising, branded content typically shares a similar tone of voice with the publisher's other content that lends credibility and authenticity. Often, the most effective campaigns tout similar core beliefs and values that the publisher is known for espousing.
On the flip side, brand advertisers that approach publishers for branded content deals have goals that are more varied and can fluctuate from one campaign to another. At the end of the day, though, most of the time brands approach publishers for two main reasons: for help creating compelling content and to gain access to a publisher's audience.
In addition to furthering a brands business goals, branded content campaigns offer advertisers:
Borrowed credibility and value alignment

— With branded content campaigns, brands are able to "borrow" the trust, credibility, and values that have already been established by the publisher.

Access

— As Nielsen points out, branded content campaigns give advertisers access to pre-existing content formats and known personalities that they would not likely have otherwise.

Benefits not readily available in direct response advertising

— These advantages include showing a product or service within a wider, real-life context as well as the option for longer-form video than standard direct response advertising.
What You Need to Get Started with Branded Content
Before taking the first step in creating a branded content campaign, it's smart to consult with the relevant data. Monica Hare from Gear Patrol Studios succinctly explained the importance of this process in her Storytellers Series interview:
"When we're pitching creative ideas, it's so much more powerful when the ideas are backed up by meaningful data. It can be a key insight into human behavior, for example, or specifics about the audience that we help the brand reach."
One key factor that both parties need to consider before partnering on a campaign is the content's tone of voice. For the piece to feel natural (and ultimately, for it to be successful), the voices of the two partners should blend together. Of course, the voice of the branded piece might be different from each company's individual voices, but the content tends to be stronger when the voice is well balanced.
When it comes to specific steps, most branded content campaigns that we've been involved with tend to follow this general outline:
Understand Your KPIs


How will you know if a campaign is successful unless you have goals in place to measure success in the first place? In order to run an effective branded content campaign, both partners must be very tuned into their performance metrics and targeting capabilities before distribution comes into play. Common KPIs include metrics like reach, engagement, brand linkage, and sentiment.

Produce Powerful Content


To bring the content to life in a way that makes the most sense for a specific campaign, focus first on the story or message that you are trying to convey. Once that's in place, hone in on the best format to communicate the piece.

Utilize Sophisticated Distribution Techniques


It's important to remember to distribute content in a way that makes sense with both the content format and the brand advertiser's goals. When paying for distribution, it is crucial to regularly check on campaigns to ensure tracking is set up correctly toward your KPIs. Each channel should also be evaluated for its audiences in order to make sure that you're reaching audiences that truly value the content.

Demonstrate Success to Brand Advertisers


By making sure that the campaign tracking is in order, you should have a complete data set of accurate reporting and reliable metrics to demonstrate success. Conducting and illustrating a campaign that reached its desired goals can open you to more opportunities in the future.
A Perfect Pairing: Paid Distribution and Branded Content
Marketers who rely on organic reach alone often find themselves struggling to move the needle with their branded content campaigns. Fortunately, distributing content in a controlled, scalable way is more manageable than ever thanks to paid social channels. With paid distribution, a publisher and partner brand can both rest assured knowing that their expectations have a high likelihood of being met (or surpassed).
Another advantage of employing paid distribution is that the process can be catered around specific business goals, whether it be brand awareness or lead generation. These goals inform every distribution targeting and strategy to produce the desired engagement rather than simply targeting to generate the cheapest clicks or views possible.
At Keywee, we help storytellers cost-effectively distribute their (branded) content through paid channels on platforms like Facebook and Instagram. If you'd like to learn more about how we can help you scale your branded content campaigns, please reach out.
As publishers look to diversify their revenue streams, branded content has become more of a mainstay. Helping brands increase their reach through great content seems to be a win-win for all sides, which means branded content is becoming more ubiquitous by the day. 
To give you some inspiration for 2020, we scoured Facebook for examples of great branded content campaigns. We examined factors including engagement rate, relevance to the audience, and whether there was good synergy between the brand and the publisher. 
The Bump's team created an interactive infographic that highlights cognitive milestones in baby's first year with simple activities to encourage brain development. Not only is this a great resource for parents who want to challenge their babies and help them get a leg up in their early development, but it's also aligned with Enfamil's NeuroPro baby formula. Since new parents are the core demographic for The Bump, it makes for a great match between the content and the brand.
Upworthy created this touching video that maintains their unique, happy, tone of voice in an authentic and relatable way. The story of parents cheering up their kids on the first day of school by leaving empowering messages on their fruit bowls is meant to inspire viewers to connect with their kids. With this positive message and attitude, the brand has aligned itself with the publisher's tone and reached its target demographic with a product-specific recommendation.
With Domino's vast experience in writing design and wellness content, Dyson is right at home with this campaign. The publication's interview series, "The Wind Down," is a natural fit for brands looking to align themselves with the popular wellness movement. By interviewing a wide variety of female entrepreneurs about their nightly routine, Domino connects with its core audience by sharing stories from women to whom the audience can relate. Brands like Dyson and others who took part in the series receive casual, authentic-sounding mentions that are accompanied by photos  matching Domino's editorial aesthetic, further reinforcing the publisher-advertiser synergy.
Aiming for its core audience of young people on the go, Equinox's content arm Furthermore delivered bite-sized content that is ideal for a quick read on mobile devices. Geared toward those living an active lifestyle, the Cole Haan-sponsored content provides helpful tips on how to get the most out of almost any fitness routine. 
In this collaboration with National Geographic and Kew Gardens, Herbal Essence focuses on the science behind the brand. By diving into the history behind the beauty products' ingredients and highlighting their beneficial qualities, National Geographic stays true to its readers' main areas of interest — the natural world around us. 
You may have noticed a recurring theme: The most effective branded content campaigns rely on the publishers' connection with their readers, and on the synergy between the brand and publisher. Knowing their audiences, publishers can deliver great content in the most suitable format. On top of that, the brand-publisher affinity helps the campaign integrate well with the rest of the content on the site.
With the publishers' audience and story-telling know-how, brands can reach wider audiences with a relatable and memorable message through the use of branded content.
If you'd like to hear how Keywee can help you cost-effectively scale your branded content campaigns or sell bigger brand deals, get in touch.