Anyone reading industry news lately knows that a lot of publishers are struggling to monetize right now. The old rules just don't seem to apply anymore. 
That being said, publishers with diversified monetization strategies are doing much better on average. Across the industry, we're seeing more and more publishers experimenting with new campaign types and revenue streams, and there are few signs that this trend will slow down anytime soon. As you may know, we're currently conducting our "State of Publishing in 2020" survey (please take a moment to fill it out!), and so far, we're seeing that a whopping 70% of respondents are experimenting with new sources of revenue. 
One area that's having a "moment" is lead generation campaigns. I've written before about the strength of newsletter campaigns. Right now, we're seeing some fascinating and successful applications for lead generation campaigns. Let's dive in. 
An Innovative Ad Format
First, a bit of background. Amongst Facebook's many ad formats is the Facebook Lead Ad, which allows an advertiser to capture a lead within a user's news feed. 
A couple of years ago, Keywee developed an innovative ad format that makes the user experience of a Lead Ad much better. The user gets a tease of article content and is prompted to sign up for access to the rest of the article. Once they sign up, they get directed to the article. We call this product "Content-to-Capture", and this is what it looks like in the feed: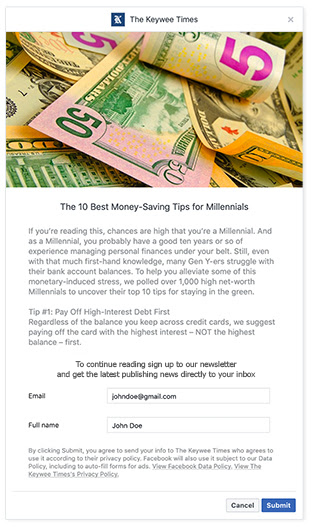 We see conversion rates on this ad format are on average 30% higher than a regular lead ad. 
Most of Keywee's customers use Content-to-Capture (C2C) as a way to drive newsletter subscription sign-ups. The majority of publishers currently running these programs are news publishers who care about ongoing engagement and traffic numbers in general. 
With that being said, we've seen some unique new approaches and strategies around this. I want to highlight a couple of those approaches.
Lead Ads for Ad Revenue
There are plenty of publishers who run campaigns that optimize for ad revenue. The primary goal of these campaigns is to get the lowest CPC possible and maximize post-click engagement. 
Here's where things get interesting. Generally speaking, CPCs vary between ad formats. There are, of course, a large number of factors that determine the CPC of a particular ad, from spend caps, to post text, to targeting, and so on. 
The interesting factor here is that we're seeing CPCs for Content-to-Capture campaigns at record lows at the moment. 
Here for example, are the CPCs of a publisher that recently launched a C2C campaign and how they compare to their ongoing traffic CPCs: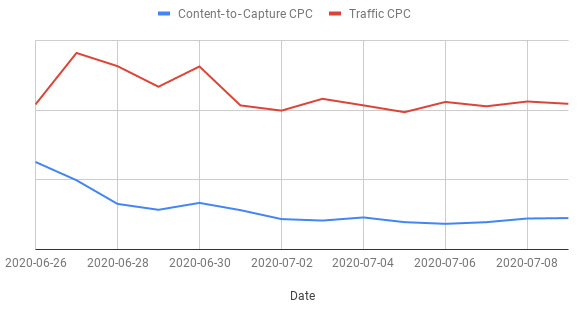 As you can see, the CPCs are dramatically lower on the C2C campaign. In this case literally 1/4 of the cost. Of course, not everyone converts once they click the ad, but we're seeing cases where the cost per lead is only marginally higher than the CPCs for regular traffic campaigns.
Another caveat here is that results can depend on the type of content that is being promoted. So while we can't guarantee a parity between the numbers, overall, we're looking at record lows for email acquisition.
These prices have given publishers optimizing for revenue a whole new strategy to explore. While they can still monetize the first click immediately when the user reaches the article, they now truly own that audience and can reach them via email, bring them back to the site, and monetize further. It's a win-win-win.
Lead Generation for Brand and Affiliate Campaigns
Not all email capture campaigns need to lead to a newsletter sign-up. Yes, that's the most common use case for publishers, but it's certainly not the only one. As publishers look to diversify, they're taking branded content and affiliate content to a whole new level by actively generating leads.
On the branded content side, for example, a publisher can create a compelling article about Car Company X, capture the email of users that are interested, and then pass those on so the car company can reach out and schedule test drives.
On the affiliate side, there's also a lot of potential. Insurance companies, mortgage lenders, B2B Software as a Service companies, and so on are constantly on the hunt for new lead generation opportunities, and often enter into affiliate deals where they commit to buying X number of leads for a certain price.
Publishers are cutting these deals more and more often, showcasing informative how-to articles (for example, "5 Tips to Save Money on Your Car Insurance") and using that engagement and interest to generate a lead and then sell it to a relevant company.
Of course, that's not all. Here are a few other interesting uses we're seeing for lead capture by publishers:
Petition signatures
Donation solicitation
Mid-funnel outreach to drive paid subscription sign-ups
Time to Own Your Audience
Look, things are crazy right now. If there's one thing that can help publishers weather this storm, it's to take steps now to own their audiences and diversify their revenue mixes. When you've got a user's email address, you can engage with them in any way you see fit without relying on paid platforms to do so. Whether you want them to see a banner ad, buy a pair of shoes, or simply engage with your content, email continues to be the most effective way to communicate with your loyal users. So if you're not doing email acquisition yet, now's the perfect time to try.