As you may have heard, Keywee is running a referral program – we're giving away great prizes to anyone who refers a new client to us. But you may still be wondering: what are those amazing prizes and how exactly can you get one?
All you have to do is introduce us to someone that would benefit from Keywee's services.
Step 1
Email Mallory at mallory@keywee.co introducing your referral. She'll set up some time for your qualified referral to chat with a Keywee representative, maybe even over a slice of Keywee cake.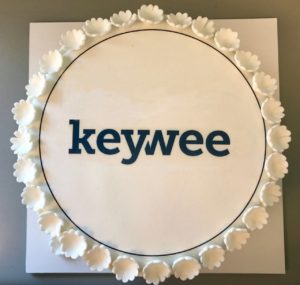 Step 2
After the introductory chat, we'll send you $50 Amazon gift card.
Step 3
If your referral becomes a Keywee client, we'll get in touch so that you can select your grand prize. You'll have a choice of an Amazon Echo, an Apple TV, Apple Airpods, or a $150 Amazon gift card.
We've already had several grand prize winners.
As a reminder, Keywee enables the creation, distribution, and measurement of content that drives business results for publishers, retailers, and brands. Hundreds of iconic brands and digital natives like The New York Times, The BBC, AOL, and Forbes use Keywee's revolutionary platform to find the right audiences to deliver on their business goals.
Looking forward to meeting you and your referral!
To refer a friend, simply email mallory@keywee.co with an introduction