For the second edition of The Storytellers, our new blog series where we interview some of the publishing world's most forward-thinking leaders, we spoke with Justin Wohl, Director of Operations, Product, & Business Development for Salon Media Group.

In the interview, Justin spoke candidly about Salon's approach of operating like a lean startup, his involvement in overhauling the brand's subscription product, why "Q4 is about making money," and much, much more.
Below is our conversation with Justin.
––
How does your role as Director of Operations, Product & Business Development fit into the big picture at Salon? What are some of your responsibilities?
Salon functions very much like a startup – we run a very lean operation. We don't have a big team, so we have to roll up our sleeves and get things done. My role covers three facets of the business: operations, product, and business development. They all interrelate, and they're all part of my position on the greater leadership team.
Specifically, 'operations' covers how our staff makes use of the Salon website to publish our content. The 'product' bucket has to do with the site itself as well as some of peripherals like our mobile app and OTT channels. On the 'business development' front, it's making sure that Salon's revenue streams stay healthy.
You mentioned that your different roles intersect. How so? Are there any benefits or drawbacks to having such a wide range of duties?
Being responsible for all three functions definitely eases the effort in getting things done quickly. There's a lot less red tape when you sit in each department. For example, if we bring on a new advertising partner, there are no real questions that need to be asked about how it will integrate into our product roadmap because I oversee both business development and product.
How has Salon evolved during your time there?
When I joined in January 2017, it was just the beginning of embracing a startup approach at what otherwise was a quite traditional publication. Now, the startup philosophy and culture is in full swing.
Since I joined, we've introduced new monetization strategies, tested new product offerings, and expanded our distribution. We've really gotten Salon to a much better place.
Let's dive in to paid subscriptions first. Can you tell us about Salon's subscription service and what you've learned since its launch?
We launched our first subscription product about this time last year, which was an ad-free mobile app that's still available today. It came about because readers were writing to us and saying that they loved Salon's content, but that they wanted an ad-free option.
When users downloaded the app, we converted them to subscribers at a rate that made us happy. But download rates for the app weren't as high as we had originally projected, so most of our audience today still visits our website to view our content. And Salon has always benefited from a tremendous amount of direct traffic. We realized that all the people who type Salon.com into their browsers every day were not benefiting from the ad-free nature of the app, and we wanted to bring the same type of experience to them on the web.
So, we overhauled the subscription product. We're rolling out a new offering on November 1st that's the first of its kind for Salon. It will allow our readers to browse all of Salon.com, whether they're on their phones or on their desktops, completely ad-free. It'll be very, very fast, and very lightweight. The price point will be $9 per month.
I'm interested to see how a product that doesn't include any ads at all will impact reader behavior. I think with faster load speeds and fewer distractions, we'll see deeper sessions and better time spent on site. I think those numbers will show that that our subscribers are enjoying themselves and having a really positive experience.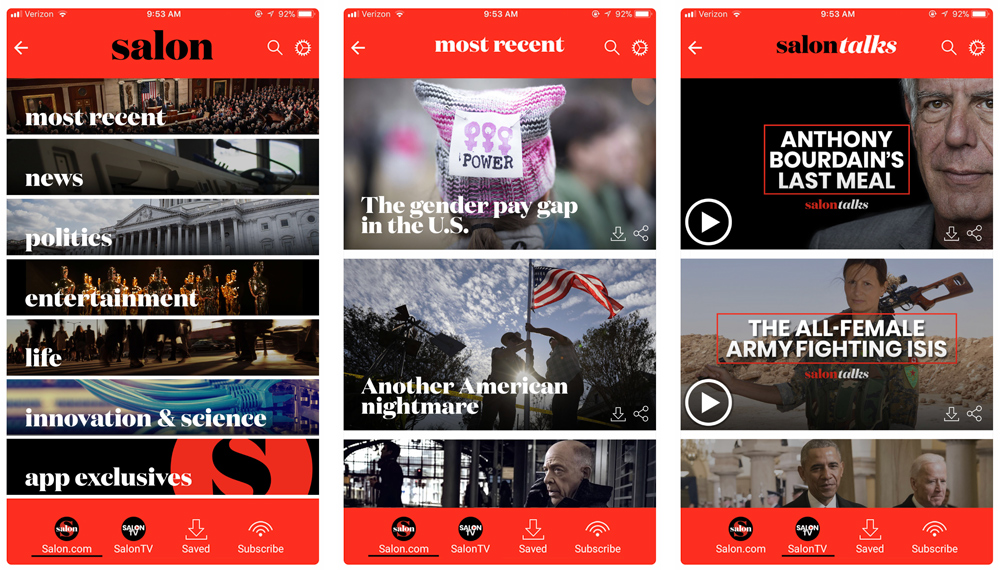 It's impressive how much you take reader feedback to heart. Could you tell us about how you solicit feedback? Anything you've been surprised to hear?
We really do welcome reader feedback. Email channels are always open, and we get a lot of feedback on Twitter, too. It lets us get a good pulse on our readership from an emotional and intellectual level.
Honestly, the feedback is mostly about ads, and it's tough. It's really the life blood for a freely available site. You need to monetize through advertisements, and there's a fine line between reader satisfaction and making enough money each month from ads.
I would say very strongly that our subscription offering came about due to the feedback about ads on our site, especially from return readers. We often hear, "Hey, I've been reading Salon for the last 10 years, 15 years." These are people who are loyal, loyal, loyal to the brand. So it's a service to them to have a subscription product that will allow them to continue to read the content that they love in the lightest way possible
Let's talk about metrics. What reader actions are you tracking (visits per month, time on site, etc.)? Have you found that some are more valuable than others?
In terms of metrics, I pay close attention to return traffic, session depth, session time, and of course, page views. If there's one metric that's really indicative of the quality of the business, it's session depth.
If I see that most readers coming to the site are reading one article, or worse, if their session depth is .08 or something like that, then I know that we're not maximizing the potential of the reader at all. But if you start to get people to read two, three, five articles per session, you're vastly increasing the value of that user while seeing them having a deep and long-lasting reading session.
Session depth is something we're always working toward improving. We test out a lot of different recirculation tactics – different types of logic for recirculation and content recommendation – in order to boost that number as high as we can get it.
Salon primarily runs programmatic ads (as opposed to direct-sold or branded content) to generate revenue from site traffic. Has this always been the case?
We run a completely programmatic shop. We used to have a direct-sold business, but we shifted away from that because it's not always consistent. A sales team and a direct sales effort can certainly bring higher CPMs, but like I mentioned earlier, Salon is taking the approach of running as lean as possible. That means not chasing the biggest fish out there, but being happy to catch those programmatic dollars with the right infrastructure.
It's worth pointing out that there's value in outsourcing efforts to others who have the ability to drive direct sales. We have a number of third party vendors who have their own direct sales teams that are bringing in direct-sold campaigns to us. Direct-sold dollars and branded content opportunities are obviously very welcome, but I don't think that all publishers should pursue them individually.
Looking at the topic of revenue from a higher level, can you give us a sense of what Salon's revenue breakdown looks like? Are you experimenting with any new revenue streams?
I think that in terms of revenue streams/revenue breakdown, a publisher should certainly be responsible for its own core business of programmatic display. We partner externally for things like affiliate and branded content. We have a great partner for affiliate in StackCommerce. I really like the work that we do with them – they bring a nice mix of products that are appropriate for our audience. For branded content, much of that comes from native placements, but TripleLift spun up a branded studio and we welcome opportunities from them when they're available.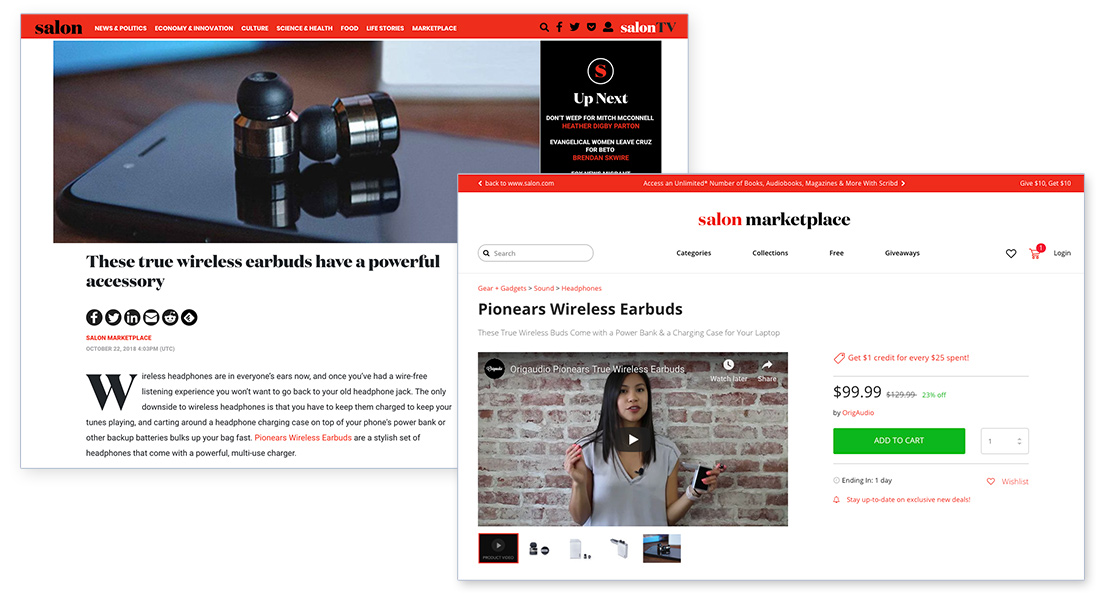 Salon Marketplace powered by StackCommerce
You've mentioned in the past that the margins for events aren't always the best. Can you speak more to that?
Absolutely. Events are certainly a viable revenue source for publishers because you can command a strong ticket price for events, especially if you can bundle them in with other things. If I were to run an event, I would strongly consider packaging in membership to our site along with the ticket.
The real issue that I take up with events is that you can't have a lackluster event. No one will want to come again, and to take advantage of people's interests only for them to not want to come to the next event seems disingenuous to me. It's difficult to put on an awesome event unless the publisher is large enough to provide dedicated resources to the planning and execution of that event, or if the publisher has the wherewithal to hire an event planning company to manage it, which will cut into your margins tremendously.
I don't want to be a curmudgeon about events. I just want to express the firm belief that if you are going to do an event, it should be done well and it should not jeopardize the other core competencies of your business. Events can be worthwhile, but they need to be done with a level of deliberation and attention and care that a lean operation can't necessarily always put forth at all times.
What activities will be putting most of your efforts behind this quarter?
We really cleaned up our technology stack in the display and header bidding space in Q3 to enable us to make the most of Q4. We also introduced a few more sticky units onsite to maximize viewability. That's ever-important and has been for years, but at times a publisher might change between one sticky ad or three static ads, and for Q4, we're shifting towards viewability, looking for inventory that will become more scarce as demand increases.
You've said before that "Q4 is about making money, Q1 is about projects" – can you tell us what you meant by that?
Q4 is absolutely the time of year to capitalize on the work that you did for the prior three quarters. You say, "Hey, I spent the whole year figuring out what my product mix is gonna be, what my ad stack and my tech look like, who my demand partners are." You get everything cleaned up and polished and running as efficiently as possible – a beautiful monetization engine – and in Q4, you do everything you can to get the most out of it.
You have an extensive background in branded content from your previous role at Federated Media, now HYFN Local. Are there any lessons you learned there that you were able to take with you to Salon and implement?
I would not have asked for the experiences to have come in any other order. Working at Federated Media first really allowed me to see the publisher landscape at large. We were an intermediary between large advertisers and small independent publications. Working there, I really learned the needs of a publisher. I got to see on a broad level what advertising opportunities are available and what performance metrics are important to advertisers. Having gained all that knowledge at FM really helped me to hit the ground running at Salon and overhaul the whole monetization strategy – to plug in all the new technology, high impact ads, and the other things that I knew were hot at the time or were going to be growing, and then let Salon benefit from that right away.
I think when you learn anything in a broad context, it allows you to then drill down to the granular but still understand what's going on around you. Having that broad scope education from FM really allowed for the more precise surgical work to be done at Salon.
How do you think about mobile at Salon?
Our site is designed to be extremely mobile friendly. For example, there are fewer ads on mobile than desktop and we don't have as many videos or video ads running. As a result, the RPMs on mobile are lower than they are on desktop. But 60% of our readership is coming from mobile, so we want to make sure that they continue to get a pleasant experience before the new subscription product is available to them.
At the end of the day it's all about balance, right? So what we do in terms of advertising on mobile might be lighter, but that also means that we have to be a little heavier with ads on desktop to maintain that overall balance.
Lastly, is there anything that you've seen other publishers doing recently that has stood out to you?
I think interest and success are two very different things. I might see an excellent site layout, but it's not a given that something flashy translates to better business performance. As an onlooker, it's difficult to know what's working and what's not.
Adhesive video players are a good example of this. For publishers, viewability for a video pre-roll is tremendously important. If your viewability drops below 50%, there are plenty of advertisers who will cut you off. Adhesive video players really allow you to keep the video player in view long enough to get the right metrics that advertisers want to see. But if you look at major news sites, they all have different locations for their floating video players. You can say "who do I trust to emulate?" but for the most part you get the best results by figuring things out for yourself.
––
Thank you for taking the time to speak with us, Justin. We learned a lot and look forward to seeing what you and Salon have in store for the coming months (and beyond).
About Keywee
At Keywee, we make stories relevant and powerful for the world's best storytellers — like The New York Times, The BBC, National Geographic, Forbes, and Red Bull.
Today, people aren't coming to websites to search for content — stories find their audiences in feeds and apps. The upshot? Distribution is now the key for effective storytelling. Keywee's platform unlocks audience insights using AI and data science, and infuses them into every step of the storytelling process: from topic selection, to story creation, to distribution and optimization. Keywee is backed by leading investors such as Google's Eric Schmidt and The New York Times, and has been a fast-growing, profitable startup since its inception. To learn more, request a demo here.