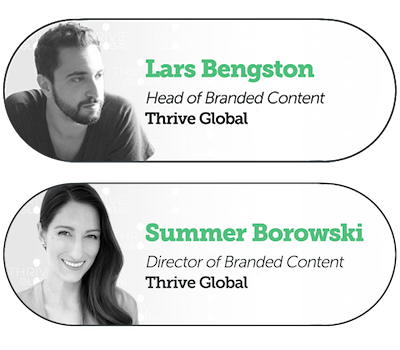 At Keywee, we're lucky enough to work with hundreds of the world's top storytellers every day. In an effort to share some of the lessons we learn with the rest of the publishing community, we launched The Storytellers: a blog series where we interview some of the most accomplished thought leaders from across the industry (including Keywee friends and customers like Kiplinger, Gear Patrol, Salon, and Complex) and share their insights.
For this installment of the series, we were fortunate to visit Thrive Global's beautiful SoHo office and chat with Lars Bengston, Head of Branded Content and Summer Borowski, Director of Branded Content. We chatted about the world of branded content, how to tell an impactful story, the importance of recruiting and onboarding, where they each draw inspiration, and what it's like to work at a mission-driven company like Thrive Global.
Below is our conversation with Lars and Summer.
* * *
Thanks so much for sitting with us Lars and Summer. Before Thrive Global, you were previously at VICE and Quartz respectively — some pretty big names in the publishing industry. Were there any major lessons you learned there that you brought with you to your current roles at Thrive Global?
Lars: I started at VICE as a creative coordinator and worked my way around the company, picking up experience in business development, strategy, brand sales, and platform launches, eventually ending my run as Publisher of Vice.com, so, I think VICE informed a very unique worldview of the media industry for me. It taught me how to create content that emotionally resonates with someone, which I think is a very transferable skill. Today, there's an overflow of chatter being streamed into the screens of the modern consumer. My time with VICE helped me learn the types of stories that cut through that noise — those that offer a differentiated perspective on a topic that matters to your audience.
I believe that if brands aren't adding to the cultural conversation, they will not only be tuned out, they risk alienation.
VICE also taught me to work as a team. Ideating and executing campaigns at scale is a complex endeavor that takes a village, and you realize there's really no room for the "do-it-all" brain. Even if you have it, you have to curb that impulse and allow room for other perspectives. The more a team has a sense of collaboration and camaraderie, the more successful it'll be.
Summer: Quartz was actually my first role in the publishing world. I love the excitement of growing something special in this industry, which is what ultimately drew me to Thrive. I wanted to be part of a startup that would grow quickly but sustainably, and I was really drawn by the mission and Arianna's leadership.
I learned a lot at Quartz, but one of the biggest lessons is that culture needs to be driving the content in order to grow sustainably.
Can you tell us more about the branded content team at Thrive Global? What are your major objectives?
Lars: Our job is to bring Thrive's mission of wellness, well-being, and ending the stress and burnout epidemic to life through the lens of our brand partners. Here, wellness is a red thread more than it is a passion point. It's an always-on consideration that layers over every subject; there's a wellness story in finance, there's a wellness story in music, fashion, sports, art, culture and politics. The beautiful thing is that wellness is a very human issue, so the mission for the branded content team is to leverage our thought leadership, in-house expertise, and storytelling abilities to help brands tell stories that add value to their piece of culture.
Summer: The lens through which Thrive is approaching well-being is really relatable, as opposed to this top-of-the-mountain-unattainable-sunrise. Paired with micro steps, it feels tangible and real, rather than trying to fit well-being into a life that doesn't exist for most people. The branded content team is about telling these relatable stories for brands. Business can exist for more than just profit, so our job is to pull out that story and bring it to life.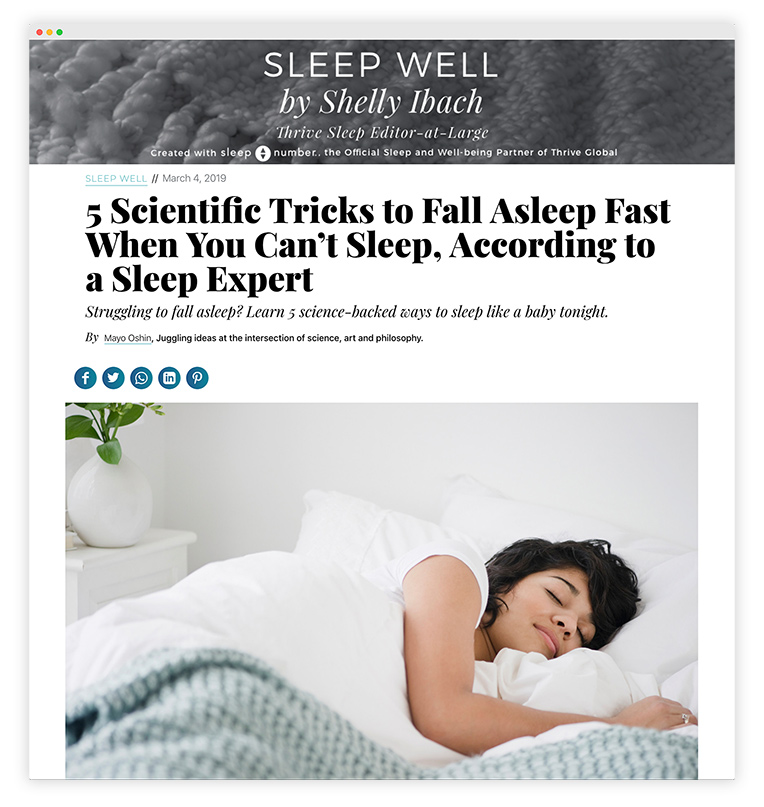 How does your team engage in new partnerships?
Lars: Our team is built both to creatively react to brand briefs and to develop a suite of original IP. When a seller comes in with an opportunity, our team is engaged to create a response to the brief that manifests our vision, blended and amplified with the voice and vision of the brand.
We also have a mission as a company to be more proactive with the ideas that we believe are culturally additive and take them to the market place instead of waiting for a brief to come in.
Our strength in the subject allows us to take ideas to market that benefit the audience we're talking to, providing them with entertainment and actionable steps to take. We think about what the market is interested in and see what ideas we can create to add value to the conversation. We want to arm the sales team with an arsenal of creative ideas that we're proud of and that can tie directly to a brand's need.
Branded content teams often have to work closely with other internal teams. How do you interface with other teams at Thrive Global?
Summer: Branded content is one of Thrive Global's three distinct business lines. Beyond the media side, Thrive has an enterprise and consumer-facing digital platform and a corporate business that offers a suite of products and training on the B2B level. If we're executing on the mission right, the clients should feel like they have access to all of the different products that we offer, so it's important for us to communicate and be transparent across teams.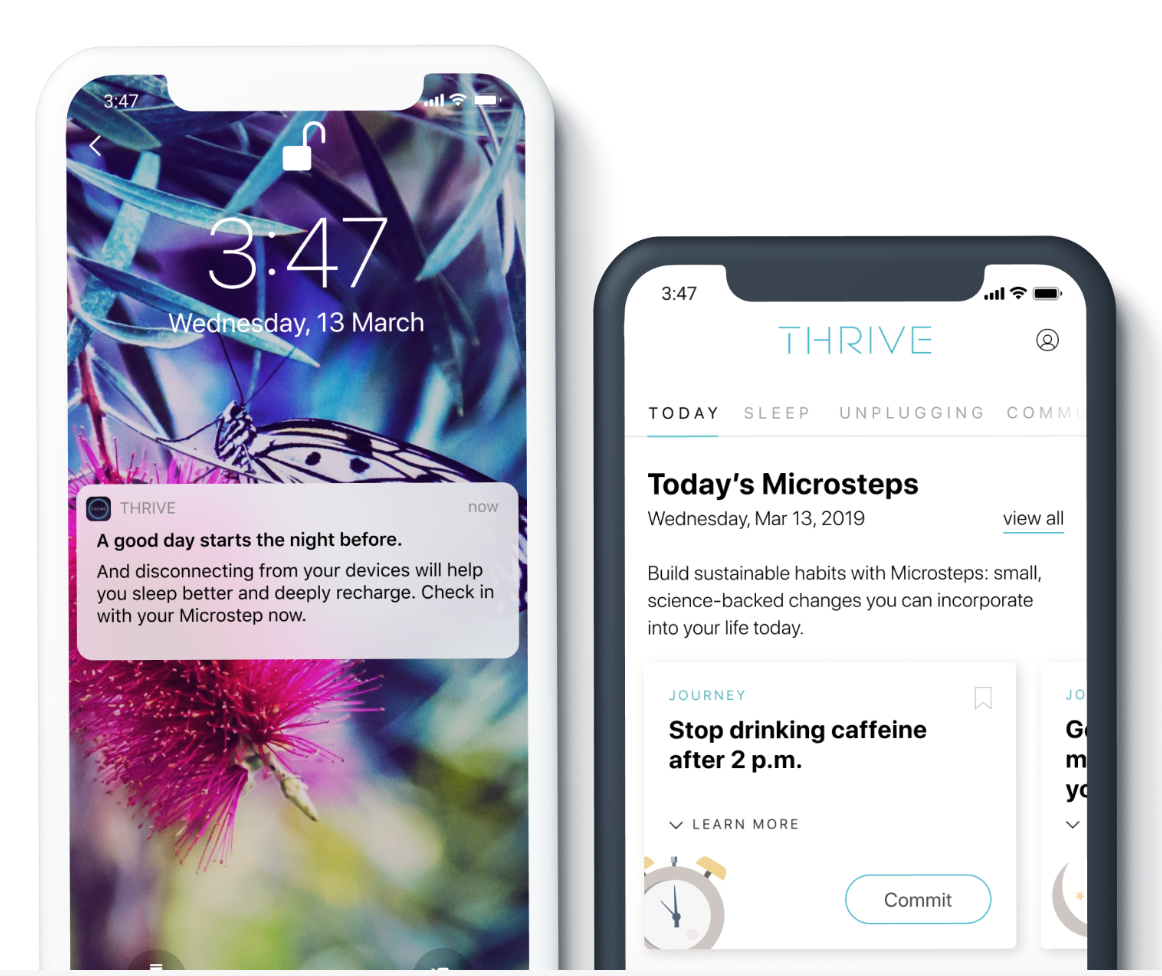 Lars: It's beneficial coming into a company that has three distinct business lines because it allows an organic cross-pollination of different experiences and perspectives from different areas of the business that are tied to the same mission. It also lets us tap into ideators and creators on different sides of the business.
On the media side, we're collaborating with our editorial, social, and audience teams to inform the content that we create, and vice versa. But I also learn every day from the corporate side. The enterprise product team has thought of incredible ideas around wellbeing, motherhood, leadership, and more that consistently inspires new content.
Partnering with our corporate product counterparts also allows us to offer brands solutions that serve both their employees and their consumers. It creates a really beautiful synergistic throughline for the partnership that a lot of companies are looking for.
Thrive Global is very purpose-driven, built around Arianna Huffington's passion to help people improve their work-life balance and to fight stress and burnout. How does this change the nature of the branded content your team produces?
Lars: The number one thing that keeps us going is that the audience places its trust in us. We're very honest with ourselves about the brands that fit Thrive. It keeps us authentic and our audience appreciates that. Arianna's vision adds a unique creative challenge, which is to add value to the lives of the consumers not only thought great storytelling, but also through actionable microsteps that help them better themselves. We're not going for perfection; we're going for progress. Even our influencer strategy reflects our approach – focusing on influencers who are relatable role models rather than those with the widest-possible reach. Both are nice, though.
We live in a world where we gobble up news about celebrities every time they go to the grocery store. Imagine the substantive type of content that would be created if, instead, we asked those same celebrities what they do to set themselves up for success each day.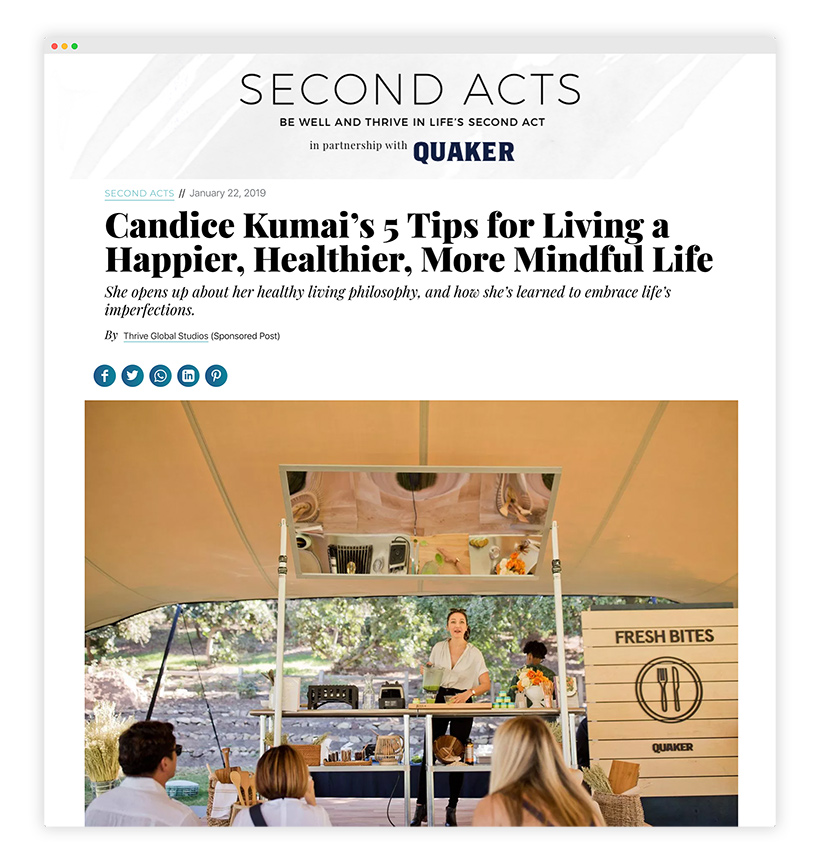 Summer: There's such a human element to the type of content we produce. Everybody faces challenges in life, but they're often considered taboo to talk about. We love giving a platform to people and topics that may not have been given one otherwise; we're really focused on being diverse and inclusive, and that really resonates with our audience.
I would say that science is also a huge differentiator for us. The things that we talk about are scientifically backed and proven. It's not just a fad or a trend. It's much more sustainable.
I'm sure there's a ton of variation, but generally speaking, what are the metrics/KPIs that are most important to the brand partners that you work with?
Lars: There are a hundred different KPIs for a hundred different brands. There are certain standards, like awareness and engagement, that are benchmarks across the industry.
More importantly, brands are coming specifically to Thrive for impact. How does this series add something to the lives of their consumers?
Brands want to create emotionally resonant content that allows the consumer to feel something and inspires change in his or her life. That's a very unique thing to be able to offer a brand.
What informs your content distribution strategy? Are there certain channels you always turn to?
Lars: It totally depends on the format.
We want to let the story itself dictate the length of the piece, so we try not to create content for Instagram, or content for Facebook, or for X platform.
At times, content is ideated with a certain channel in mind, but generally, we let the story lead us. For most campaigns, in terms of channels, the table stakes for Thrive are Instagram, Facebook, Twitter, and LinkedIn, but we're constantly looking for new ways to get our message out into the world.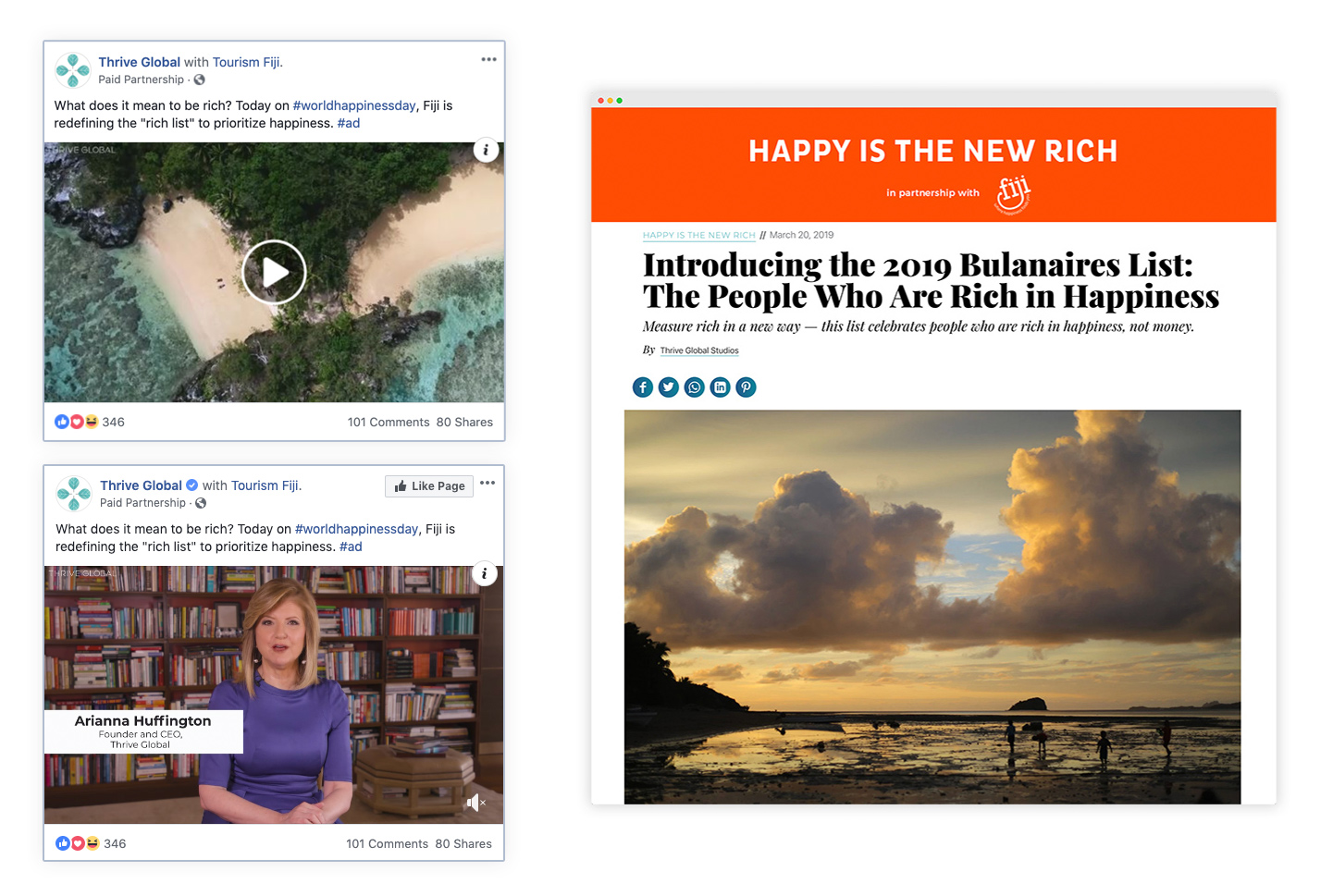 From your point of view, how has branded content as a whole changed in the past year? Any observations industry-wide?
Lars: There are so many. What's most clearly visible is that the content has gotten a lot shorter. Making shorter content is an interesting and fun-to-crack creative challenge, because it means that you have to get your point across quicker without sacrificing meaning. Just following industry guidelines and creating content to put on Instagram and Snapchat doesn't guarantee success, and I think that underpins the biggest industry-wide change, which is the pressure to be more impact-focused and additive.
We're all scrolling through social platforms. You need to think: what not only gets your thumb to stop, but what gets you to engage with a piece of content?
It has to add something to your life. Whether it's entertainment, inspiration, engagement, or something for you to disagree or agree with. It has to be something you can take with you or tell your friends about.
Summer: These really synergistic brand overlaps and moments of culture can take a lot of surprising forms, and I think that's something we've seen skyrocket really recently. It's not just a banner ad, or something you're being served. It's not just the standard format article and it's even beyond an interactive piece of content. It's out of digital as much as it is in digital.
Branded content partnerships can often be extremely challenging to manage. How does Thrive's mission of workplace well-being play into how your team handles partner demands?
Summer: I think we do a really good job of connecting to our team on a human level. We talk about our goals that have nothing to do with work — just our personal thriving goals. We also do entry interviews at Thrive, which is a super helpful way to onboard new employees, where we find out what each new employee needs to thrive. This might be a piano lesson once a week or leaving in time to pick up the kids. Because we have those conversations we then hold each other accountable. It's all born out of camaraderie and understanding people as people rather than just colleagues.
I think that's where our team's strength and sustainability comes from – well-being.
Lars: On top of that, we don't play office politics, we rely on a philosophy called compassionate directness, which is being able to approach somebody and communicate what you feel and how you feel it in a way that isn't putting that person down. You can express emotion, but it's all with a shared goal of figuring out the problem.
What are some of the biggest challenges that you're facing right now? Do you think those challenges are unique to Thrive or do you think others in the space are facing the same challenges?
Lars: It's really a champagne problem — we are scaling and growing really quickly, which is great! But with that comes the challenge of hiring to fit the immediate needs while making sure to hire the right people who are going to scale with the company.
To me, hiring is the single biggest challenge and opportunity that we have.
Summer: Agreed. Right now, we have this amazing situation where we're working really closely with Arianna and an amazing network of people, so there's no idea too big at this point. We're only limited by our own creativity. It's definitely a champagne problem.
Working in the branded content space requires a lot of different skills – what do you look for when you're recruiting?
Lars: Having come from the ground level, I look for the things that drove me in the space. First, I think curiosity has to be at the heart of everything. If you start with that as the center of gravity, then it fosters the environment for the next important factor, which is creativity. The more curious you are, the more you can look at a problem from different angles, and, ultimately, the more creative you can be.
Those two – the willingness to be curious and the willingness to be creative – are the two most important things for me.
It sounds like your team will be growing a lot this year. What your focus for 2019? Anything that your particularly excited about?
Summer: We're building a company strategy across all business units (media, corporate, and technology) that ladders up to one single Thrive for all of our partners. We've already been doing this in parts, but this year feels like a real crescendo moment for the brand.
Lars: The goal for us is to operate as one Thrive Global. Three completely different business lines, but one cohesive Thrive that makes sense no matter who you are talking to. It should be a seamless experience whether you're a consumer, an employee, or an app user.
We love your email newsletter! Are there any media companies or brands that you look to, or that you think are doing great work?
Summer: I think Quartz and Quartzy do a great job with their newsletters. I love the way they speak directly to their audience; their tone is so intelligent and focused.
Lars: I'm super attracted to brands that push the envelope in their space and surprise people in unique ways. Lately, I've been fascinated by street culture's move into high fashion, and vice versa. I love how those worlds are integrated and mixed – from Comme des Garçons, Saint Laurent, Hermès, as well as Nike, Supreme, and other streetwear brands.
I also give a big shout out to all the digital publishers in the space who are evolving the ways stories can be told and pushing each other to tell better ones.
Thrive Global has been a Keywee customer for about a year now – can you tell us about your experience working with Keywee?
Summer: We love Keywee! With vendors, you always want to confirm "Is this most efficient?" and "Do I feel most supported and partnered?" and those are true of Keywee.
Especially coming from a lean team, I love having a whole room of people on the other end of the line that have our advocacy in mind.
I come from a generalist background, so having a team of people who are specialists, whose whole business is designed to create optimization in this one space, is a nice thing to have in your back pocket.
There's a lot to ways to get cheap audiences, but in the industry, you're definitely the leader in quality audiences.
And quick shout out to your team for being super responsive. That's something that's not necessarily true in every partnership.
* * *
Thanks so much for taking the time to chat with us, Lars and Summer! We learned a lot and we're looking forward to seeing many more exciting and authentic branded content campaigns from Thrive Global.
About Keywee
At Keywee, we make stories relevant and powerful for the world's best storytellers — like The New York Times, The BBC, National Geographic, Forbes, and Red Bull.
Today, people aren't coming to websites to search for content — stories find their audiences in feeds and apps. The upshot? Distribution is now the key for effective storytelling. Keywee's platform unlocks audience insights using AI and data science, and infuses them into every step of the storytelling process: from topic selection, to story creation, to distribution and optimization. Keywee is backed by leading investors such as Google's Eric Schmidt and The New York Times, and has been a fast-growing, profitable startup since its inception. To learn more, request a demo here.