Publisher Audience Extensions are what makes publishers indispensable in the branded content value chain, as a means of meeting audiences where they are.
As a marketing strategy, branded content is used by brands to support their top-of-the-funnel marketing objectives. Increasing brand awareness, consideration, preference, and favorability are all achievable through effective branded content.
An example of truly effective branded content comes from Pampers. The Pampers team has been doing an amazing job of creating specific content that speaks to their desired audience and appears on Pampers' website and blog.
What are some challenges that the Pampers content team could face with this particular piece of branded content?
Authority and Influence: Pampers' products may have an excellent reputation, but that doesn't mean an audience will automatically trust their written content. How can they gain the trust and loyalty of new potential customers in a content-rich online environment?
Distribution: Even if the content itself is top-notch, how can Pampers make sure the right audience interacts with it?
There are obviously other challenges, but we'll just focus on these in this article.
Luckily, branded content hosted by reputable publishers helps Pampers overcome these challenges. Read on to see how:
Authority and Influence
When creating a content program, creating an influential voice takes time and resources. Getting to the top of search results or being shared means competing with established publishers that already have a large audience and trusted voice. This is where custom content teams for publishers come into play: lending their voice, expertise, as well as their audience, to ramp up content efforts.
In the Pampers example, searching for "babies solid foods" on Google returns stories from parents.com, kellymom.com, babycenter.com and others. Some are established publishers and others are vertical-specific influencers, but all have a highly relevant and substantial audience. Partnering with custom content teams for these publishers helps Pampers tap into a pre-existing loyal audience who is hungry for their particular expertise.
Distribution
One of the main tactics to ramp up distribution and influence is distribution in paid channels such as Facebook, Twitter, and Instagram. These platforms tout micro-targeting segments based on their first party data.
If brands use specific targeting parameters too literally they may end up targeting a small number of people and potentially their campaign will not perform or scale. For example, a Facebook audience interest such as "baby food diet" only consists of 492 people in the US. On the other hand, when using broad audiences such as babycenter (22 Million people in the US) they run the risk of reaching unqualified audiences.
Reminder: We are looking for audiences that have demonstrated an interest in solid foods for babies.
Publisher Audience Extensions: Why They Matter
Publishers that have a specific audience that is a fit for a brand can find these audiences through paid channels and content partnerships. For instance, Parents.com, an authority in their space, would be well-positioned to create and serve a branded content story by Pampers on solid foods. Publisher audience extensions are essentially an extension of the publisher's audience on 3rd party platforms. These are audiences that are regular visitors for the publisher and are relevant to the branded story.
Parents.com has built a complete guide for starting solid foods. Retargeting audiences that have visited Parents.com in the past 90 days or the exact audience that visited the guide would make for a qualified and relevant audience that is specific, but would still scale.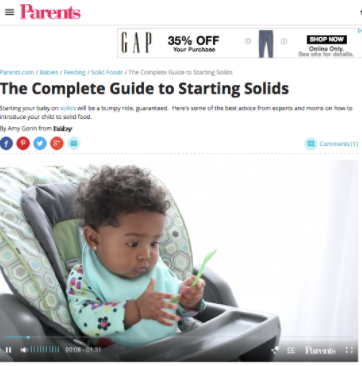 In this way, a publisher can bring to bear its first party data in a scalable and effective way while maintaining relevancy and delivering results.
If you want to learn more about Keywee and how we help 500+ publishers distribute their content, you can get a demo here.