About a month ago, I asked you to fill out a survey so we could take the temperature of the publishing industry in this strange and surreal period we're living through. You answered, we analyzed, and it's made me incredibly optimistic. That's what I want to talk about this week, so let's dive in.
Talking Turkey
We've all read the news over the last few months of publishers cutting newsrooms and other staff in order to weather the storm. With all of that doom and gloom, I was expecting to see this reflected in publishers' marketing teams as well, and I was surprised to discover that the situation was actually pretty positive.
Over half of the respondents (54%) reported that there had been no staffing changes at all, 13% reported salary reductions, and 13% reported they were actively hiring. All told, this means that 80% of marketing teams have remained intact. I think this bodes well for the future.
Marketing budgets are another place I tend to look to get the pulse, and there, 52% of respondents reported that their budgets have either remained the same or increased, while only 9% reported that they have been cut completely. In a nutshell – 91% of publishers are still investing in paid media to some extent.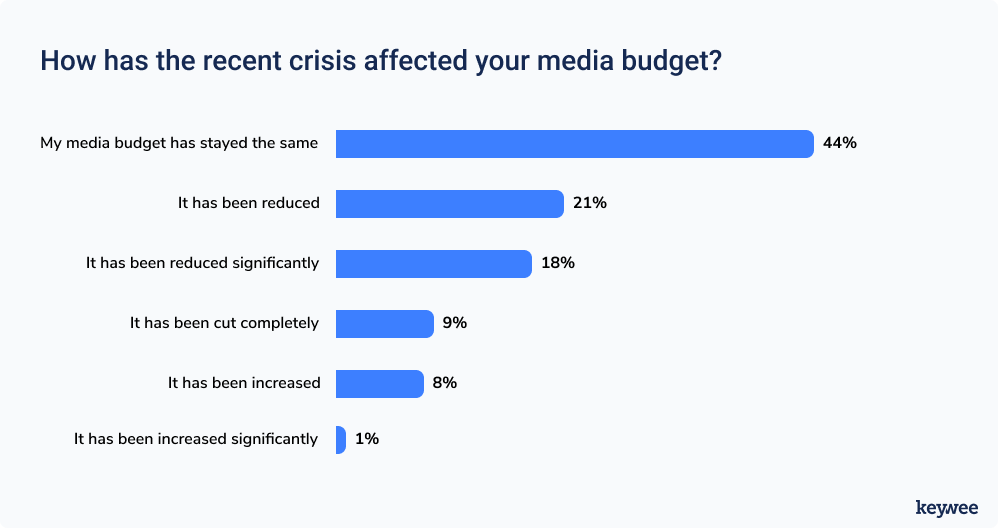 Agility is Key
I've spoken here multiple times about how some revenue streams have suffered since The Great Upheaval, but are recovering (branded content and ad revenue), while others are seeing unprecedented growth (eCommerce, newsletters and paid subscriptions). It's clear from the survey that publishers are working hard to diversify their revenue streams in order to achieve long term stability.
A whopping 73% of respondents are either actively testing or planning on testing new revenue streams. At Keywee we're certainly seeing more of our customers testing out affiliate, newsletters, and paid subscription models. It's encouraging to see that the industry as a whole is doing the same.
Opportunities for Growth
I want to point out an incredibly interesting statistic. 84% of publishers reported to have a newsletter program, but 75% of publishers who have one, are not monetizing them. Newsletters are prime real-estate that can be leveraged for sponsored takeovers, featured content, promotion of products and paid tiers, and so much more. Newsletters are, of course, about giving value to your subscribers. But that doesn't mean you can't draw value from them. Opportunities here are endless and publishers would be wise to embrace those.
Of course there are countless other opportunities for publishers to test. Q4 this year is expected to be mammoth, so the time to start experimenting is here and now, while CPCs are still relatively low and the landscape overall is quiet.
Optimism Abounds
At the end of the day, my takeaway here is that there is a light at the end of the tunnel. We're living through an incredible moment in history, and publishers are at the apex of this moment. The source of information, comfort, and distraction as billions of people around the world are in isolation and seeking out those things more than ever.
The industry took a hit. But we're fighting back. We're becoming more agile. We're embracing new opportunities at an unprecedented rate. We're in fighting shape and going strong. That gives me a lot of hope for the future.
If you want to read the full report, you can find it here. As always, I'd love to hear what you're up to, and if you want to learn more about how Keywee can help you navigate these choppy waters drop me a line and we'll set up some time to chat.