As publishers look to new revenue sources, the world of branded content has seen a renaissance. According to a recent Digiday survey, 88% of publishers are driving at least some revenue from branded content, making it the second most popular source of income after display advertising.
But as branded content becomes more popular, publishers have struggled to meet the increasingly large audience demands organically. To combat this trend and increase their reach, it's common for publishers to pay to acquire audiences.
In fact, paid branded content distribution has become so essential to publishers that it's been growing faster than paid editorial distribution. Its share of total publisher spend on Facebook grew from 5% in Q3'16 to 11.4% by the end of 2017 – as presented in the chart below.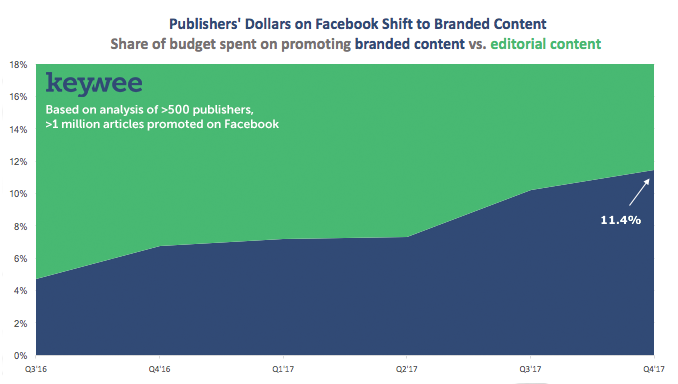 Today, almost every branded content package includes a paid distribution component, but to drive the most value for branded content partners (and sell bigger deals), it's key to go beyond generic paid distribution techniques like boosting posts or targeting the people who like a Facebook Page, and move onto sophisticated distribution techniques.
From our work with over 500 storytellers, we've found that sophisticated distribution is what sets top performers apart from the rest of the industry. They're seeing CTRs that are 2X the industry average on branded content.
In Keywee's latest eBook: How Top Publishers Win with Branded Content, we dive into the world of sophisticated distribution techniques and provide three concrete tactics that you can apply to your own branded content campaigns. We also review advanced reporting techniques that top publishers are using to build and maintain strong relationships with their brand partners.
Fill out the form below to get the eBook: