If you remember my first blog post of this series, I spoke in-depth about the very visible
spike in paid subscriptions
that happened in mid-March when shelter-in-place orders began. Today I want to revisit paid subscriptions to get a sense of where we stand.
Volatility and Diminishing Returns
Let's do a quick recap: The Great Upheaval caused a drastic drop in CPCs, a huge spike in traffic, and as a result of all of this, a surge of new paid subscribers at historically low CPAs.
Since then, CPCs have started an upward trend, and traffic volume overall has been on a downward trend.
As for paid subscriptions, it's been a
mixed bag
. Traffic is still higher than before, but conversion rates have been unstable. 
CPAs are continuing to trend low
, they've just been inconsistent and hard to predict.
It's been challenging to suss out the reasons for this volatility, so I took a different approach instead: What are publishers with steady, consistent performance doing that the others aren't?
Let's dive in.
How One Publisher Achieves Stability
I found a few big publishers that were faring very well in the current environment. All of them had the same campaign and content strategies, so I picked one for us to walk through.
Publisher X is a high-end national publication that relies on a metered
paywall
(i.e. read more than a certain number of articles and you'll be required to subscribe.)
Let's start by looking at this publisher's campaigns which use a two-step campaign strategy.
Step 1: Attract Users
Keywee distributes the publisher's content to relevant audiences at scale, with an efficient CPC, targeting users that are likely to engage. 
This overall content sequencing approach leaves room for a "prospecting" phase, which brings in a low-cost, high-quality audience for the top of the funnel.
Step 2: Convert Users
Publisher X's metered paywall is capped at 5 articles. For this second step, Keywee's
Facebook campaigns target
users that have read 2 or more articles on the publisher's site. The campaign only promotes content, and not a direct response landing page. All of the subscription calls-to-action happen on site.
This targeting strategy ensures that the campaign reaches a high-quality audience that has engaged with the publisher more than once. It builds on the relationship by continuing to show value, which creates trust.
Now, let's look at the publisher's content strategy.
I don't know if you've noticed, but there's a lot of COVID-19 content out there right now.
Publisher X hasn't shied away from this type of content, but it also hasn't relied on it exclusively. In fact, the publisher was beginning to see diminishing returns and has started cutting down on COVID content it's been promoting.
Take a look: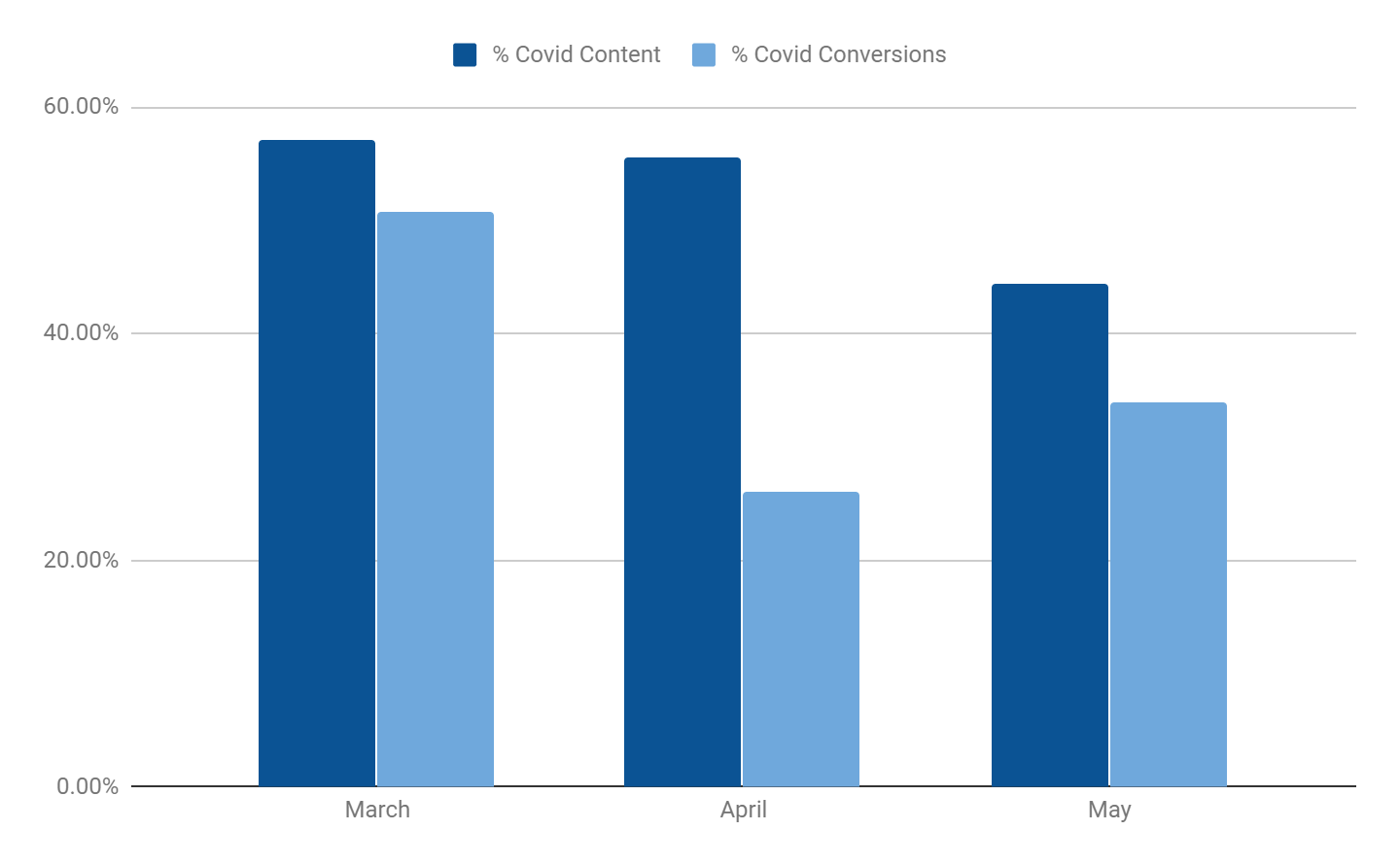 Let's look at the numbers in a different format:

So when Publisher X saw in April that there were diminishing returns from COVID content, it slowly dialed it back (and continues to).
The top performing article in May so far is one about politics, and is completely unrelated to the pandemic.
I think this change is a big part of what accounts for this (and other) publishers' success and stability. By diversifying content, users are exposed to a variety of topics, and can see the long-term value of subscribing.
Trends in Subscription Content
I try to cover trends as much as I can in these posts. In this case, I wanted to look at what was trending that wasn't epidemic-related. 
In terms of articles,two primary formats are dominating: How-tos and long-form content. I think that both of these are working because those are really effective formats to showcase a publisher's value to the reader, which then makes them more likely to subscribe. 
In terms of creatives, quoting people or the article content directly seems to be an effective way to attract high-quality clicks. Post texts that are on the longer side, i.e. more than 20 words are doing well. As far as images, black and white photos are standing out from the crowd.
The TL:DR
There are two main things that I want you to take away from all of this:
Pandemic or no pandemic, demonstrating long-term value to your reader through the right campaign strategy and content will lead to consistent and effective performance.
If you haven't yet started diversifying your content, now's the time to start.
Shameless plug time: I'm co-hosting a webinar with Chartbeat on Thursday, May 28th, so there won't be a deep dive update next week. It's all about building high-quality, loyal audiences from Facebook traffic.
Click here
to register.