Evergreen content is one of the most important tools in a publisher's arsenal, but it's still largely underutilized. To help publishers start the year off right, we hosted a webinar with tips on creating, distributing, and measuring the success of evergreen content. Read on for an overview of evergreen content strategy and watch the full webinar by filling out the form below.
What is evergreen content?
Evergreen content is content that continues to stay relevant and useful to readers over time with little or no upkeep. The content can stay up-to-date for weeks, months, or even years if done correctly.
This type of content is typically produced around topics that can apply to a wide variety of audiences over time, like love & romance, food, personal finance, parenting, travel, career, and health & exercise. Because it has to appeal to a wide range of people, the content is usually created in an easily digestible format like a list, how-to, FAQ, or video.
Why should I care?
Developing good evergreen content can take a lot of time and effort, but at the end of the day it can make a huge impact on your business goals.
Unlike timely content, which generally produces a single spike in traffic, evergreen content can continue to drive new traffic to your site well past the day it's published because the content remains relevant over a long period of time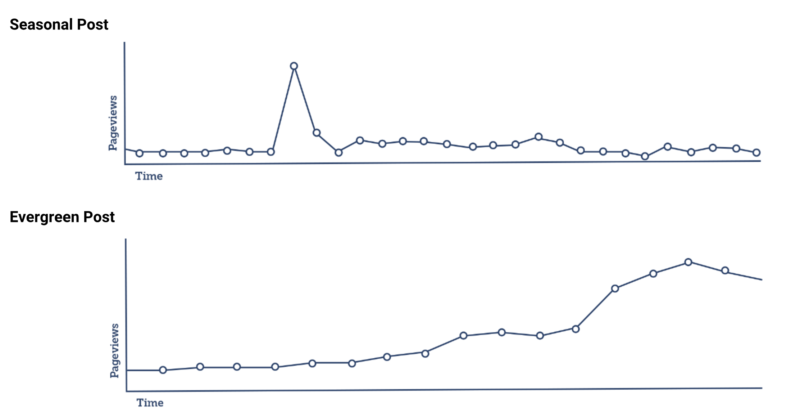 Because the content is about subjects of high interest, it also benefits from strong organic search traffic. With the right evergreen content in place, your site can benefit from an always-on steady stream of traffic. In fact, HubSpot says 76% of its blog views come from evergreen posts.
So while there may be some upfront costs to create great content, the longevity of the content can translate to tremendous ROI if handled correctly.
What can I do with it?
To make the most of your evergreen content, we suggest leveraging paid distribution. While organic traffic is important, the only way to ensure reliable and ongoing traffic to your site is through paid channels.
Paid distribution also allows you to use precise targeting parameters and scheduling, rather than relying on the sporadic and unfiltered reach of organic distribution methods. With paid distribution, you can optimize for specific business goals such as deeper user sessions, affiliate link clicks, video views, email capture, or conversion to a paid subscription.
Specifically, we've seen a lot of top publishers succeed with evergreen content on Facebook. The platform's targeting capabilities are unmatched for content distribution and allow you to continue to find new high performing audiences for the same piece of content. In addition, the Facebook pixel allows you to optimize for specific business goals, making it a great channel for measurable and scalable campaigns. As a bonus, evergreen content typically sees great user engagement (likes, comments, shares) over time, which boosts your Facebook relevance score and improves the performance of your campaigns as well.
Fill out the form below to watch the full webinar for more specific tips about creating and distributing evergreen content