Publishers used to rely almost exclusively on revenue from native ads, but in 2018, we've seen the industry increasingly leaning toward alternative revenue sources. But one of the most powerful sources of revenue is still underutilized – the email newsletter.
Publishers generally already have a large and captive email audience. When done correctly, newsletter monetization can be a non-intrusive and brand-safe way to generate significant revenue.
To help publishers find the right email monetization method for them, we hosted a webinar where we went through five strategies that other top publishers are using today in their email marketing.
1. Click to Site
Click to site is the strategy where publishers try to encourage people to click out of a newsletter and on to their site. It is by far the most common form to monetize email newsletters.
In this strategy, you make money off your usual site monetization, be it display advertising or branded content, and simply leverage your newsletter as a low-to-no-cost method of driving more traffic to your site. We've seen some publishers cite numbers as high as 20% of their traffic coming from this type of email marketing alone.
This strategy is also typically the easiest to get started with. By simply including links in your newsletters, you can start to drive more traffic to your site and drive incremental revenue.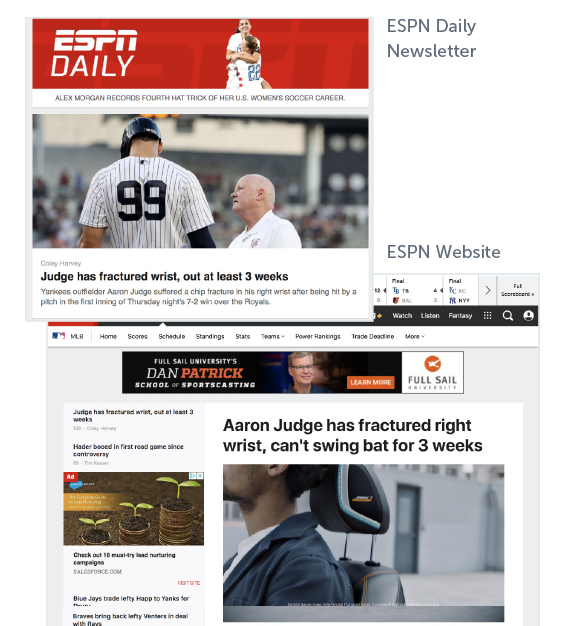 2. In-Email Ad Units
Another common way to monetize your email newsletters is to include native ad units in the emails themselves. These operate much like on-site ads, so they're generally pretty seamless for publishers to implement.
Publishers can choose the ad types that work best from them: programmatic, where buyers bid on an exchange to fill your open ad inventory, or direct sold, where you sell directly to buyers, typically at a fixed price. These can also be combined with on-site inventory when creating packages for possible advertisers.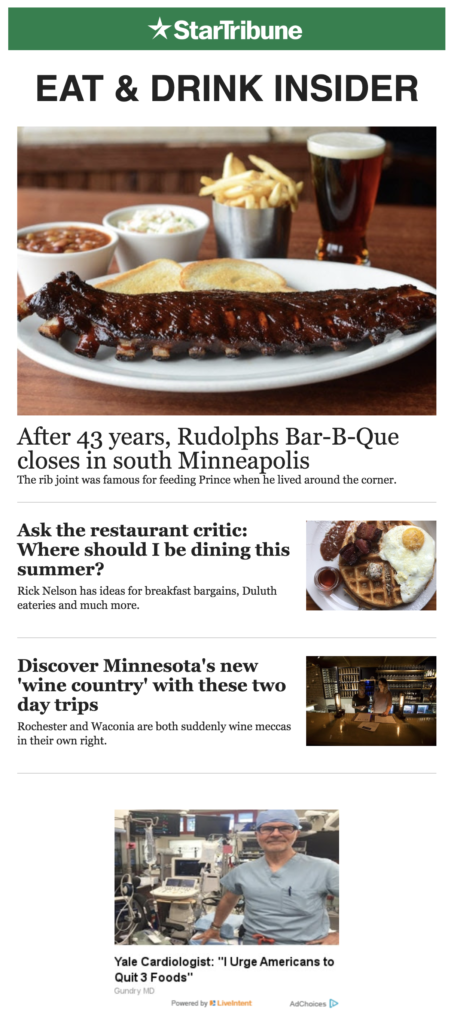 It's also common for publishers to use these in-email ad units to advertise their own offerings (like premium content, paid subscriptions, podcasts, events) or those of sister-publications.
3. Sponsored Emails
Publishers whose privacy policy allows for it can also send standalone sponsored emails. These emails are basically the equivalent of one giant email ad unit: an advertiser pays for the right to send an email to your entire database. Generally, these can be sold at a premium but also require creative input from the publisher in order to stay on-brand.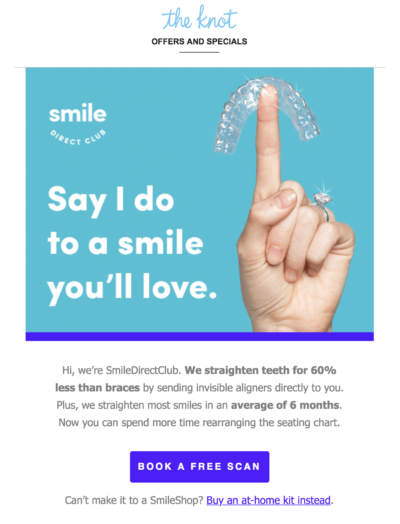 4. Data Onboarding
Data onboarding is a nuanced monetization strategy that takes email marketing to the next level and requires a trusted partner like LiveRamp or Throttle. By partnering with a data onboarding platform, you can match your email data to online users for better targeting around the web. Many publishers are already doing this on their sites, so implementing it in their email newsletter programs (so long as it is included in their privacy policy) is a seamless way to add incremental revenue.
5. Paid Email Newsletter Subscriptions
While not for everyone, paid newsletter subscriptions can be a great additional revenue source for publishers with premium content. Generally, a user pays a monthly or annual fee for access to exclusive content and other member-only benefits.
These are most common in fields like finance, where additional premium content has an extremely high value. For example Forbes runs the Quant Trader newsletter that costs almost $1000 a year. However, news and lifestyle publishers have also seen success with these on a smaller scale, like The Daily Chatter, whose email newsletter costs just $15 for the year.
To learn more about these monetization strategies, and best practices for each of the five methods, watch the full webinar or download our eBook, How Top Publishers Monetize Their Email Databases.
Fill out the form below to watch the full webinar: