Publishers used to rely almost exclusively on revenue from native ads, but since 2018, we've seen the industry increasingly leaning toward alternative revenue streams. But despite having a moment, one of the most powerful sources of revenue is still underutilized – the email newsletter.
Publishers generally already have a large and engaged email audience. When done correctly, newsletter monetization can be a non-intrusive and brand-safe way to generate significant revenue. On top of that, newsletter monetization methods aren't limited to just one format at a time. You can send different emails to different segments of your database and see which monetizes better. 
To help publishers find the right email monetization method for them, we hosted a webinar where we went through five strategies that other top publishers are using today in their email marketing. We'll review the different ways publishers monetize their email list and share examples for each of the strategies. 
1. Clicks From The Newsletter To The Site
Click-to-site is the strategy where publishers try to encourage people to click out of a newsletter and on to their site. It is by far the most common form to monetize email newsletters. 
In this strategy, you make money off your usual site monetization, be it display advertising or branded content, and simply leverage your newsletter as a low-to-no-cost method of driving more traffic to your site. We've seen some publishers cite numbers as high as 20% of their traffic coming from this type of email marketing alone.
This strategy is also typically the easiest to get started with. By simply including links in your newsletters, you can start to drive more traffic to your site and drive incremental revenue.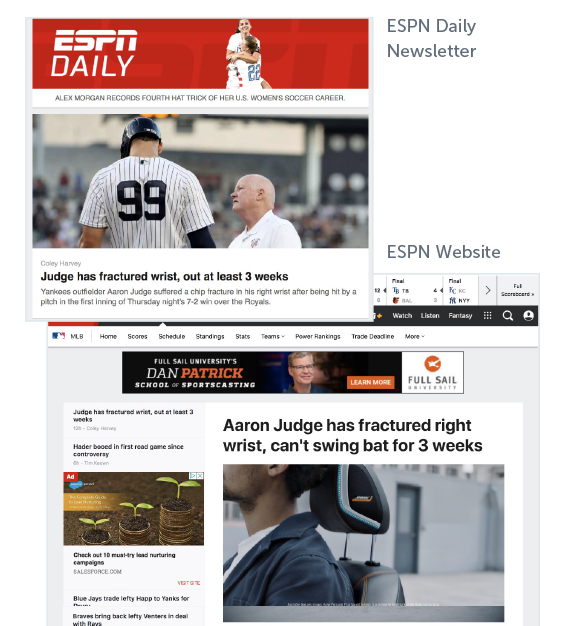 A robust email marketing strategy and infrastructure could also be a key component in more sophisticated content funnels that are built into the site. For example, knowing who are your most loyal readers you can occasionally add a premium or paywalled content that will interest them. They should have higher conversion rates than other channels. If you have a metered paywall in place, your newsletter serves as another vehicle, on top of other user acquisition channels, to promote users down the funnel with open and engaging content, until they reach the paywall. 
As newsletter monetization techniques can take place outside of the newsletter, it also works well with affiliate content. As an example, Wirecutter discovered that subscribers to their newsletter spend more time on-site, click on more links, and have a higher lifetime value than other Wirecutter readers. For this reason, Wirecutter is happy to invest more time, money, and website real estate upfront to acquire newsletter subscribers.
2. In-Newsletter Ad Units
Another common way to monetize your email newsletters is to include native ad units in the emails themselves. These operate much like on-site ads, so they're generally pretty seamless for publishers to implement.
Publishers can choose the ad types that work best from them: programmatic, where buyers bid on an exchange to fill your open ad inventory, or direct-sold, where you sell directly to buyers, typically at a fixed price. These can also be combined with on-site inventory when creating packages for possible advertisers.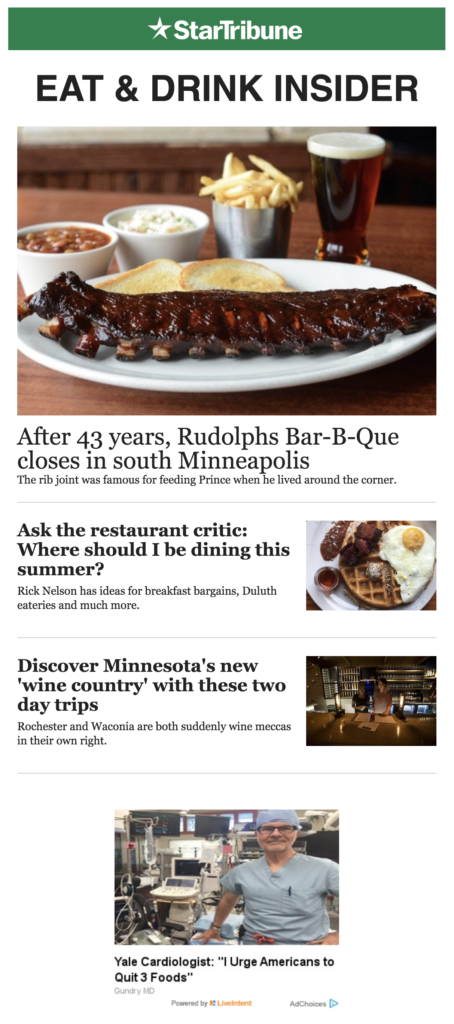 It's also common for publishers to use these in-email ad units to advertise their own offerings (like premium content, paid subscriptions, podcasts, events) or those of sister-publications.
3. Sponsored Emails
There is a scale of brand affiliation a publisher can tie to its email. Much like branded content that can range between a brand-written advertorial to a blank cheque to the publishers, so can sponsored emails. This form of newsletter monetization is similar to a direct-sold ad slot, though it can also be part of the text. 
One example of a newsletter that has been growing at an amazing pace and using this newsletter monetization strategy is Morning Brew. The (wall) street-level business newsletter's monetization model could be seen as native ads or branded content as they do a great job at writing the text so their voice remains the same for the sponsored section, and the newsletter itself. Their newsletter contains one sponsor at a time, so readers aren't fatigued by the number of ads.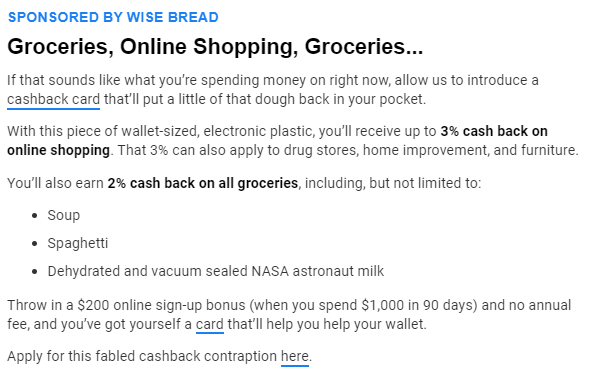 On another end of the spectrum are publishers whose privacy policy allows them to also send standalone sponsored emails. These emails are basically the equivalent of one giant email ad unit: an advertiser pays for the right to send an email to your entire database. Generally, these can be sold at a high premium but also require the brand to allow a lot of creative input from the publisher in order to stay on-brand. Two main obstacles to this way to monetize email newsletters:
If done too frequently it will hurt the publisher in the long term. Open rates will decrease and Google might view more emails from your domain as spam.

Publishers who write about a lot of topics but did not segment their newsletters and database can monetize at lower rates than niche publishers. A small but highly engaged and

loyal audience

is better for this type of email marketing than a large database.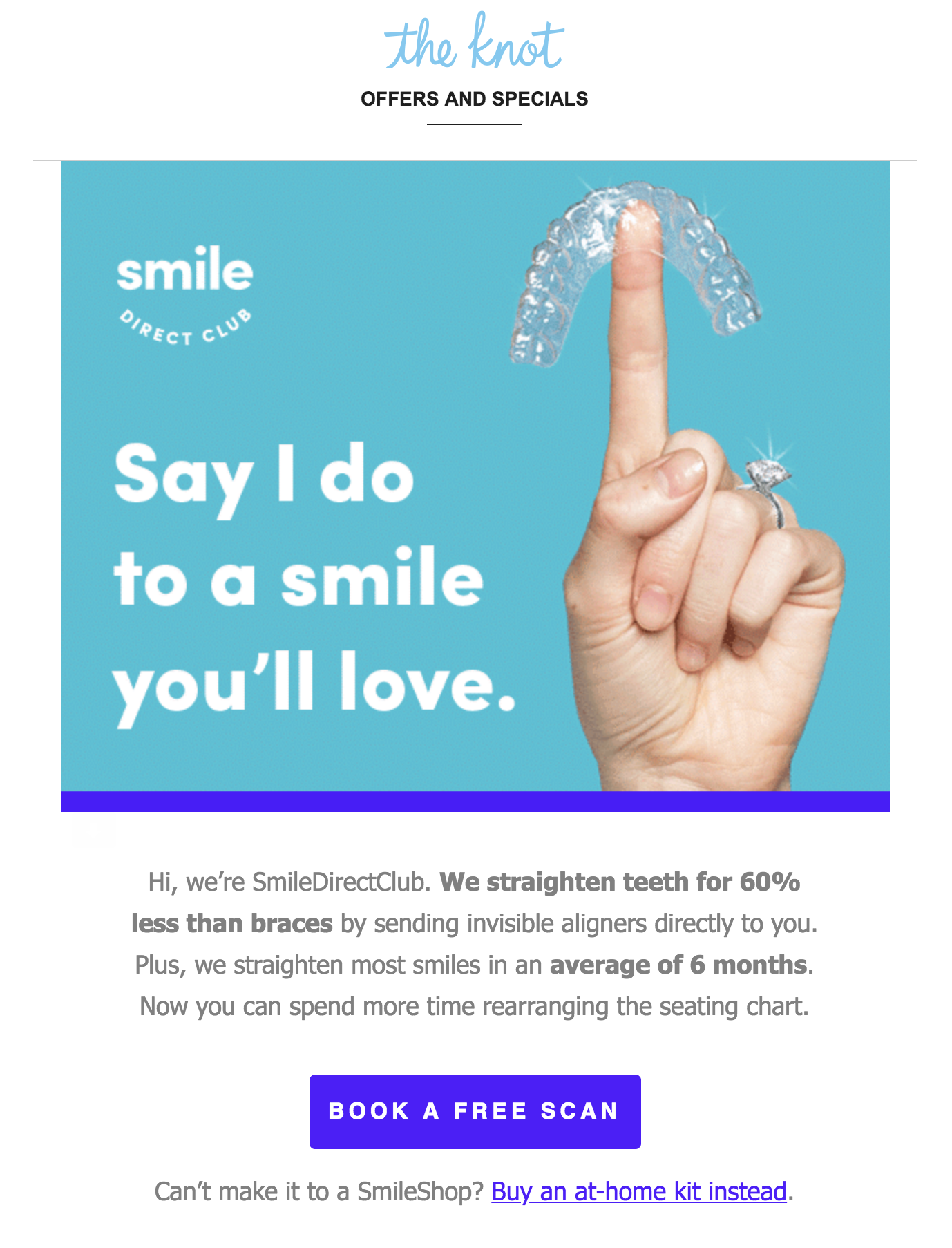 4. Data Onboarding
Data onboarding is a nuanced monetization strategy that takes email marketing to the next level and requires a trusted partner like LiveRamp or Throttle. By partnering with a data onboarding platform, you can match your email data to online users for better targeting around the web. Many publishers are already doing this on their sites, so implementing it in their email newsletter programs (so long as it is included in their privacy policy) is a seamless way to add incremental revenue.
5. Paid Email Newsletter Subscriptions
While not for everyone, paid newsletter subscriptions can be a great additional revenue source for publishers with premium content. Generally, a user pays a monthly or annual fee for access to exclusive content and other member-only benefits.
These are most common in fields like finance, where additional premium content has an extremely high value. For example, Forbes runs the Quant Trader newsletter that costs almost $1000 a year. However, news and lifestyle publishers have also seen success with these on a smaller scale, like The Daily Chatter, whose email newsletter costs just $15 for the year.
If you're thinking of incorporating a paid email newsletter as one of your revenue streams, you might consider creative ways of incorporating it into existing offers and not just as a standalone product. For example, offer the newsletter's premium content at a better price as part of a subscription bundle.
As we hope we managed to show here, email newsletters as a whole are not just a great tool to support your content funnel mid-way. They can be a revenue source in and of themselves. To learn more about these monetization strategies, and best practices for each of the five methods, watch the full webinar or download our eBook, How Top Publishers Monetize Their Email Databases. 
Fill out the form below to watch the full webinar: