How can publishers optimize their affiliate marketing efforts? What can be done to increase their profit from that revenue stream? How do their affiliate efforts synchronize with their user acquisition efforts? And can you even scale your affiliate revenue when you have to pay for traffic?
Most of these questions have an answer in our affiliate revenue FAQs and our commerce content strategy eBook. But since people all over the world have been shopping online in record-breaking numbers throughout the Coronavirus crisis, we thought it would be an appropriate opportunity to dig deeper.
So what is the most valuable advice that we've learned from our partners running commerce content and affiliate campaigns?
Trust is the main currency
Have you heard of the paradox of choice? In essence, choosing from options that are more extensive and varied doesn't necessarily make us happier or more satisfied. Psychologically, a lot of affiliate marketing is based on narrowing down the options for your readers. They want you to curate the best products for them. They need less noise.
But would we listen to just anyone that walks up to us and says, "trust me on this one"? More often than not, we wouldn't, and probably for a good reason. It's the same in the world of eCommerce and affiliate marketing. We trust sites or people that we walk up to, but are more hesitant when they walk up to us.
So how do you build trust with your readers? Especially if you "walk up to them" with paid content distribution? Start by being upfront. Most readers don't mind you making a commission off of their purchases, but you have to disclose it. Similarly, we've seen that first-time buyers have higher conversion rates if, for example, a listicle focuses on more affordable products.
As you build a rapport with your readers, you could retarget the audience that clicked out of these articles. Show them similar articles with higher-value products.
Diversification is the Foundation for Stability
We've seen how publishers around the world were affected by Amazon's recent rate cuts. Many of them are learning what Wirecutter told us two and a half years ago: You need to have a broad partner base. If you are big enough and strike deals directly with retailers, you can affect the revenue terms and partnership. That said, even smaller players gain from revenue diversification. By not relying on a single affiliate network or retailer, they are less susceptible to changes.
Diversification also applies to your traffic sources. You should invest in your SEO and organic search traffic, as well as your organic traffic from social media. Boost both of these "free" sources with paid user acquisition from social media and Google Ads. Granted, our experience shows that organic traffic offers nice incremental revenue, but it typically doesn't move the needle much. If you have the user base for it, you can also monetize your newsletter email list by inserting links to organically-popular reviews in your emails.
Visuals Matter
We eat with our eyes, which is why plating is so essential for most chefs. The same goes for web browsing and shopping.
By now, we've covered the visual aspects of content promotion in other posts, both general A/B testing, and specifically Wirecutter's approach, so let's focus on your site.
The first thing to do is to 'clean your plate,' so to speak. A lot of our partners started off their affiliate efforts by simply adding links to existing reviews and letting the SEO take it as far as it can. Sure, this approach is nice as a starting point, but it usually means that there are a lot of calls-to-action and ads surrounding your content.
And when many things are going on, your main revenue driver — the affiliate link — may get lost. So shine a spotlight on what's important. Below are three examples:
The first publisher left ads in the sidebar and has multiple links that compete for attention.

The second publisher has one eye-catching link with a price, while there is still an ad in the sidebar it's smaller, and there are also links to other products.

The third publisher has no distractions in the sidebar other than the

big, bold link

.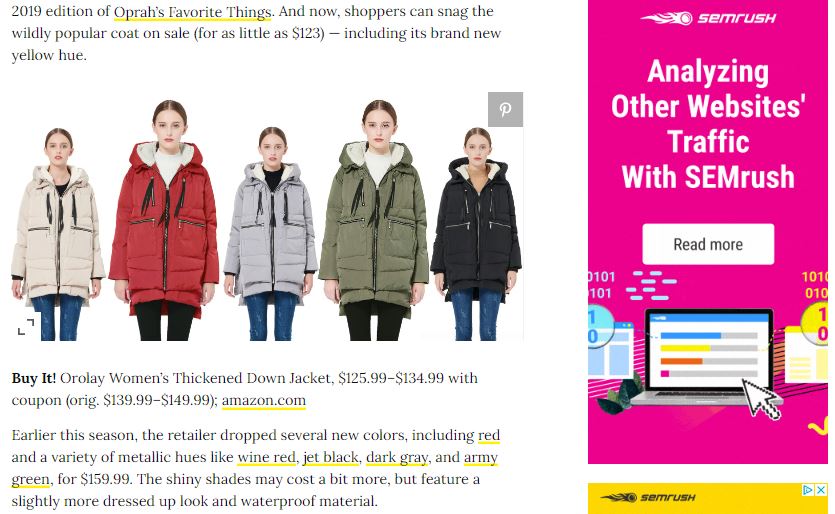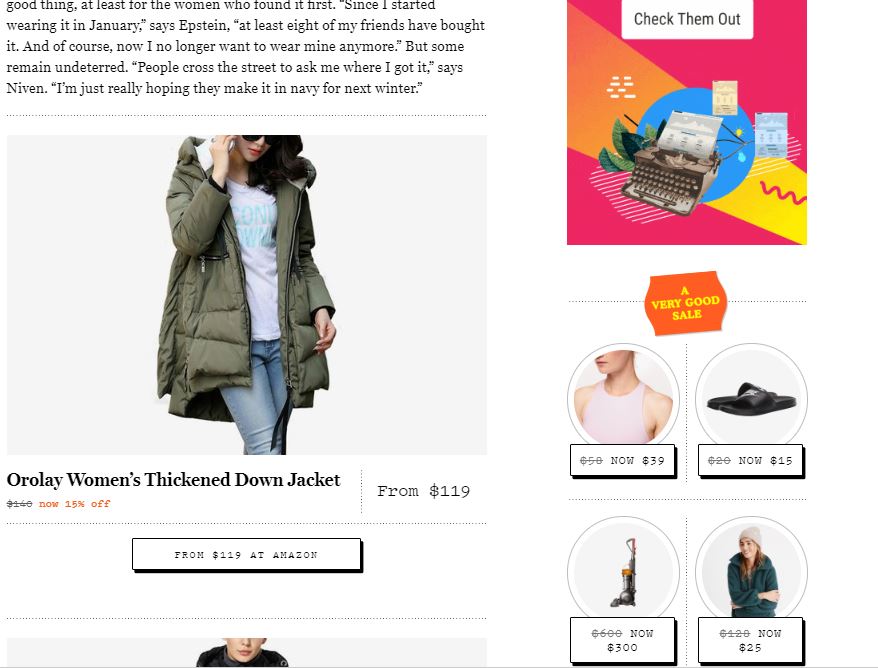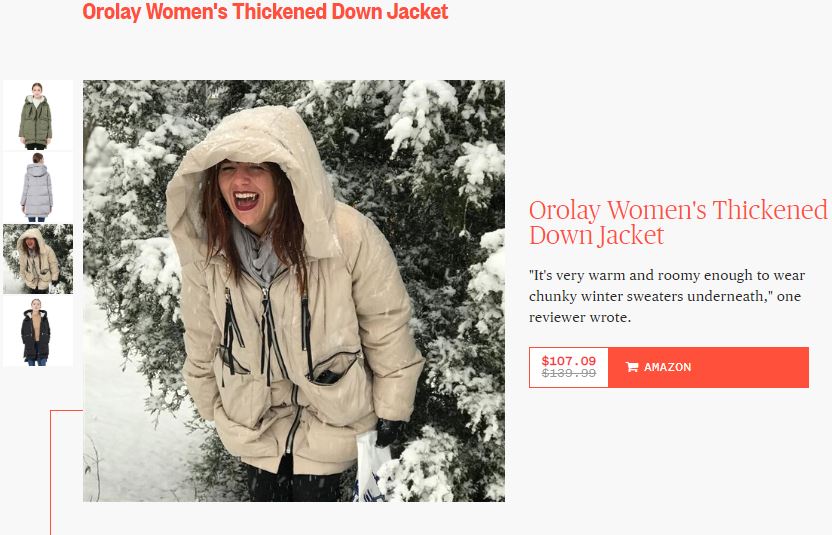 What else should you do when it comes to "plating" your content? Generally, we recommend using a lifestyle image that includes the promoted product (like the jacket in the example from the third publisher), though you always should test this for yourself with your unique audience. Some of our partners, as Wirecutter discloses, have seen performance up to 75% better with images of products without people.
If you're going to put spend behind a listicle or an article reviewing multiple items, make sure that the recommended products are within a similar price range. We recommend choosing a range that's either around $30 between the highest and lowest price points or a 10% difference between the two, whichever is greater. This could help frame the listicle, such as "Top 6 RC Toys under $X".
Set Your Sights, Set Your Goals
When we first ask our partners what their primary goal is, most say "to increase revenue." But that's akin to just looking at a map and sticking a pin in where you want to go. If you only think of the destination but don't plot a course, you're bound to get lost.
So when you're looking for a goal, think of where you want to put most of your focus. Is it the middle or bottom of the funnel? For us at Keywee, the answer to this question can often change an entire campaign strategy.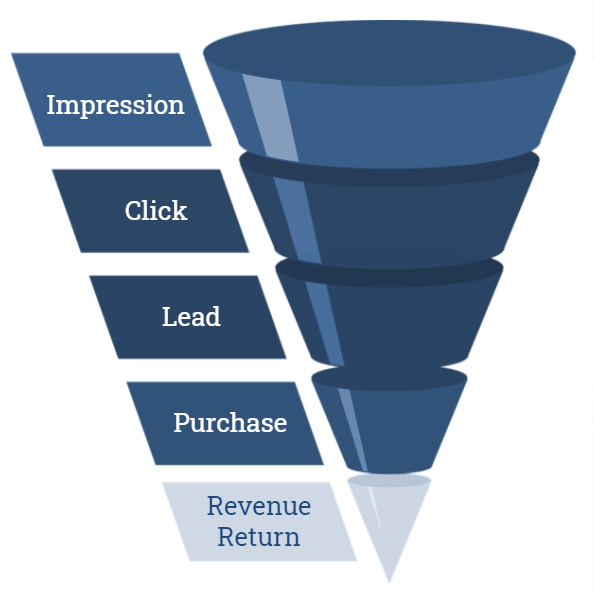 Depending on the campaign's goal, there are two main optimization methods. One that focuses on clicks-outs (leads) at the lowest cost, and another, which is ROAS (return on ad spend) based. Each of the optimization goals requires a different type of audience and optimization method, just like subscription campaigns that use a content funnel to meet their goal.
If your goal is click-outs, you don't have to have an accurate revenue reporting from your partner and attribution is easy. On the other hand, not all leads convert. If you treat them the same way, you might overlook some opportunities while over-spending on others.
When the goal is to make money, which is the case for affiliate marketing, we recommend optimizing for Return On Ad Spend (ROAS). The technical set-up might be a bit longer, and the attribution and measurement are slightly more complicated, but accuracy of the end results will be much better. Here's a quick example: recently, in one month of optimizing for ROAS with one of our partners, we reached exceptional results. How exceptional? April's scale was double that of November and December combined. Meanwhile, the ROAS is expected to be 150%.
When done right, affiliate marketing can be a significant revenue stream that brings a lot of value to your readers. If you're exploring paid promotion of your affiliate content, we'd love to have a chat and see if our technology and expert campaign managers could be a good fit for you. Just reach out and book a demo.